While Gibson is known for its history-changing dreadnoughts, the brand also makes some distinctive and great-playing jumbos. Today we'll look at the Gibson J 185 EC acoustic guitar, a jumbo originally marketed as an alternative to the famous J-200. However, the J-185 has gradually become respected as an excellent guitar in its own right. 
PRO's & CON's Of Gibson J 185 EC
But before we get too into our review, let's take a look at some pros and cons:
Pros
All-solid construction gives you a complex, rich acoustic tone.
The combination of Sitka spruce and rosewood offers a crisp, detailed tone that departs from many jumbos.
Included LR Baggs VTC electronics give you effortless live sound.
The advanced Response neck profile is comfortably playable for strumming and picking.
Cons
It's a fairly expensive guitar that may be out of reach for some players.
Fans of traditional Gibson Jumbo sound may not like the combination of Sitka spruce and rosewood.
Highlights Of Our Featured Guitar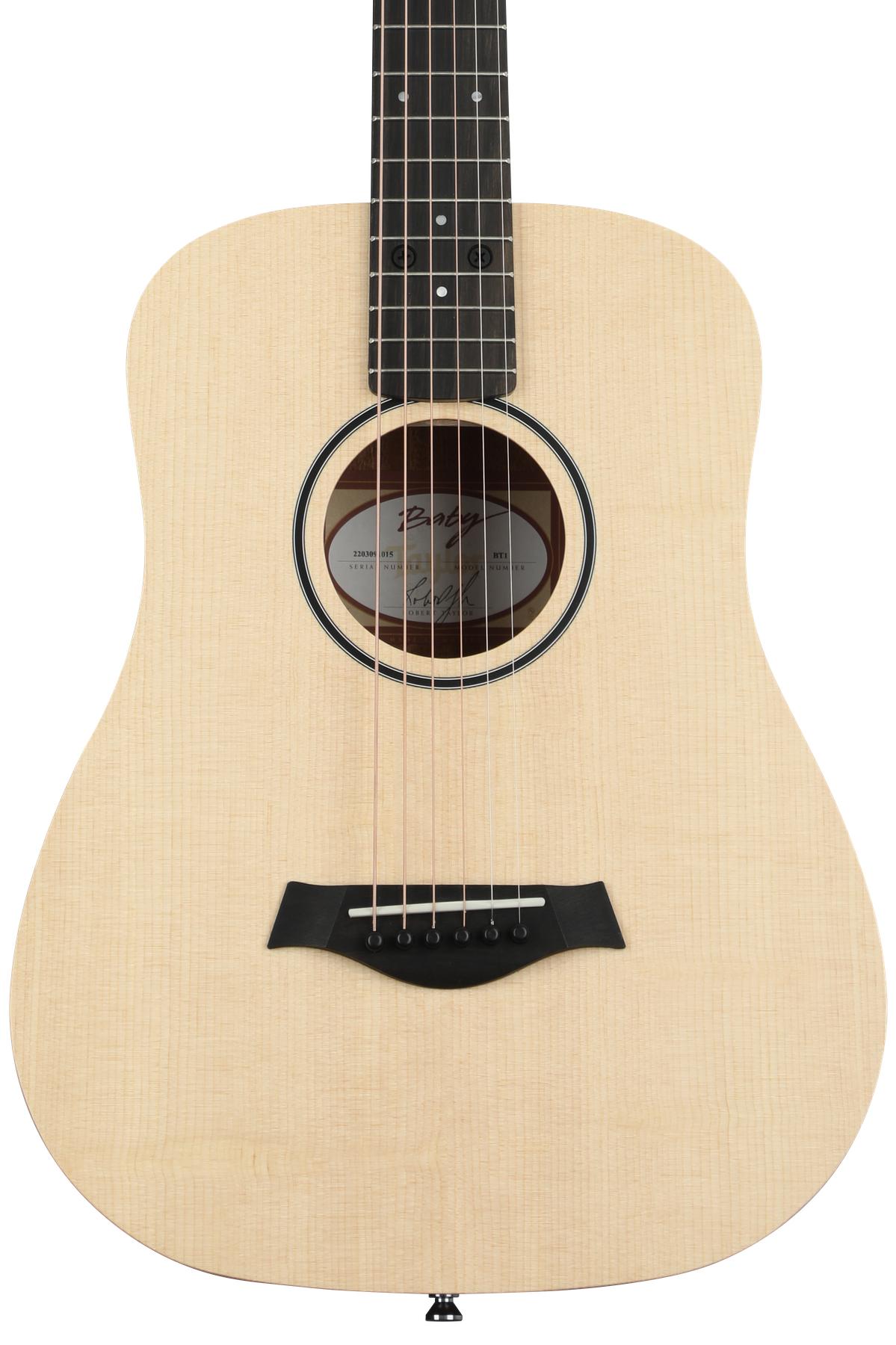 Gibson J 185 EC
A Jumbo Acoustic Electric Guitar
All-solid construction with hand-scalloped X bracing.
The neck has Gibson's Advanced Response profile.
LR Baggs VTC electronics are included to give you an effortless live sound.
Now, we'll take some time to really dig into some of the features that the J-185 EC has to offer.
Body Style And Bracing
The jumbo acoustic body style is bigger and boomier than the dreadnaught, and it's often described as having a "big" sound. Thanks to the larger size, though, jumbo guitars tend to be louder across the tonal spectrum. Dreadnoughts, on the other hand, tend to lean more toward bass frequencies.
The large size of these guitars makes them a standout on stage, but there's a trade-off — smaller players especially may find them overly bulky and difficult to handle. If you want to learn more about how jumbo guitars sound and look compared to other guitar builds, check out this informative video.
However, the J 185 EC body has been updated compared to the original J 185. The original J 185 has a lower bout width of 17 inches, while the J 185 EC has a lower bout of 16 inches. The slightly smaller size reduces the extra bassiness you often get with jumbos.
This leads to a sound that is generally more balanced overall. In larger jumbos, the bass can become overpowering. But in the J 185 EC, it's very present without overtaking your sound. Bracing-wise, the J-185 EC acoustic follows in the footsteps of most other high-end Gibsons.
This guitar has hand-scalloped X bracing, which means that the braces have been shaved down in places to support better flexibility. This flexibility means that the guitar's top can vibrate more freely, which translates to louder, more responsive sound.
Tonewoods And Sound Quality
J-185 EC has an expansive tone that's rich with nuance. Many jumbos are made with maple back and sides for projection, but maple has a quick decay with a crisper attack. The rosewood on this one offers a tight low end, a high-end sparkle, and a pleasant midrange.
The fact that the rosewood is solid is a plus — all-solid guitars tend to have fuller, more complex sounds. And as rosewood becomes steadily rarer, guitars with solid rosewood backs and sides are getting harder to find. The Sitka spruce top is solid as well, and it's incredibly responsive. As an added bonus, plenty of players love the beautiful grain of rosewood.
We like this tonewood configuration because it makes the Gibson J-185 EC acoustic great for multiple genres. A Sitka spruce top with rosewood back and sides is a classic and versatile combination, and we think this guitar sounds incredible whether it's fingerpicked, flatpicked, or strummed.
Of course, no discussion of the sound quality of an acoustic-electric would be complete without mentioning the electronics. The Gibson J-185 EC has LR Baggs VTC electronics, which are some of the best on the market.
This system's dynamic EQ automatically suppresses frequencies that become problems while you play, eliminating feedback issues. Analog circuitry gives your amplified sound some natural warmth. If you want to hear it for yourself, check out this video demo.
Neck And Playability
We mentioned earlier that the larger size of the Gibson J-185 EC acoustic can make it harder to play for smaller people. However, this acoustic-electric guitar does have some playability features that make it easier to handle on stage than some jumbos. For one, it has a Venetian cutaway for easier fret access. This is ideal if you frequently play leads.
The neck profile is also Gibson's Advanced Response profile. While it isn't as thin as a Slim Taper neck, it's slim enough to be fast and comfortable to play. The neck is mahogany, which adds some warmth to your sound.
Like most Gibson acoustic guitars, its scale length is 24.75″. It's topped with a rosewood fingerboard for additional resonance and playing comfort. The larger 1.725″ nut width ensures that strings are spaced far enough apart to be easily fretted. If you'd like some insight into the care Gibson puts into their necks, check out this look inside one of their factories.
Finish And Appointments
While the Gibson J-185 EC acoustic isn't as outwardly glamorous as the J-200, it's still a beautiful and well-appointed instrument. Grover Rotomatic tuning machines hold tune exceptionally well.
There's a rosewood bridge to match the rosewood fingerboard, and its belly-up design is just like that of many vintage Gibsons. The nut and saddle are made of Tusq, a composite material that's designed to mimic some of the properties of ivory. (To hear a comparison of Tusq against other common acoustic saddle materials, check out this interesting video.
It also has elegant mother-of-pearl parallelogram inlays and a sparkling abalone rosette. The J-185 comes in two different finishes — there's antique natural, which has the look of a well-played classic acoustic, and rosewood burst, which is a beautiful red-tinged sunburst. Of course, like most Gibson acoustic guitar models, this one also comes with a hardshell case.
Social Proof of the Guitar
Plenty of guitarists prefer to try out guitars before making a purchase. After all, playability and tonality can vary even among different units of the same model. However, if you can't do this, reading online reviews is a great compromise.

This reviewer was largely pleased with the Gibson J-185 EC and found its plugged-in sound especially remarkable. Most reviewers comment on the looks of the J-185 EC, and this reviewer thought the inlays were especially nice.
This review is especially helpful because the reviewer was not intending to buy a jumbo. However, they fell in love with the sound of this guitar and found it to be a must-have.

While this review is shorter, it sums up what many players have said about the Gibson J-185 EC — that it offers excellent value. Gibson guitars tend to be expensive in general, but for many players, the sound is worth it.
Alternatives To Gibson J 185 EC
Before committing to a guitar of this caliber, it's a good idea to make sure that it's the right Gibson for you. In order to help you make that decision, we've found three possible alternatives.
How It Compares To Gibson J 185 EC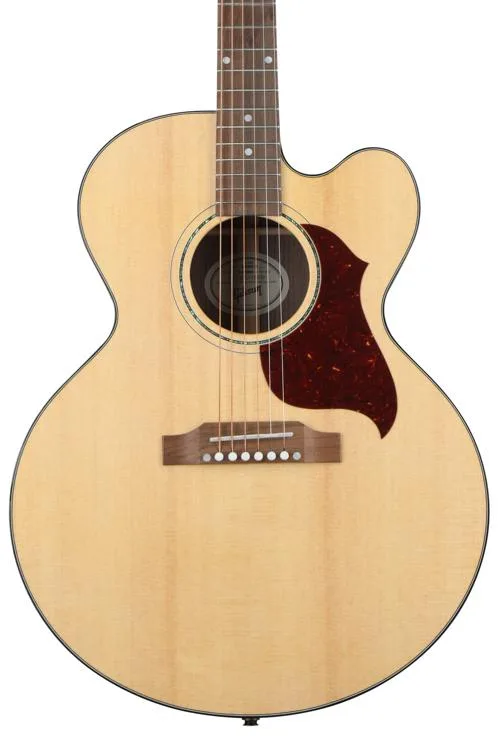 This one comes with LR Baggs Element electronics, which is the more affordable version of the LR Baggs VTC electronics.
The walnut back and sides offer a fairly nuanced tone, but it isn't as overtone-rich as rosewood is
It also has an Advanced Response neck profile and a Venetian cutaway for easy fret access.
Price-wise, it's about $400 less expensive than the J-185 EC Rosewood.
Review
This guitar is the walnut version of the Gibson J-145 EC Rosewood, and it's a bit more affordable. This follows Gibson's tradition of making its more affordable models with walnut backs and sides.
If you like the J-185 EC Rosewood but need something a little less expensive, make sure you check this one out!
Gibson Southern Jumbo Original
How It Compares To Gibson J 185 EC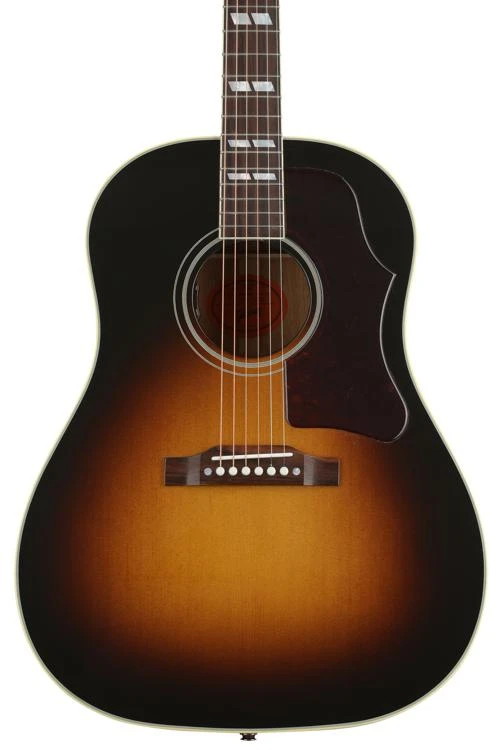 A slim taper neck profile may be more playable for people with smaller hands.
This body shape doesn't have quite the boom of the J-185's wide lower bout.
It also comes equipped with LR Baggs VTC electronics.
In terms of price, this one is about $100 more than the J-185 EC.
Review
If you're a country or blues player, chances are good that you'll love the punchiness of this distinctive guitar. Like most of Gibson's historic dreadnoughts, this one has a solid Sitka spruce top with solid mahogany back and sides, and it's very comfortable to play.
If you prefer the earthy mahogany sound, make sure to give this one a look!
Gibson Acoustic 60'S J-50 Original
How It Compares To Gibson J 185 EC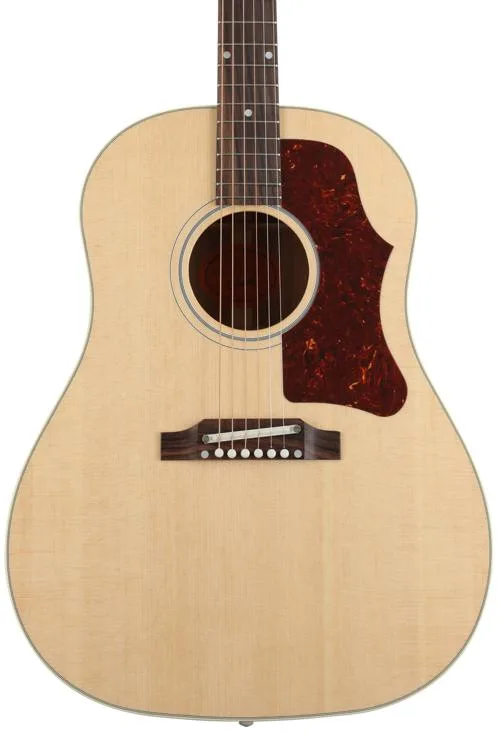 Solid mahogany back and sides offer a darker, warmer sound than rosewood.
The round neck profile may not be as playable as the Advanced Response neck.
This guitar does not come with any electronics.
Price-wise, it's about $400 less than the J-185 EC.
Review
If you prefer the look and feel of a round-shouldered dreadnought, this simple yet elegant guitar is a good choice. Like the Gibson J-185 EC, it isn't as ornately decorated as some of Gibson's acoustics, but it still offers unmistakable vintage looks.
If you love vintage-looking Gibson guitars and don't need electronics, make sure you check this one out!
All in all, we think the Gibson J 185 EC is an outstanding guitar, especially for flatpickers. And while it was initially designed as a more stripped-down version of the J-200, its cutaway and easy-playing neck have made it a favorite among countless players. If you want a guitar with plenty of bass response (without the excess boom), the J-185 EC is worth considering. Click here to check it out!