Plenty of players aspire to one day own an authentic Gibson acoustic guitar. These instruments are hand-built in Bozeman, Montana, and are known as some of the best-playing acoustics in the world. Today, we'll be taking a look at the Gibson J15. This beautiful guitar is one of the most affordable Gibson acoustics, and its balanced sound and good looks make it a great option for players in almost any genre.
Things To Consider About Before Buying An Acoustic Guitar
If you're looking to invest in a Gibson, you probably want to make sure you're choosing the right option for you. Here's what to look for before you make a purchase:
What tonewoods are best? Most Gibson acoustics has a spruce top, which gives you a balanced tone that leans toward the bright side. However, mahogany and cedar tops offer a warmer, more mellow tone. The woods used for back and sides vary — rosewood is popular because of its rich overtones and defined low end, while mahogany is best known for its "fuzzier" sound. Make sure you thoroughly research all tonewoods before choosing your guitar.
Consider the neck. The neck profile is vital when it comes to playability. Larger-handed players might prefer thicker, more traditional necks, while players with smaller hands might prefer a slim-taper neck profile. Scale length is also important — shorter scale lengths reduce string tension and make string bending easier, while longer scale lengths give you more space to explore.
Body shape and cutaways. Body shape is one of the most important considerations to make. Dreadnoughts tend to make great all-around guitars, although some players think they're most suited to strumming and flatpicking. Grand concert bodies and other smaller guitars have the projection and clarity needed for fingerpicking. If you often play far down the neck, you might prefer a guitar with a cutaway for better fret access.
Do you need electronics? Many high-end acoustic guitars come with quality electronics. Make sure you research the included electronics thoroughly before coming to a decision on which guitar to buy.
PRO's & CON's Of Gibson J15
But before we jump into our review, let's look at some pros and cons:
Pros
All-solid build offers excellent, full-bodied sound.
Maple neck, Sitka spruce top, and walnut back and sides give it a balanced tone that's a little on the bright side.
Included LR Baggs Element active electronics give you incredibly natural live sound.
It's one of the most affordable genuine Gibson acoustics.
Cons
For some players (especially those looking for something like a J-45), the J-15 may be a little too bright.
Some buyers have reported that the bracing appears to be rough-edged.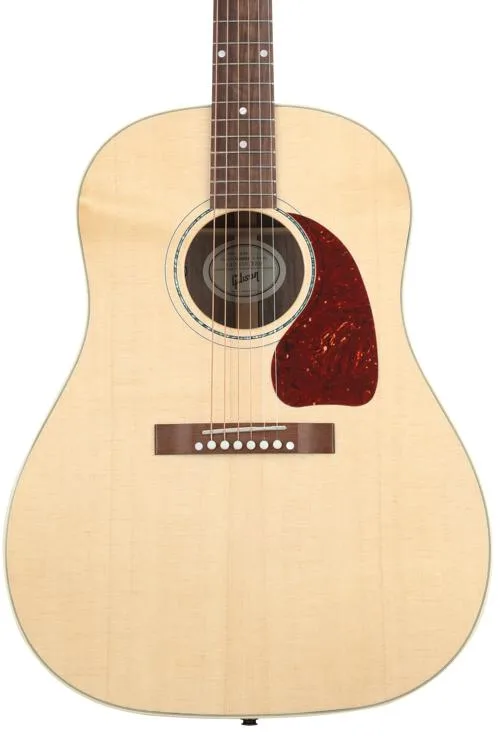 Gibson J15
Acoustic Guitar
Gibson J15 uses all-solid tonewoods and generates full-bodied sound. It has a Sitka Spruce top, Walnut back &sides, and Maple neck to produce a balanced tone that is a bit on the brighter side. It has LR Braggs element electronics to provide a very natural live sound.
Body Style, Bracing, And Tonewoods
While the Gibson J-15 is accessible to buyers looking in a lower price range, it's still a remarkably well-built guitar. The first thing you're likely to notice is that this guitar is a round-shouldered dreadnought.
Aside from looking distinctly different from a square-shouldered dreadnought, this body style has a different sound, according to some players. Since the body is slightly smaller, it may have a less "boomy" bass response. (If you want to hear the difference between a square-shouldered and round-shouldered dreadnought, check out this interesting video.)
Like most Gibsons, the Gibson J-15 is made with traditional hand-scalloped X bracing. The scalloping process involves shaving down the braces under the soundboard to allow them more flexibility. Ideally, bracing on an acoustic guitar achieves a balance between strength and stability.
The strength supports sustain, while the flexibility increases resonance. The ideal acoustic guitar possesses both qualities. Most acoustic guitars are made with X bracing, but non-scalloped bracing seems to have less resonance than scalloped.
Tonewood-wise, the Gibson J-15 balances quality with affordability. While this is one of Gibson's more affordable acoustics, it's still a high-end guitar, and one of its primary selling points is that it's made with all North American woods. The top is solid Sitka spruce, which offers incredible responsiveness and detail.
The walnut back and sides are also solid, and they offer a slightly different sound than most players are familiar with. Its tone is warmer than sparkling, which makes it a great choice for fingerstyle players. And if you love beautiful wood with a distinctive grain, you'll probably appreciate the dramatic lines on many pieces of walnut. When it comes to the back and sides of the J-15, each guitar looks distinct.
It's worth mentioning here that Gibson often uses walnut as a substitute for mahogany. For instance, the iconic J-45 Standard has a mahogany back and sides, while the more affordable J-45 Studio's back and sides are made of walnut. Despite its use on more affordable Gibson models, walnut isn't an inferior tonewood, and you can often see it on custom guitars thanks to its beautiful grain and versatile tonal properties. In some cases, players end up actually preferring walnut to mahogany.
It's a nice guitar made of nice tonewoods, and there's one more thing that sets it apart: assembled with hide glue. Hide glue, as the name suggests, is made from animal hides, bones, and tendons, and it's been used for centuries on both guitars and violins. Hide glue will noticeably improve the tone of a guitar, and it stays in place much longer than other glue types. Despite its advantages, you don't always see hide glue used on high-end guitars. Gibson uses it in nearly all of its acoustics.
Neck And Playability
You probably already know that the neck of a guitar is central to its playability, and it also has some impact on the sound. The neck of the Gibson J-15 is attached via a compound dovetail neck joint. This type of joint is arguably the best for sound and playing feel.
It securely and effectively connects the neck to the soundboard and body, which means it picks up on the vibrations of the instrument as a whole. This translates to a fuller sound. Dovetail neck joints are difficult to make well, so you won't often find them on budget guitars.
Notably, this guitar also has a maple neck, which is somewhat uncommon in acoustic guitars. Maple imparts some brightness to the sound, and it's an incredibly dense and durable wood. The neck is made in Gibson's slim taper profile. It isn't quite as thin as an electric guitar's neck, but it makes it easier to move up and down the neck quickly. The scale length, like that of many Gibsons, is 24.75″.
Thanks to the slim-profile maple neck and the lovely low action of this guitar, it's a lot of fun to play. The walnut fretboard is comfortable to play with, and since walnut is a very dense wood, the fretboard isn't likely to wear out anytime soon.
Sound Quality And Electronics
We've already mentioned that this Gibson has a fairly bright sound, but we should clarify that it never becomes brittle or tinny. The walnut back and sides add some depth and warmth, but the lows are clearly defined. The midrange is present without being overpowering, and the highs are crisp and clear.
If you're looking for a good all-around guitar, the Gibson J-15 is a great candidate. It sounds great strummed, and clear & powerful with a flatpick. It also sounds great fingerpicked, although some players believe that its response to fingerpicking is a little lackluster.
Be sure to listen to some demos before buying (we've linked one below) — some players love the sound of this one fingerpicked, so it all depends on what sounds good to your ear. Depending on your tonal preference, you may find the J-15 too bright or discover it's the right guitar. To hear it played for yourself, check out this sound demo.
This guitar comes equipped with LR Baggs Element electronics. This is a stripped-down version of the LR Baggs VTC electronics that you see on just about every high-end Gibson. The LR Baggs Element is an undersaddle transducer with a much more natural response than an undersaddle piezo.
There's an onboard preamp, and you can access a single volume control right inside the soundhole. If you're the type of player who cringes at the thought of controls marring the outside appearance of your guitar, you'll probably appreciate this feature.
Finish And Appointments
Like every Gibson made in Bozeman, Montana, the J-15 has a hand-applied nitrocellulose lacquer finish that shows off the grain of the woods and ages gracefully. This finish is also very scratch-resistant, making it a great choice if you frequently gig or if you tend to bump your guitar into things accidentally.
The J-15 comes in two finishes — Antique Natural (which offers classic acoustic guitar looks) and Walnut Burst (which makes it look a lot like the J-45). However, not all retailers carry the Walnut Burst finish.
This is also a very well-appointed instrument. It comes with nickel-plated Grover Mini Rotomatic tuners for an extra-sleek look. The nut and saddle are Tusq, which is a quality composite material made to mimic the incredible sustain of ivory. The bridge pins are also made of Tusq, which helps increase sustain and the guitar's overall tone.
Both the fingerboard and bridge are made of walnut. As you've already seen from the back and sides of the guitar, walnut has a beautiful and distinctive grain. Walnut isn't the most popular choice for fretboard woods, but it combines rosewood's resonance with the crisper attack of ebony.
The binding offers an aesthetic that's consistent with this guitar's simple elegance. It's multi-ply on the top and single-ply on the back, and its cream color adds a touch of vintage appeal. A teardrop-shaped tortoiseshell pickguard sets it apart from other acoustics. And lastly, it comes with a Gibson hardshell case. This is an important feature, as a hardshell case can easily cost hundreds of dollars if bought separately. All in all, the look of the Gibson J-15 could best be described as understated.
But with beautiful appointments and incredible attention to detail, this is a guitar that stands out in its own way. Many buyers have commented that the J-15 is a work of art — after all, thanks to the lower price, some guitarists worry it will look cheaper than more expensive Gibson models. Luckily, this isn't the case.
If you want to get a closer look at this guitar, check out this informative video review.
More: Best Gibson Guitars
Social Proof
Many guitar experts recommend playing an instrument in person before purchasing it. However, if this isn't possible, it's a good idea first to check out some reviews written by players who already own this guitar. In our search for reviews for the J15, it was almost impossible to find anything negative. Here are some helpful reviews to help you make a decision:

This review may help potential buyers who are worried about the J15 having the look of a budget guitar. For this player, the J15 has the look of a high-end guitar. You can even see the hand-applied finish.
This review offers some insight into the sound and playability of this guitar. While it's a member of the J45 family, it does have a somewhat brighter sound than the J45. However, it doesn't get so bright that it sounds tinny.

For this player, the J15 is a sweet-sounding instrument that's ideal for fingerpicking. It also has a classic acoustic look, which is a plus for many players.
Alternatives To Gibson J15
While we think the J15 is an excellent guitar, it's wise to make sure that you're certain it's the right one for you before buying. We've picked out three alternatives you might want to consider:
Gibson Acoustic 50'S J-50 Original
How It Compares To Gibson J15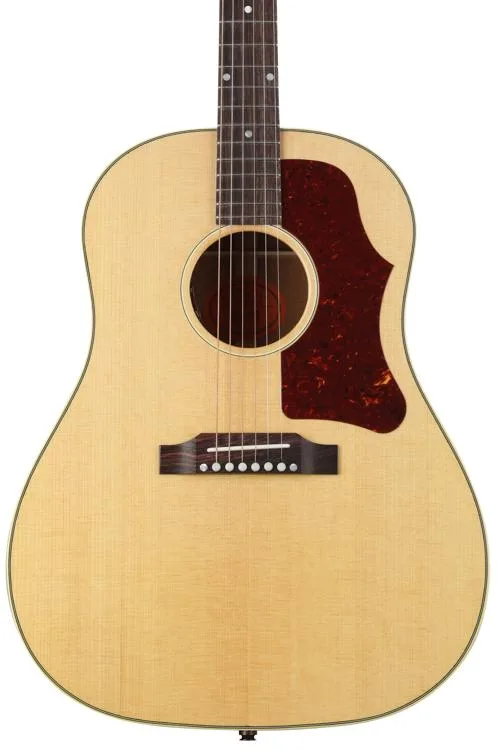 Round-shoulder dreadnought build offers a similar tone.
Bone nut and saddle offer the classic tone, compared to the more modern sound of the J-15's Tusq nut and saddle.
L.R. Baggs VTC electronics offer a more natural sound than LR Baggs Element electronics.
In terms of price, it's about $1000 more than the Gibson J15.
Review
If you have a little more to spend and still want a Gibson round-shoulder dreadnought, this J-50 is worth a look. This guitar has a Sitka spruce top and mahogany back and sides, giving it a slightly warmer tone than the walnut back and sides of the Gibson J 15. If you're looking for classic spruce and mahogany tone, make sure you give this one a look!
How It Compares To Gibson J15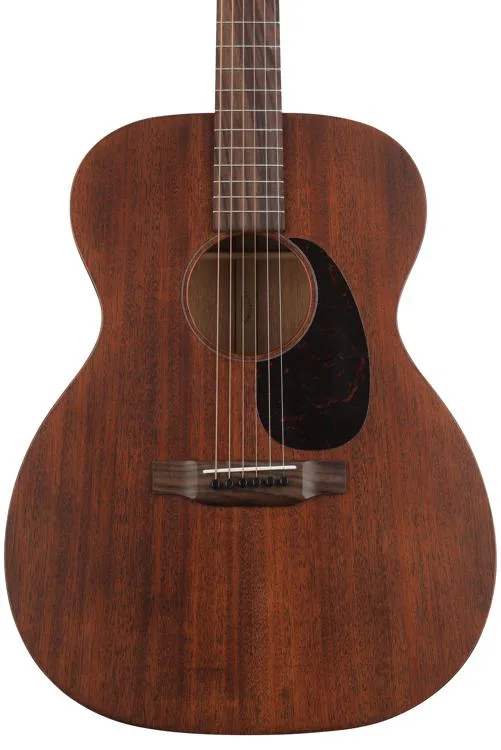 000 body has a more focused tone that also projects well.
The all-mahogany build has a sound that is darker and warmer than spruce.
The Rosewood fingerboard looks great and is comfortable to play with.
Price-wise, it's about $500 less than the Gibson J-15
Review
This Martin acoustic might be right for you if you prefer a mahogany top's darker, warmer sound. This guitar's smaller 000 body makes it ideal for blues and folk and is also more affordable. If you'd prefer the sound of an all-mahogany Martin, make sure you check this one out!
Gibson Acoustic 60'S J-45 Original
How It Compares To Gibson J15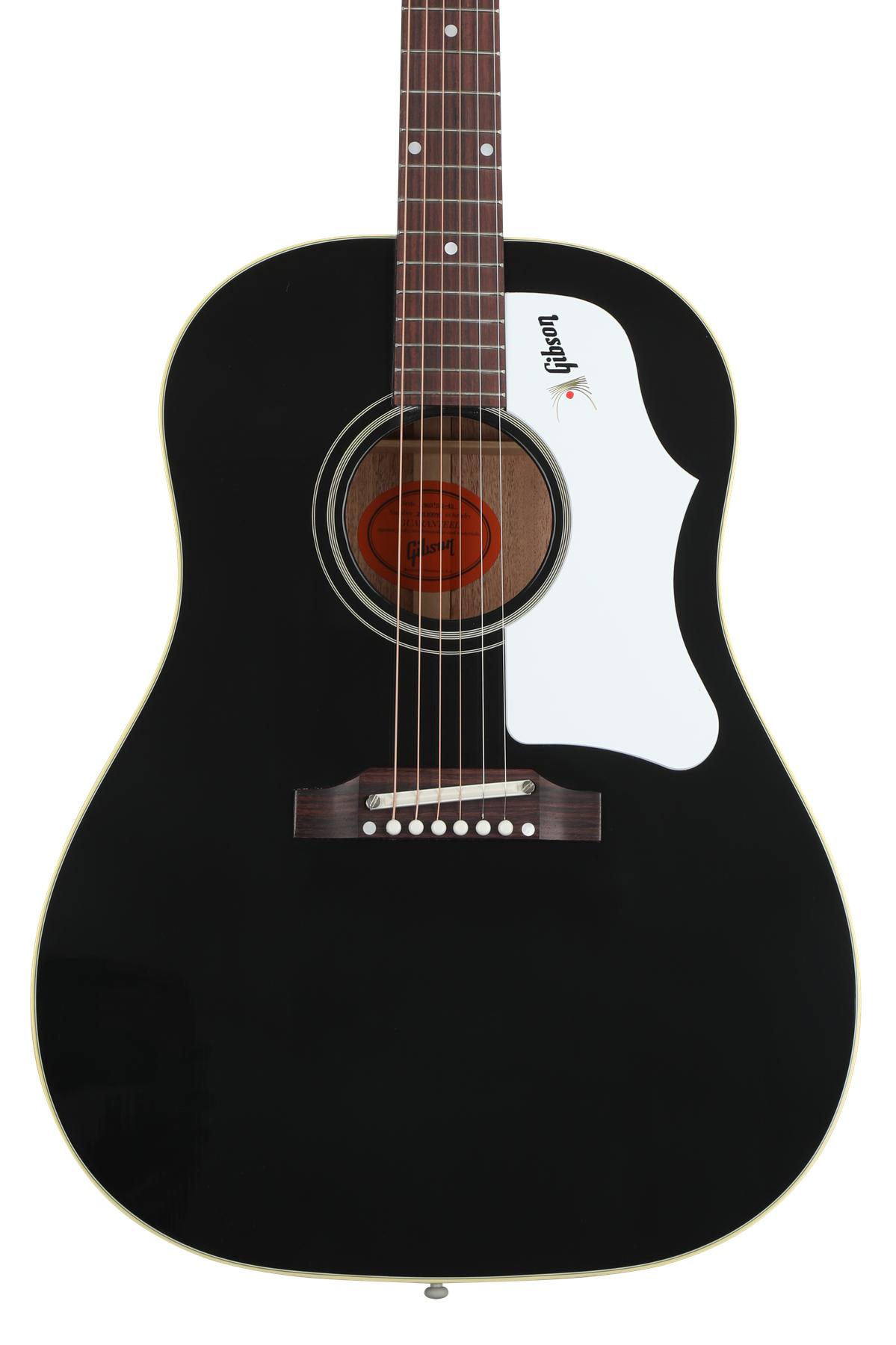 It's also a round-shoulder dreadnought.
The solid Sitka spruce top and mahogany back and sides give it a slightly less bright sound than the J-15.
The period-correct appointment gives it an authentic 60s sound.
In terms of price, this one is about $800 more than the Gibson J-15.
Review
If you like Gibson acoustic guitars but want something a little different, this special edition of the J-45 might be what you're looking for. It's finished in striking black with a contrasting pickguard. If you'd like one of the classic Gibson acoustics in a distinctive finish, make sure you check this one out!
While the Gibson J15 might initially seem like a budget version of the J-45, this remarkable guitar is in a class of its own. Its warm yet bright sound appeals to players and audiences alike, and the J-15 is quickly emerging as one of Gibson's most popular acoustics. If you need a versatile dreadnought for both stage and studio, this one is worth looking at. Click here to check it out!