You don't see a whole lot of parlor guitars made these days (especially when compared to the wide selection of dreadnaughts available), but many prominent guitar manufacturers offer at least a few models. Today, we'll be taking a look at the Gibson L-00 Standard, a top-notch parlor guitar that's ideal for performing and recording.
Things To Consider Before Buying A Parlor Guitar
Having a guitar with a small body has its advantages. Parlor guitars and other small models tend to offer great projection and have a midrange-heavy sound, making them ideal for blues. A small body also tends to be much easier to hold. But before you settle on a parlor acoustic guitar, here are some things to consider:
Highlights of Our Featured Guitar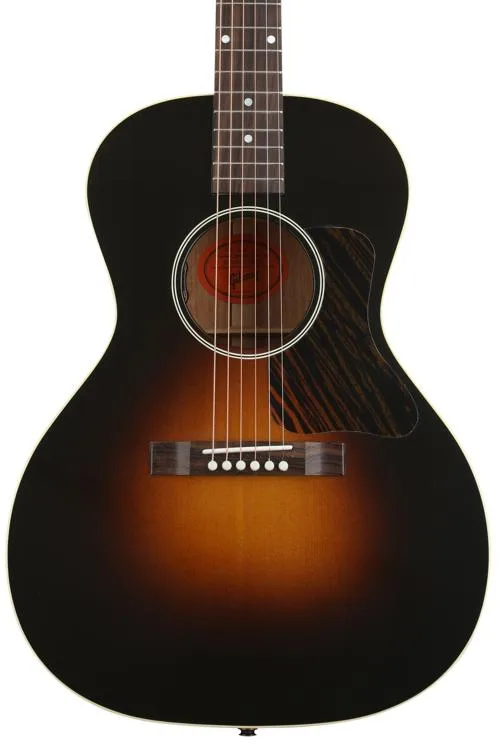 Gibson L 00
A Parlor Acoustic Electric Guitar
Highlights of Alternatives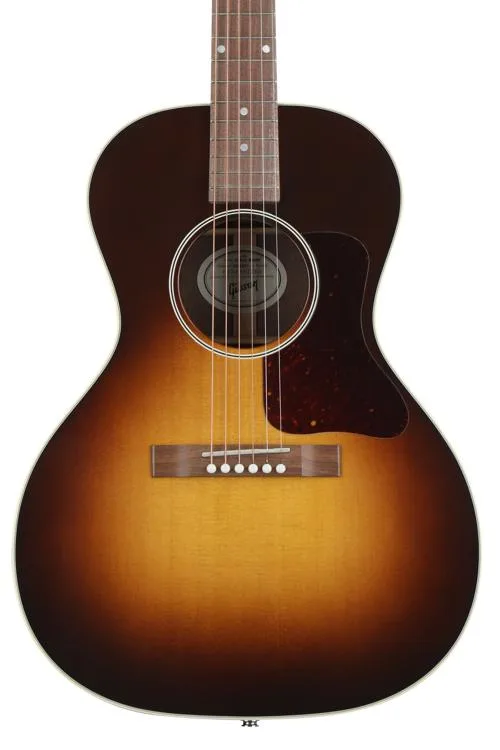 Gibson L-00 Studio Features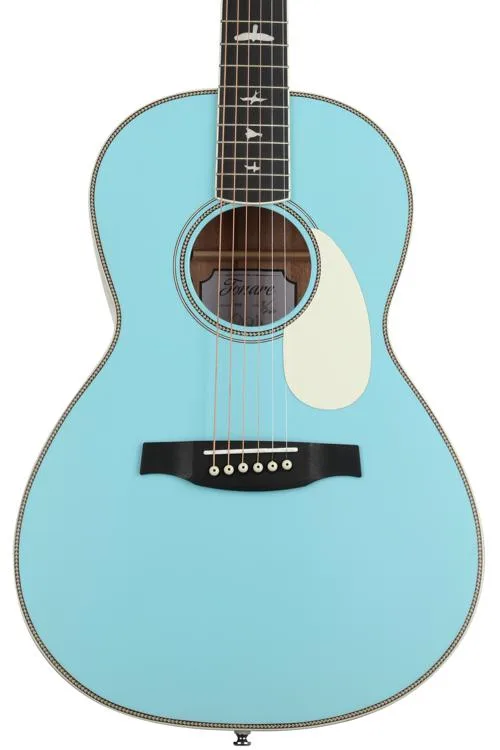 PRS SE Parlor P20E Features
Yamaha CSF-TA Parlor Transacoustic
Gibson L 00
PRO's & CON's of Gibson L 00
But before we get into our Gibson L 00 review, let's look at some pros and cons: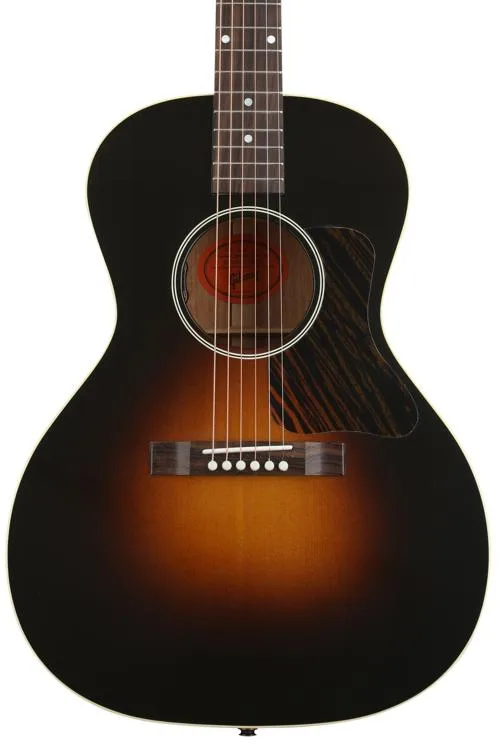 Features and Benefits
Now, let's get into some of the most important features of the Gibson L-00 Standard:
Tonewoods and Build Quality
The parlor body of the L-00 is an excellent choice for blues and some kinds of folk music. It has a very midrange-focused tone, and it works well for accompanying the voice in softer-sounding music as well.
Like most Gibson Acoustic offerings, this guitar is made with traditional hand scalloped X bracing. This means that the X bracing has been carefully whittled down by master luthiers. 
The result is bracing that's less bulky -- the soundboard can vibrate more freely, leading to a richer and more responsive tone. Traditional hand scalloped X bracing tends to make an acoustic guitar more expensive due to the labor it requires, but it's well worth the investment.
If you want to see the design of traditional hand scalloped X bracing and other patterns used by Gibson Acoustic, check out this helpful video.
Of course, while body style and bracing are important when it comes to the sound of an acoustic guitar, the tonewoods used are also incredibly important. The L-00 is made with a classic acoustic guitar combination: a solid Sitka spruce top and solid mahogany back and sides.
(The less-expensive L-00 Studio is made with walnut back and sides). This combination gives you the sparkle and definition you'd expect from a spruce top, but mahogany adds some warmth to the guitar's prominent midrange.
Playability and Sound Quality
When it comes to playability, parlor guitars really run the gamut. Some have traditional V-shaped necks, which can be very difficult to play if you have smaller hands. However, the L-00 is made with a slim taper neck profile. This slimmer profile makes it easy and fast-playing when you need it to be. Plus, the neck is made of mahogany, which adds to the L-00's already warm tone.
This Gibson Acoustic is also highly playable. The small body is easy to hold while playing, and it's comfortable to play sitting or standing. The action is low enough to be comfortable all up and down the neck, and the 24.75" scale length with 19 frets means that string tension is a little lower than average. This makes string bends significantly easier on the Gibson L-00.
Like any Gibson Acoustic, the L-00 has a remarkable sound. It's surprisingly rich for a smaller guitar. And while the midrange is certainly prominent, the L-00 produces enough overtones that its sound is still remarkably full. If you want to hear the sound of the L-00 for yourself, check out this sound demo.
Electronics
The Gibson L-00 has a great unplugged sound, but as you know, it's important that any guitar has a great plugged-in tone too. Higher-end Gibson Acoustic guitars like this one typically come with great electronics, while the more stripped-down Studio models usually come with less-expensive electronics.
The L-00 comes with L.R. Baggs VTC electronics. This system involves an under-saddle transducer, which has a more full and natural sound than under saddle piezo. Plus, this pickup also has a volume control right inside the soundhole. This eliminates the need for bulky onboard preamps, which can detract from the look of the guitar.
If you want to hear the plugged-in sound of the Gibson Acoustic L-00, check out this blues video demo.
Fit and Finish
The finish and look of a guitar probably isn't the sole factor in your purchase decision, but most players want to have a guitar that at least looks nice. Like most Gibson Acoustic offerings, the L-00 is a well-appointed guitar. It has a smooth rosewood fretboard adorned with mother of pearl dot inlays, and there's a rosewood rectangle bridge to match.
The L-00 comes in a vintage sunburst finish, and it contrasts beautifully with the ivory single-ply binding. The Golden Age nickel tuners add to this guitar's vintage appeal. A bone nut and saddle help support increased sustain and richness of tone.
If you want to take a closer look at the L-00 from Gibson Acoustic, check out this video demo that compares it to 00-style guitars from other brands.
Social Proof of the Guitar
Conventional guitarist wisdom maintains that it's best to try out any acoustic guitar in person before you buy. However, that isn't always possible. If you're interested in the Gibson L-00 Standard, here are a few helpful reviews we've found to help you make a decision:
This short Gibson L 00 review gets right to the point -- for this reviewer, nearly every other guitar they've played seems cheap in comparison.
This purchaser was very impressed with the Gibson L-00 Standard. However, they did think that the Grover tuning machines weren't as good as they could be. (The current L-00 is made with Golden Age tuning machines, which seem like an improvement.
This last review snapshot is a great endorsement of this little guitar -- the reviewer typically prefers Taylors but chose this guitar instead.
Alternatives to Gibson L 00
The L-00 Standard is a great guitar, but before committing to it, you may want to take a look at some other acoustic guitar options. Here are a few alternatives we found:
Gibson L-00 Studio
How it Compares to Gibson L 00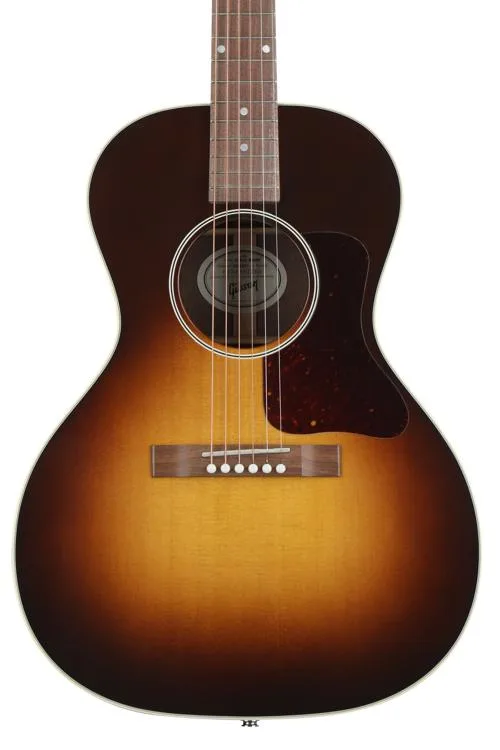 Review
If the L-00 Standard is too expensive for you, you might want to consider this option. Its back and sides are made of walnut, and it comes with a more affordable electronics system -- the Fishman Sonitone.
If you want a more affordable iteration of this Gibson classic, make sure you check this one out today!
PRS SE Parlor P20E
How It Compares To Gibson L 00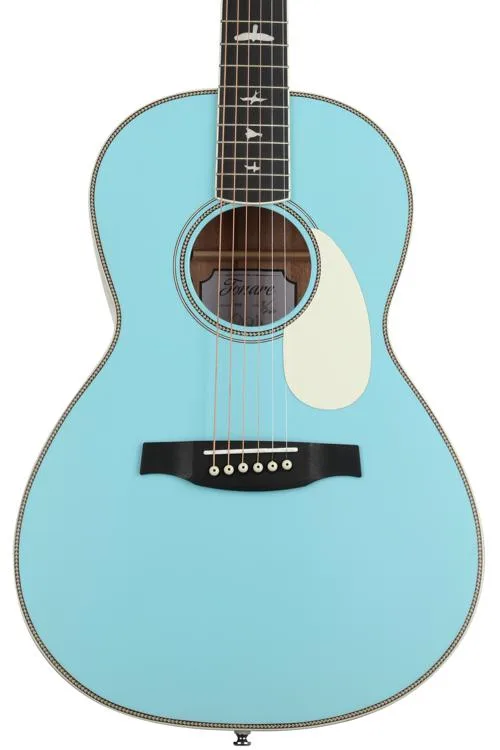 Review
You probably don't know PRS as a producer of parlor guitars, but this model offers an interesting departure from their usual line. It has a solid mahogany top with laminated mahogany back and sides, and it features quality appointments like an ebony bridge and a bone nut and saddle.
If you want a very affordable option that's still a very nice guitar, make sure you give this one a look!
Yamaha CSF-TA Parlor Transacoustic
How It Compares To Gibson L 00
Review
Have you ever wished you had an acoustic guitar with onboard effects? Now you can have exactly that thanks to this unique guitar from Yamaha. Using their unique Transacoustic system, this guitar's onboard chorus and reverb effects can enhance your live tone with no external amplification. However, you can plug it in to play if you wish. The Transacoustic system simply vibrates the guitar top to create a richer tone.
If you're looking for a guitar with a small body that's less expensive than what Gibson Acoustic has to offer, make sure you check this one out!
In Conclusion
While we understand that the Gibson L-00 Standard is one of the more expensive parlor guitars out there, we think it's a worthwhile buy if you can afford it. After all, Gibson has been known for handcrafted, top-notch guitars since the 1800s. Plus, the L-00 boasts all-solid construction, excellent playability, and top-of-the-line electronics. If you're ready for a truly excellent parlor guitar, click here to check it out!