Whether you're just learning bass, looking for a sturdy gigging instrument, or need a reliable bass to keep around the recording studio, a versatile, affordable, and great- sounding bass guitar can be hard to find. Today, we'll be talking about the Ibanez GSR200, a smaller-bodied yet remarkably full-sounding instrument.
Things to Consider Before Buying a Beginner Bass Guitar
If you're new to bass, you not already know what sound and playability features you prefer. As part of the Ibanez Gio series of electric and bass guitars, the GSR200 is designed for newer players still discovering their sound. Before you commit to this bass or another one, it can be helpful to keep the following things in mind:
Features and Benefits
In this section, we'll take a closer look at some of the important features of the Ibanez GSR200. Of course, with a price this low, you can't expect it to be able to compete with very expensive basses, but we've been impressed with its overall value.
Build Quality
At first glance, the GSR200 from Ibanez looks like any other budget-priced, double-cutaway bass. Particularly for those just learning to play, the dual cutaway design makes accessing frets further down the neck much easier. The body is made out of agathis, a tonewood you may be familiar with if you've spent any amount of time shopping for less-expensive guitars or basses.
Agathis is similar to pine--it's a softer wood, and it doesn't have a distinctive grain. Opinions on agathis as a body wood seem to differ considerably. Some guitarists claim it's about as good as plywood, while others say it's somewhat similar to mahogany.
The bottom line is that making the bass body out of agathis helps keep costs down--you may or may not end up liking the tone. If you want to learn more about different tonewoods, this video may be interesting--it offers an explanation of how the wood used to make the body can affect the tone of electric guitars and bass guitars.
As for the neck, the GSR200 has a slightly slimmer profile to accommodate players who are just learning bass. This bass has a maple neck, which is a good thing for longevity. Maple is a sturdy, dense wood that resists warping, so you'll likely be able to play the GSR200 for years to come. The maple neck is capped by a jatoba fretboard, which you may be unfamiliar with (we hadn't heard of it previously).
Jatoba is a wood that is sometimes used as a rosewood replacement. It doesn't have the same warm tone as rosewood, but it's a useful alternative for more affordable instruments. Many other Ibanez guitars, especially those that are more affordable, come with a jatoba fretboard. While a jatoba fretboard may not add a whole lot to your sound, it certainly won't detract from it, and it does keep the price of the instrument down.
Pickups and Sound Quality
As we mentioned above, this bass comes with both a P-coil neck pickup and a J-coil bridge pickup. If you already have a strong preference for P pickups or J pickups, this may not be ideal, but having one of each lets players sculpt their sound.
Both the neck and the bridge pickup are Powersound pickups, which are used in more affordable Ibanez models. Some players opt to upgrade the pickups later on, which is an option if you want to improve this bass's tone without buying a new one.
When it comes to controls, players have a surprising number of options. There's a master tone control as well as a volume control for each pickups, which lets you blend neck and bridge pickup output to achieve an array of different sounds.
Additionally, we think the active bass boost helps beef up the low end to give this bass a bigger sound. With an EQ control, you can adjust the amount of bass boost added. If you want an in-depth sound review, check out this video demo.
Finish and Color Options
Whether you like a splash of color or prefer basic black, you can find the Ibanez GSR200 in a variety of finishes. While some are translucent, it's worth noting that agathis doesn't have the beautiful grain of some higher-priced woods. Here are the color options we could find:
Social Proof of the Guitar
Many guitar experts and players recommend trying out an instrument before buying. If that isn't possible, it may be helpful to read a few product reviews from others who have purchased this Ibanez bass. Here are some of the reviews we found:
This helpful review outlines some of this bass guitar's playability features. Bass can be challenging for players with small hands, but this bass is a suitable choice for them.
Like many who purchase this bass guitar, this reviewer is new to the instrument and is happy with its sound and control options.
This review highlights this instrument's versatility--having a P-coil neck pickup and J-coil bridge pickup makes it useful for multiple genres.
Alternatives to Ibanez GSR200
We think the GSR200 is a great bass guitar if you're on a budget, but it's always good to shop around. We've found three other electric bass options you might want to consider:
Ibanez GSRM20
How it Compares to Ibanez GSR200
Review
This bass is a close relative of the Ibanez GSR200--it's essentially a short-scale version. This one also has an agathis body and Powersound pickups, but a shorter, slimmer neck that's more comfortable for younger players and people with small hands. And like the GSR200, this little bass has been favorably reviewed by many who have purchased it. If you need a smaller, slightly less expensive bass guitar, make sure you check this one out!
Squier Affinity Jazz Bass
How It Compares To Ibanez GSR200
Review
Squier is Fender's budget brand, and Squier's Affinity Series is designed for players who are looking for quality instruments on a budget. This instrument is an affordable jazz bass, and it's made with poplar, which many players find preferable to agathis.
As a jazz bass, this instrument has two J-coil pickups, so it may not be the right choice for players who want to be able to choose from P-coil and J-coil pickups. If you prefer the look and sound of a Fender jazz bass, make sure you check this one out!
Yamaha TRBX174EW
How It Compares To Ibanez GSR200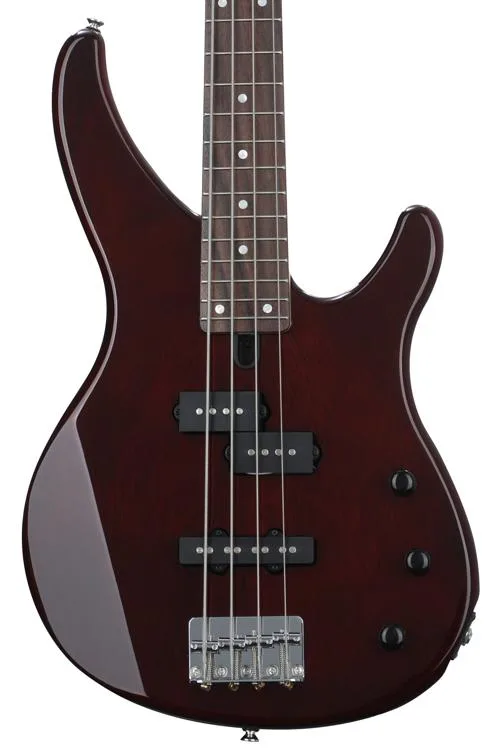 Review
Yamaha is known for making guitars that offer excellent value, and this bass guitar is no exception. It's made of mango wood, which is an uncommon choice, but it's generally well-respected by guitar and bass builders. Like the Ibanez guitars we've mentioned, this one also has a P-style pickup and a J-style pickup, making it a good option for those who want more tonal options. 
If you want a reliable, affordable bass that is only slightly more expensive than the Ibanez ones we've mentioned, make sure you take a look at this one!
In Conclusion
Whether you're new to the electric bass or just need an affordable, versatile option, we think this Ibanez bass Gio model is an excellent choice. It combines lightweight playability with a versatile sonic profile, which makes it a good option for many types of players. Plus, it comes in several unique colors. Click here to check it out!