If you've ever played or heard a well-made vintage acoustic guitar, you know that there are few new guitars that can compare. The Takamine EF360S-TT is a quality acoustic-electric guitar made with Takamine's Thermal Top technology. Thermal Top means that the top wood has been aged in a low-oxygen, high-heat environment. This artificial aging process means that the EF360S-TT will sound (and look) like a well-maintained vintage dreadnought straight out of the box
Things to Consider Before Buying a High-End Acoustic-Electric Guitar
A guitar like the EF360S-TT is a significant investment. Before you buy, it's a good idea to think carefully about what you need from a guitar.
Our Picks for Review
| | | | | |
| --- | --- | --- | --- | --- |
| | | | | Cell |
| | | | | Cell |
| | | JJ325SRC John Jorgenson Signature | | Cell |
| | | Americana 16 Series D-16E | | Cell |
Takamine EF360S-TT
PRO's & CON's of Takamine EF-360S-TT
But before we get any further into our review of this remarkable guitar, let's look at some pros and cons: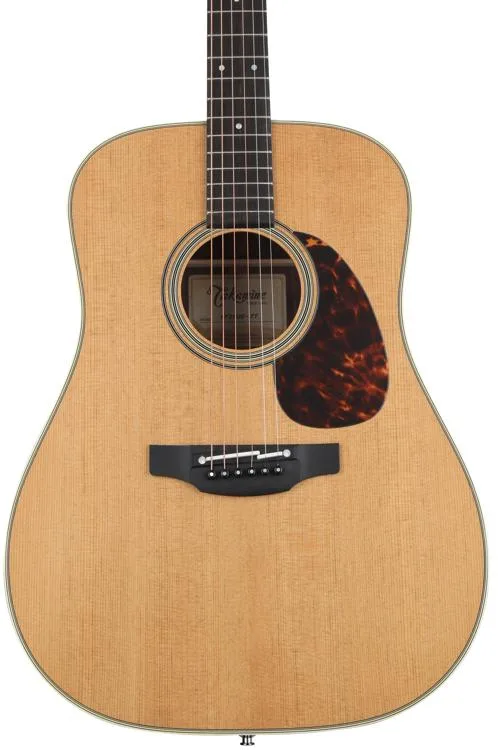 Features and Benefits
In this section, we'll take you through some of the features of the Takamine EF360S-TT. We think it's a remarkable-sounding instrument, but we'll include some sound demos and let you be the judge.
Tonewoods and Sound Quality
While every guitarist has their own preferences, certain tonewood combinations just seem to suit acoustic playing. The EF360S-TT has a solid spruce top and a solid rosewood back and sides. As you likely know, this combination brings together the pleasant brightness of spruce with the defined low end and complex harmonics of rosewood. This guitar is made with Indian rosewood, which is often considered to be superior to other rosewood varieties.
The top of the EF360S-TT is also worth discussing--it is a thermal top , which means it has been artificially aged using careful temperature and air quality controls. The result is a top that looks and sounds like the top of a 100-year-old, played-in dreadnought.
As for the neck, this guitar has a solid mahogany neck that has a traditional profile. It's neither too slim nor too heavy, and it imparts some additional warmth to the sound. If you want to hear the EF360S-TT for yourself, check out this video demo.
Electronics
Plenty of acoustic-electric guitars have a noticeable side-mounted preamp. While having an adjustable EQ can be nice, the preamp often detracts from the appearance of the guitar itself. The EF360S-TT has a TLD-2 Line Driver preamp, which has no external controls. However, it is designed with acoustic guitar amplification in mind, and many players seem to think it suits this particular model.
This model is fitted with a Takamine Palathetic pickup. This unique pickup is a specialized piezo pickup with individual elements for each string. The pickup is built into the guitar and extends through the soundboard, making it ideal for players who use percussive techniques.
If you want to hear more about this remarkable pickup, check out this video demonstrating its natural sound and impressive range.
Other Appointments
In true vintage fashion, the EF360S-TT comes with a bone nut and saddle. While some players may prefer the sound of composites, bone is one of the oldest nut/saddle materials, and it has an enduring popularity. If you're interested in the difference that bone can make, check out this video--a guitarist plays the same guitar with a plastic nut and saddle and then plays it with a nut and saddle made of bone.
The tuners are Gotoh open-gear with classic butterbean knobs, so you're able to stay in tune in style. The fingerboard is made of ebony, a beautiful and tight-grained wood that adds a hint of crisp attack to your sound. Like many vintage acoustics, this guitar has understated dot inlays. The patterned ivoroid binding offers a pleasant contrast, and the gloss finish gives this instrument just enough sparkle.
Social Proof of the Guitar
If you are considering purchasing the EF360S-TT, it may be helpful to look at what other players are saying. As we searched for reviews of this acoustic-electric guitar online, the reviews we found were overwhelmingly positive.
This player describes the EF360S-TT as a "cannon," as it has pronounced bass resonance. This is a trait that many acoustic players like--rosewood in particular is known for its ability to produce pronounced yet defined lows.
This useful review covers both the guitar's sound and aesthetics. As this person points out, the EF360S-TT has classic, understated looks, but its sound is incredible for the price.
If you, like us, were hesitant about Takamine electronics, it may help to know that (at least according to this player) the electronics on this acoustic-electric guitar faithfully amplify its sound.
Alternatives to Takamine EF360S-TT
While we think this is an excellent acoustic-electric guitar for the money, it's always a good idea to look at a few alternatives before you commit. In this section, we'll show you three alternatives we think you might like.
Takamine EF740FS-TT
How it Compares to Takamine EF360S-TT
Review
As you may have figured out from the "TT" in the name, this is another of Takamine's Thermal Top guitars. This one is slightly more expensive than the EF360S-TT, but it offers different features as well. It's an orchestra model, which offers versatile sound good for fingerpicking and strumming alike.
This one also has a solid thermal top made from spruce, but the back and sides are solid sapele. Like the EF360S-TT, this guitar also has a TLD-2 Line Driver preamp paired with a Palathetic pickup, as well as a mahogany neck. If you'd prefer a smaller orchestra model that's equipped with a cutaway, make sure you check out this guitar!
Takamine JJ325SRC John Jorgenson Signature
How It Compares To Takamine EF360S-TT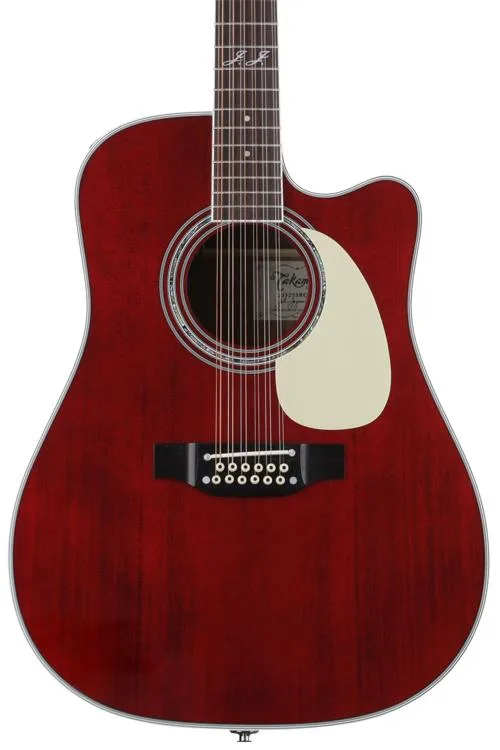 Review
If you appreciate Takamine quality but are looking for something a bit different, this cutaway dreadnought just might be right for you. Its bracing is inspired by John Jorgensen's custom scalloping of his own bracing. It has a solid spruce top and back and sides made of Bubinga. This is a little-used tonewood that sounds very similar to rosewood.
However, this guitar really shines when it comes to electronics--it's equipped with a Takamine DSP preamp, which is the first digital acoustic preamp. This preamp has a digital reverb setting and a parametric EQ, both of which expand your sonic options. If you're the type of player who likes to experiment with sound, make sure you give this guitar a look.
Martin Americana 16 Series D-16E
How It Compares To Takamine EF360S-TT
Review
Since some buyers have compared the EF360S-TT to a vintage Martin, it's only fitting that we've included a Martin in our list of alternatives. This guitar is almost exactly the same price as the EF360S-TT, and it has a solid Sitka spruce top.
The back and sides are made of sycamore, a wood with a beautiful grain that sounds a bit like mahogany. The D-16E is also a dreadnought with no cutaway, and it comes with Fishman Matrix VT Enhance electronics. If you like this model but would prefer a Martin, make sure you check this one out.
In Conclusion
While it's more expensive than some acoustic guitars, we think the Takamine EF360S-TT is worth every penny. Of course, it's made with a classic tonewood combination--solid spruce with solid rosewood back and sides creates a balance of brightness with a focused low end. And while you might wish the electronics had more adjustable controls, the specially-designed pickup and preamp make this instrument one that dazzles onstage. If you want something that has classic vintage looks and tones, the EF360S-TT may well be the guitar for you. Click here to check it out!