When it comes to acoustic guitars, the Martin D-28 is legendary. It's been in production since the 1930s, and its popularity still doesn't seem to be waning. Though it's somewhat plain in terms of looks, the Standard Series New D-28 Guitar delivers tone that's hard to beat.
Martin Guitar D-28 has been the first choice for years of many legendary players like Hank Williams, Bob Dylan, Beatles, Neil Young, Johnny Cash and countless others. To commemorate the 75th anniversary of Hank Williams, Martin Guitar Company came out with Martin Limited Edition D-28HW Guitar with 150 pieces.
In this Martin D-28 review, we'll look at why this is a standout among high-end guitars and help you decide whether it's the right choice for you.
Things to Consider Before Buying a High-End Acoustic Guitar
A high-end acoustic guitar is a major investment, both financially and in terms of your growth as a player. Before you buy, here are some things to think about:
Our Picks for Review
Features and Benefits
While a guitar's reputation can be a factor in your buying decision, it shouldn't be the only factor. In this section, we'll take a deeper look at some of the D28's features.
Tonewoods and Sound Quality
Spruce and rosewood have long been a classic tonewood configuration for an acoustic guitar, and this is what you'll find on the all-solid-wood D28. East Indian rosewood is especially rare, but it's used in back and sides of many higher-end guitars because of its superb tonal qualities. East Indian Rosewood creates sparkling highs and deep yet defined lows. It also has a truly beautiful grain.
D28 has Sitka spruce top, which is one of the most sought after, responsive soundboard materials. The soundboard is also treated with an aging toner, which will gradually give the D28 the look of a classic older dreadnought. 
Fingerboard material doesn't contribute as much to the tone as body wood. However, the D28's ebony fingerboard has several advantages. Ebony has a very clear attack, which helps contribute to the D28's surprisingly defined low end. This wood also doesn't require a finish, so it feels slick and makes it easy to move up and down the fingerboard.
The result of this tonewood configuration is a guitar with a remarkably balanced tone. Notably, while it has the deep bass response that comes with the dreadnought body shape, the bass is focused rather than boomy. If you want to hear it for yourself, check out this video demo.
Bracing
The D28 is made with forward-shifted X bracing. This is an innovation that moves the "X" in the bracing closer to the guitar's soundhole. This frees up more of the soundboard and allows it to move freely. This freer motion means the guitar is more responsive, and it often increases both volume and bass response. If you aren't sure whether this type of bracing is for you, this video demo compares forward-shifted, rear-shifted, and standard bracing in Martin guitars.
Playability
Most people who play the D28 have commented that this guitar is a highly playable instrument. One of the most important factors for playability is the neck, and the D28 has a neck that Martin calls a modified low oval neck. This neck is slim enough to remain very playable, but it's thick enough to add something to the tone. It's slightly thicker than the average electric guitar neck.
The High Performance Taper neck is a little slimmer than standard acoustic guitar necks. This makes it easier to move up and down the neck, and it makes fretting notes and chords especially easy as you move toward the guitar body.
If you're interested in this neck shape and others from Martin, this video from the manufacturer itself offers a brief history of how Martin developed the High-Performance Taper neck.
Other Appointments
On a guitar of this caliber, you don't have to worry about cheap tuners causing tuning stability issues. The New D-28 comes with nickel open-gear tuners, which help create its vintage-inspired look.
The bridge is also made of solid ebony, which matches the fingerboard. Ebony is also a hard and durable wood, so you likely won't have to worry about the bridge becoming marred over time. 
The string spacing is suited ideally to fingerpicking style, but even if you flat pick or strum, the guitar feels like its made for this style of play. The string spacing is 54.5 mm at bridge and 38.5 mm at nut.
Lastly, the nut and saddle of the D28 are both made of bone. Bone nuts help preserve tuning stability, and they are known for producing quality tone. The bone nut and saddle are self-lubricating, meaning you won't run the risks of strings sticking and negatively affecting intonation. If you want to hear about how bone nuts compare to other popular nut and saddle materials, this video offers a great explanation of the differences.
Social Proof of the Guitar
Short of playing the guitar yourself before buying, the best thing you can do to help you make a decision is to see what other players have to say. We've gathered a few reviews from across the web.
This review does a great job of explaining how this guitar plays well across several genres. Plus, any guitarist who is constantly looking for their next guitar is likely to find this buyer's story encouraging--they found that this guitar stopped them from constantly looking for new ones to buy.
This Martin D-28 review likely echoes the feelings of many buyers--for a lot of players, it's a "bucket list" guitar. The review also underscores the difference between mid-range guitars and guitars like this one.
This is a very succinct review, but it sums up what many owners think about the D28--"I should have bought this guitar first."
Alternatives to Martin D-28
Any time you're considering buying a guitar, it helps to weigh it against some potential alternatives at the same price point. Here are a few guitars to consider alongside the D28.
Martin HD-28E
How it Compares to Martin D28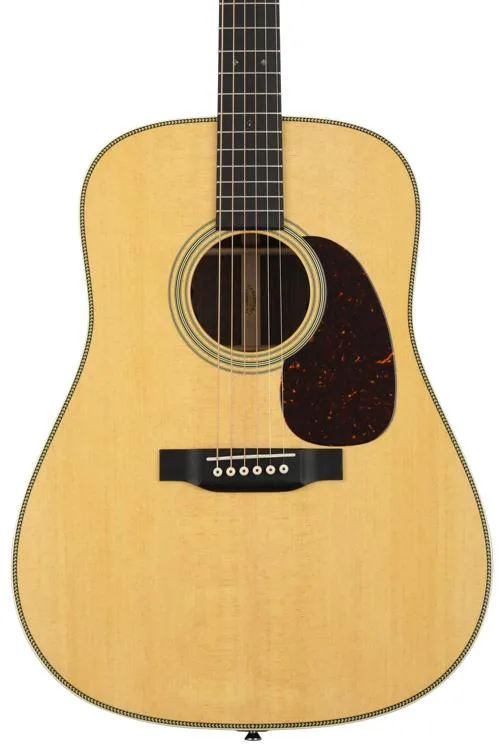 Review
This guitar sounds similar to the D28 in terms of the name, and it's also similar in tone. The HD-28E is kind of like an acoustic-electric version of the D28--it comes with Fishman Aura VT Enhance Electronics.
It does have an important difference in terms of sound--its forward-shifted X bracing is scalloped, so it has a little more high-end presence along with the focused bass response the D28 is known for. If you like the D28 but wish it came with electronics, make sure you give this guitar a look
Gibson Acoustic Hummingbird M
How it Compares to Martin D28
Review
This guitar is a novel take on Gibson's classic Hummingbird. It has a solid Sitka spruce top and walnut back and sides. Walnut is an interesting tonewood, and it sounds like a mix of rosewood and mahogany, with a brighter treble sound. This guitar has a cutaway for easier fret access, and it comes with L.R. Baggs VTC electronics.
If you want a high-end acoustic-electric but want to spend a little less, make sure you check this guitar out.
Taylor 414CE-R
How it Compares to Martin D28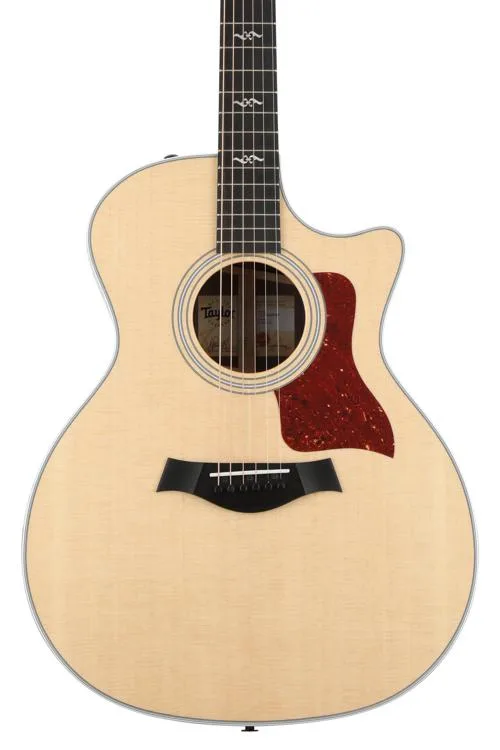 Review
Taylor guitars have an excellent reputation, as do Martin guitars. However, Taylor guitars have a brighter, more "modern" sound, while the Martin D-28 produces classic dreadnought tone. This guitar also features Taylor's new V-class bracing, which allows the soundboard to vibrate more freely and create a more responsive playing experience.
It has the same tonewood configuration as the Martin, but it has a smaller grand auditorium body with a cutaway. It also comes with Taylor's Expression System 2 electronics. If you want a high-end guitar but are seeking a more modern sound, make sure you check out this one.
In Conclusion
The D28 is a classic guitar for a reason. Its powerful, balanced tone has stood the test of time, and it works well across many musical genres. While it is expensive, it's a great choice for those who want the pinnacle of dreadnought sound. If you want a guitar that can do everything from folk to bluegrass to rock, the Martin D-28 is a guitar worth owning. Click here to check it out!