Good beginner electric guitars are hard to find, but the Ibanez miKro is a worthy choice--it offers surprising build quality and decent tone, especially considering the low price point. As a member of the Ibanez GIO series, it's specifically designed to be a value guitar for newer players or people on a budget.
While it's a series and not a line, it's comparable in terms of price and quality to Fender's Squier or Gibson's Epiphone. The result is a playable yet affordable guitar that won't make too much of an impact on your wallet. In this review, we'll take an in-depth look at the miKro to help you decide whether it's the guitar for you
Things to Consider Before Buying an Affordable Electric Guitar
Not all affordable electric guitars are high-quality instruments, and this is something that's important to keep in mind while shopping for one. However, there are a few things to consider in order to help your investment go further.
Most guitarists end up wanting to upgrade at some point, and you can modify your existing guitar to make it effectively worth more than when you bought it. Generally, it's good to choose an instrument with a playable neck and a decent-quality body tonewood.
Pickups are an important part of a guitar's sound, but most affordable entry-level instruments don't have excellent pickups. It's wise to pick a guitar whose tone you like, and then plan to upgrade the pickups down the line.
Our Picks for Review
| | | | | |
| --- | --- | --- | --- | --- |
| | | | | Cell |
| | | | | Cell |
| | | Paul Gilbert Signature miKro | | Cell |
| | | | | Cell |
ibanez Mikro Guitar
PRO's & CON's of Ibanez Mikro
But first, here are some pros and cons: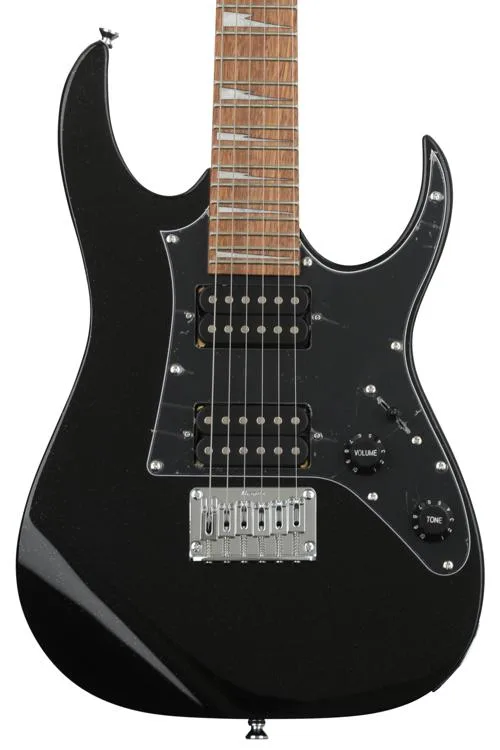 Features and Benefits
Considering its affordable price, the miKro has a lot going for it. Let's look at some of the important features.
Tonewoods and Body Style
If you're considering buying the miKro, it's important to note that this guitar is a 3/4 size guitar, meaning it's 3/4 of the size of a full-sized instrument.
This is a design that's easier for smaller people to play, and it also makes a good travel-size instrument for most experienced players. Because the string tension on 3/4 guitars is lower than that of full-size guitars, it's also easier to do dramatic string bends.
In terms of body style, the miKro is a double-cutaway solid body, similar to the Fender Stratocaster. It's made of solid poplar. Poplar tends to be one of the softer, less-expensive tonewoods, but it has a richer, nicer sound than basswood, which is another wood commonly used in cheaper guitars.
Poplar sounds somewhat similar to alder, which is the wood used on many Stratocasters. If you want to hear what poplar sounds like compared to ash and mahogany (two other popular electric guitar tonewoods), check out this interesting video.
These guitars all have maple necks, but depending on the color you get, some have treated New Zealand pine fingerboards (made to look like rosewood) and some have maple. On miKros with treated pine fretboards, you get cool shark-tooth fretboard inlays. On those with maple fretboards, you get dot inlays.
Pickups and Sound Quality
The miKro has Ibanez PowerSound pickups. Obviously, when buying an inexpensive guitar, you can't expect the same quality pickups you get in a high-end instrument. However, given the price, the pickups in this guitar sound pretty good. A common complaint is that they sound somewhat "muddy," meaning they lack the biting clarity of better pickups.
The PowerSound pickups are also especially suited for playing metal, although their clean tone is respectable and surprisingly nuanced. If you want to hear what the miKro sounds like for yourself, check out this short video demo.
With this guitar, you don't get any coil-splitting abilities--three-way switching lets you play with either humbucker or with both at the same time.
Other Appointments
Many inexpensive or beginner guitars have cheap tuners that make it easy to go out of tune. However, this guitar doesn't seem to have any issues going out of tune. This video shows two miKros being played with plenty of string bends and holding tune just fine.
Like most less-expensive instruments, this one comes with a plastic nut. A plastic nut doesn't do much to improve the tone, but you can easily replace it with bone or a composite material that will improve sound and sustain.
Lastly, the miKro has a fixed bridge, meaning there's no tremolo arm. However, it's often the case that tremolo systems on cheaper guitars cause them to go out of tune, so this isn't necessarily a bad thing.
Finish
The miKro comes in several different finishes. Here's a rundown of the options:
If you want to see one of these guitars in action, this video comparison shows off a black miKro and compares it to a Squier Mini Strat, too.
Social Proof of the Guitar
Reviews are an important part of the guitar-buying experience. Especially if you can't try out a guitar in person before you buy, reviews let you get a sense of whether other players have enjoyed playing the instrument. We've gathered a few reviews of the miKro from around the web.
This review is brief, but it echoes what many reviewers have said about the miKro--it's an excellent value for the price, but many players find that it needs a setup to improve the action, and many also have called the pickups "muddy."
This is a very thorough review of the miKro, and it outlines a lot of the reasons this guitar is a great value. From build to playability to sound, it does tend to outperform most models in the same price range.
This detailed assessment of the guitar covers some of the issues it has. But like most reviews of the miKro, this one comes to the conclusion that despite its issues, this guitar is a great value for the price.
Alternatives to Ibanez miKro
Part of shopping for a guitar is evaluating it compared to other similarly-priced instruments. In this section, we've gathered a few guitars you may want to consider alongside this one.
Squier Bullet Mustang HH
How it Compares to Ibanez Mikro
Review
If you prefer the look of a vintage-inspired Fender guitar, this guitar might be right for you. Plus, it's tonally more suited to rock and pop music, while the miKro is especially suited to metal. It still has the dual-humbucker configuration of the miKro, so the tone has some power to it--it's just different.
However, it has a basswood body, which often produces a flatter, less-nuanced tone than poplar. If you're interested in the miKro but prefer a full-sized guitar suitable for rock music, make sure you check this one out.
Ibanez Paul Gilbert Signature MiKro
How it Compares to Ibanez Mikro
Review
If you like the tone of the miKro but want an upgraded tone, this eye-catching Paul Gilbert signature model might be for you. While it looks a lot like the miKro we're discussing in this review, it has one very important difference: upgraded pickups.
Rather than the PSND humbuckers of the miKro, this signature version has Ibanez Infinity R pickups--the neck pickup has a distinctly warm tone, while the bridge pickup has more bite. If you're able to spend a little more and want an upgraded miKro, make sure you give this guitar a look!
Epiphone Les Paul Special VE
How it Compares to Ibanez Mikro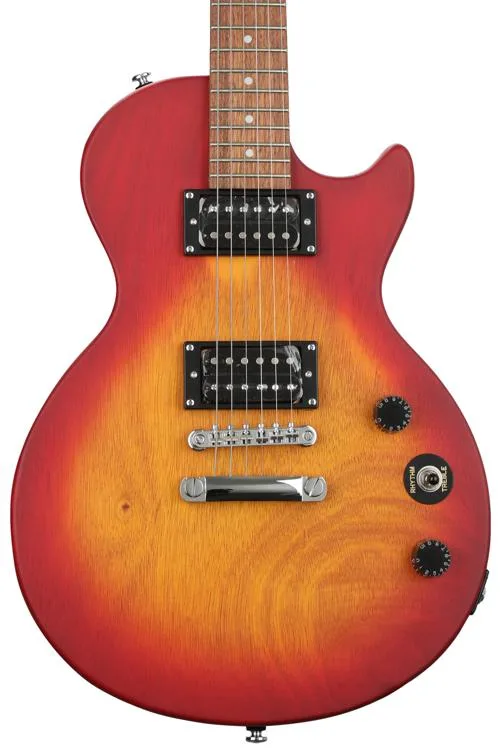 Review
The Les Paul is a staple in rock history, and Epiphone's take on it is much more affordable than most. This guitar is just about the exact same price as the miKro, and it's also made of solid poplar.
It has two humbuckers that produce a fatter tone, and they may be more suited to rock music instead of metal. This guitar also has a different look--it has a distressed sunburst finish, and it looks more like a rock/pop instrument than the shredder-style miKro. If you aren't looking to spend more but want a guitar that looks and sounds a little different than the miKro, check this one out!
In Conclusion
Getting an affordable guitar that sounds great is a real challenge, but the Ibanez miKro is a guitar that answers that challenge in style. If you need a smaller guitar that's beginner-friendly but still has respectable tone, this is a great pick that outshines many instruments at its price point. This isn't a guitar to miss--click here to check it out!