Have you wished you could play the violin but aren't sure where to start? Or maybe you're an intermediate violinist who just needs a little help. As more and more people turn to online music lessons as a way to start or improve their playing, you may have become curious about what learning to play online entails.
We can't speak for every online music lesson provider, but a well-thought-out set of online music lessons can help motivated players get far ahead. Today, we'll be looking at Red Desert Violin, a collection of online violin courses designed for players at just about every level. We like that this site is based on the Suzuki Method and has multiple courses (as opposed to just one). Read on and see if it might be the right option for you.
Things to Consider Before Signing Up for an Online Violin Course
This course is one of the many online violin courses. If you want to learn to play the violin, it helps to have an idea of what type, of course, will suit you best. Here are some things to ask yourself before you choose:
What is your goal? Some people set out to learn how to play a song quickly, while others want to take their time and really learn the ins and outs of an instrument. Clarifying your goal before you start will help you choose the right course for you.
What type of lessons do you need? Some courses use online books, some use video, and some use both.
Do you need in-person support? Some programs have the option of scheduling one-on-one lessons with the instructor (usually for additional cost). Others give you access to student-only forums, which can be useful.
What's your budget? Online lessons range from free to very expensive. While free courses often won't be as thorough as those that cost something, you can usually find something workable for just about every budget.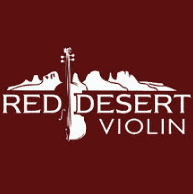 Red Desert Violin – Online Violin Course
PRO's & CON's Of Red Desert Violin
Every player is different, and course features that are essential for you may be a downside for someone else. Still, before we get into the particulars of Red Desert Violin, we think it's important to look at some of the general pros and cons of this site.
Pros
Classes are based on the proven Suzuki Method, which is designed to accommodate as many different types of players as possible.
The teacher is an experienced and accomplished violinist who is dedicated to teaching.
You can choose from a variety of membership options or take individual courses.
Members can access a member forum where they can talk to other students.
Cons
At first, the range of options on the site can be a little intimidating
Some students may not have the time or inclination to complete the courses — you need to be motivated to succeed.
Now, we'll take a deeper look at this program to help you see if it might be the right one for you.
About the Teacher
Lora Staples, the founder of RDV, came to the Suzuki Method after she had begun learning to play the violin. As she learned it, she became convinced that it was the best way to teach the violin. (Here's a brief video lesson).
Lora is an accomplished violinist in her own right, but she is passionate about sharing the joy of playing with others. The RDV site mentions that Lora holds a Master's Degree in violin performance and that she made a living playing music, but it doesn't give much detail other than that.
RDV is essentially Lora's spin on the Suzuki Method. Members get access to Suzuki books, and Lora will then help to provide guidance through each Suzuki book with detailed and helpful video lessons. She refers to herself as a "guide" as opposed to a teacher. This seems fitting — RDV frames learning the violin as a journey as opposed to a quick sprint, which we think is more realistic.
What Do Courses Look Like?
It took us a while to get a feel for this program because there are so many options. You can take as many (or as few) courses as you like. Here's what's available.
The Free Membership
This is one of the few online lesson sites we've seen that has a completely free membership option. Whether you're taking lessons with a teacher, teaching yourself, or just curious about playing the violin, RDV's free membership is a great no-obligation intro.
With this membership, you get regular e-mails that contain quick-playing tips and expert advice. You also get advance notice of upcoming specials, and free sneak peeks into paid content. And lastly, you get members-only invites to webinars and other special events. And, of course, you can cancel anytime.
The Suzuki Books
The Suzuki Method is the backbone of Lora Staples's site, and her most extensive courses center around this method. In each course, you get an online book and accompanying video lessons to guide you. Here are the Suzuki courses currently offered at RDV:
Suzuki Book 1 — This course takes about seven months. It's designed for beginning players and gives you the foundation you need to be successful in any genre you choose.
Suzuki Book 2 — This course takes roughly eight months, and it's designed to be a follow-up to Book 1. You also get access to an online book and video lessons.
Suzuki Book 3 — This course teaches you essential skills in multiple positions. With these skills, you'll be able to play a wide variety of songs.
Suzuki Book 4 — This course takes the skills you learned in Book 3 and applies them.
Extra Courses
If you are taking or planning to take the full Suzuki book courses, you probably don't need to take them, too — most of them are covered in the Suzuki lessons. But if you want a little targeted work, you may be interested in one or more of these:
Suzuki Book 2 Songs Coach — This is designed as a supplementary course for students who are learning Suzuki Book 2 with another instructor. It provides support for learning songs in between lessons.
Red Desert Fiddle — For players who want to play the fiddle, this eight-month course goes over 24 American and Irish fiddle tunes.
Fiddle Secrets — This short course teaches you what you need to know to play fiddle tunes successfully.
Tune Tutorials — These are courses on how to play and practice a single song. They're ideal for learning a song with a band or preparing for a contest.
Vibrato Lessons — This course helps players of all abilities learn to develop vibrato.
Wohlfahrt Opus 45 (1-30) — This focused course helps lay the foundation for studying more etudes in the future.
Learn to Read Music — This 90-day course helps you to read music fluently, which is essential for most violin players.
"Introducing the Positions" by Harvey Whistler — This course helps intermediate players get accustomed to playing in higher positions, and it uses Harvey Whistler's famous book to do so.
"Melodious Double Stops, Vol. 1," by Josephine Trott — This course uses Trott's book to teach double stops, an essential skill for the intermediate violinist.
As you can see, there's plenty to choose from here. But we like RDV's option to take a la carte courses. Rather than package everything into one very long course, RDV can meet you where you are and help you develop in any style you choose.
If you want a sample of what some of these courses look like, check out Lora Staples, offering some quick tips on playing with vibrato.
Cost Options
Of course, the free membership option is completely free. For other courses, the fee is $47 per month. The RDV site offers an estimated time that each course will take (most Suzuki books take around eight months), and you will just be billed monthly for that amount.
However, you will have access to course videos for two full years. This is especially useful if you put down your violin and pick it up again. If you want to access after that, RDV offers the option to purchase extended access.
While this isn't the very cheapest lesson site out there, we think it's worthwhile. Check out this video review and see what you think.
Social Proof of the Course
With all the available online music courses, it can be overwhelming to pick the right one for you. That's why we do our best to scour the internet for reviews and include some snapshots in our reviews. Below are some of the reviews for RDV that we've found: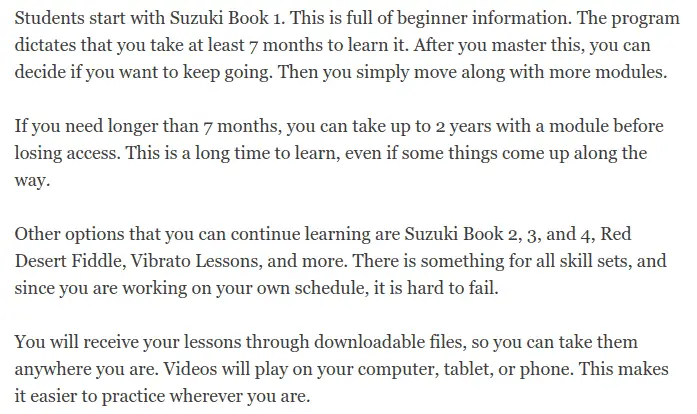 This snapshot is from the site 429 Records. We think it gives you a clear breakdown of some of the many options you have with RDV. Video lessons make it almost as if you have a private instructor, and you can also take advantage of the forums (something not many online music courses have).

This snapshot is from the Old Time Music website. It helps succinctly capture one of the great things about RDV — you can follow the Suzuki modules as you learn the violin for the first time, or you can take smaller individual courses that help you improve as a player even if you've played violin for years.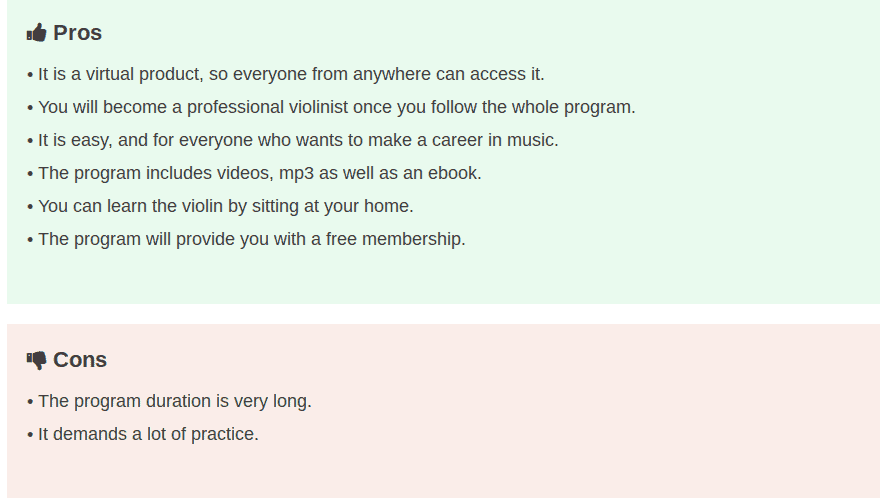 This last snapshot is from the site RegionVAvid. It breaks down some of the pros and cons of the site. We especially appreciate the free membership option — if you're short on money or just starting to learn on your own, this option can help you decide whether you want to take one of the other courses. While we agree that RDV can be somewhat demanding, we think that its Suzuki-based program can really work.
While we think that RDV can be a little confusing to navigate at first (there are so many options to choose from!), we think that this is one of the most realistic music sites out there.
There are no promises that you'll be a virtuoso in two weeks, but the courses are based on the proven Suzuki Method. We think Red Desert Violin is well worth the investment, and if you take the time to practice, we think you'll be well rewarded. Click here to check it out!