Plenty of new and experienced guitarists aspire to one day own a Taylor guitar. And while the brand's all-solid, high-end acoustic-electrics probably have made it onto most players' wish lists at some point, even many of Taylor's more affordable models are more than worthwhile.
Today, we'll be reviewing the Taylor 114CE, a relatively affordable mid-range guitar that nonetheless is a great choice for many performers and/or recording artists.
Before we get any further, we do want to note that this guitar is different from the similarly-named Taylor 114E. Because these two instruments are somewhat close in terms of price and build, we've included the Taylor 114E in our Alternatives section later on.
Things to Consider Before Buying a Mid-Range Guitar
Mid-range guitars usually cost
around $500-$1,500
. Obviously, this is a huge price range, and there are plenty of considerations you'll need to make before choosing a model. Here are some things to think about:
Our Picks for Review
Features and Benefits
In this section, we'll go over some of the features of the Taylor 114CE that make it stand out from others in its class.
Tonewoods
As many players know, the tonewood configuration of a guitar matters a lot. This one has a top of solid Sitka spruce. This is one of the most popular tonewoods in the world. It's lightweight yet strong, so it can easily transfer the energy from each plucked or picked string into beautifully rich sound.
The back and sides of the 114CE are made of layered sapele. Layered woods usually sound better than cheaper laminates, many of which use plywood. Sapele looks and sounds a lot like mahogany, but it does have a more pronounced high end, making it great for guitarists who like a brighter sound.
If you want to hear the difference between a Taylor with laminated back and sides and one made of all-solid wood, check out this video that lets you hear them played side by side.
The neck of this guitar is also made of sapele. This tonewood choice helps keeps the guitar itself light and its price affordable. The fingerboard is made of ebony, which is the choice of many top guitarists. Ebony is fast-playing and tight-grained, and it also adds some crispness to each note played.
Bracing and Body Style
When choosing a guitar, body shape matters significantly. Many Taylor guitars are made using the Grand Auditorium body. This body shape was designed by Taylor, and it's incredibly versatile, making it great for performers who combine fingerpicking, flat picking, and strumming.This video from Taylor explains the differences between Grand Concert and Grand Auditorium instruments.
As far as bracing, this guitar is made with forward-shifted X bracing. Most contemporary acoustics have X bracing, but the forward-shifted design often increases bass response. Some players love this feature and some don't, so it's a good idea to listen to sound demos of a few guitars before choosing.
Electronics
Many acoustic guitars come with a simple undersaddle piezo. These pickups can sound decent when playing live, but many players prefer a more natural sound that comes close to the sound of a mic'd acoustic. Taylor's incredible behind-the-saddle Expression System 2 pickup makes a world of difference when playing live. This design helps to accurately amplify each nuance in your playing, making it a great choice for those who play live.
This video from Taylor offers an in-depth introduction to the Expression System 2.
Other Features
Most Taylor guitars are made with quality components, and this one is no exception. With high-quality Taylor made tuners, this is an instrument that is likely to stay int June even when played vigorously. It also comes with a NuBone nut and Tusq saddle for enhanced sustain.
This video from Graph Tech
, which makes both Tusq and NuBone, may help you understand the differences between their materials.
Social Proof of the Guitar
Before committing to any guitar, it's a good idea to see what other acoustic players think about a given model. In order to help you decide whether the 114CE is for you, we've included some reviews from around the web.
This review was written by someone who has played a variety of acoustic guitar brands. If you're in the market for a Taylor but are on a budget, this reviewer thinks that this guitar may be a great choice.
This brief review praises the acoustic and plugged in sound of the 114CE. While recording while plugged into an interface might not be bright for everyone, the ES-2 pickup system is high-quality enough to make it a possibility.
When shopping for an acoustic guitar online, it can be a challenge to get a feel for what an instrument will sound like when you play it, especially if you're a beginner. This review is by a new guitarist who still found its tone to be incredible.
Alternatives to Taylor 114CE
While the Taylor 114CE is a great instrument for the price, this isn't the perfect guitar for everyone. We've found three similarly-priced alternatives for anyone shopping around for a quality acoustic guitar.
Taylor 214CE
How it Compares to Taylor 114CE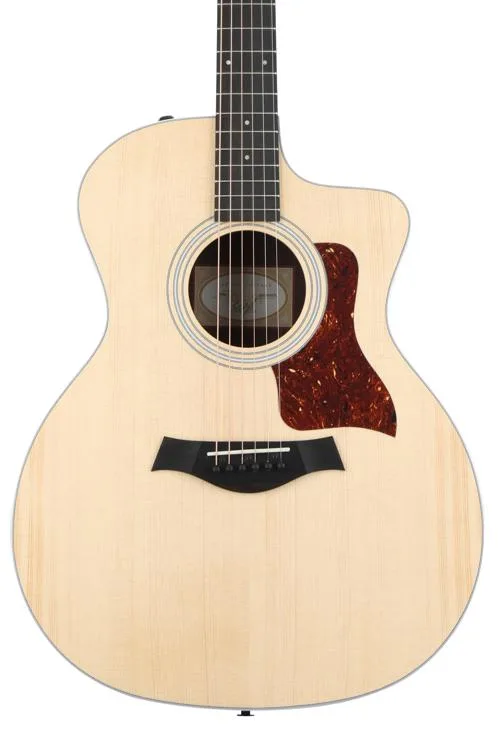 Review
This guitar is essentially an upgraded version of the 114CE. This guitar also has a solid Sitka spruce top, and its back and sides are made of layered koa for a distinctive beauty and bright, articulate sound. It is also made with Taylor's signature grand auditorium body style, and its slim neck and cutaway make playability a breeze.
If you prefer koa to sapele and still want Taylor sound on a budget, make sure you check this one out!
Taylor 114E
How it Compares to Taylor 114CE
Review
At first glance, you might think that this guitar is simply the non-cutaway version of the 114CE. However, the Taylor 114E has another important difference--its back and sides are made of layered walnut instead of koa. Walnut is a beautiful wood that sounds like a mix of maple's clarity and rosewood's defined low end.
It's also a grand auditorium, and it comes with Expression System 2 Electronics. If you're looking for a quality Taylor that's a bit more affordable, be sure to check out the Taylor 114E!
Paul Reed Smith PRS A50E Angelus
How it Compares to Taylor 114CE
Review
If you like the look of Taylor guitars but want something different, this unique guitar from Paul Reed Smith might be something you'd like. This guitar is made with a truly unique bracing that combines X bracing with the fan-style bracing often used in classical guitars.
Like most Taylors, this guitar is a thin-body design with a cutaway. It comes with Fishman GT1 electronics and has a solid Sitka spruce top combined with articulate and beautiful figured maple back and sides. If you want to look beyond the Taylor brand and are willing to consider a guitar that breaks the mold a bit, make sure you check this one out!
In Conclusion
Lots of people love the characteristic bright sound of a Taylor--we do too! We also think the Taylor 114CE is an excellent option, especially if high-end Taylors are out of your price range. But the combination of a solid top, great playability, and Taylor's incredible Expression System 2 electronics makes this one a great value. Click here to check it out!