If you're at all familiar with Taylor guitars, you probably know them for their great playability and world-class electronics. These guitars are some of the best in the business, and if you're looking for a versatile performance machine, we think this is a great brand to check out.
Today, we'll be looking at the Taylor 614CE, an all-solid acoustic-electric from the 600 Series. It's made with Taylor's unbelievably responsive V-class bracing. It also comes with world-class electronics, making it a great option for the performer.
Things to Consider Before Buying a High-End Guitar
Purchasing a high quality guitar often involves a good bit of thought. Most guitar players take the time to carefully consider what they want in an instrument. Before you decide to purchase the 614CE or another high quality guitar, it's a good idea to ask yourself the following:
Our Picks for Review
Features and Benefits
Now, we'll get into some of the key features and benefits of the Taylor 614CE.
Tonewoods and Build Quality
This guitar is certainly a departure from many acoustics. The top is torrefied Sitka spruce, but the back and sides are maple -- an uncommon choice. Maple is known for its projection ability, and it also has a dampening effect that can actually enhance the clarity of the notes you play. Despite its good qualities, though, maple back and sides are rarely seen on higher-end acoustics -- the Gibson J200 comes to mind, but that's about it. The 614CE has a tropical mahogany neck, whose warmth helps to balance out maple's crispness. The neck is also made with Taylor's signature slim shape, making it comfortably easy to play.
The top, though, is something a little different as well. The Sitka spruce top has been torrefied. Torrefication is essentially "baking" a guitar top. The process chemically ages the wood, giving even new guitars the rich, played-in sound of an older instrument. This way, you don't have to wait years for your guitar to develop the lovely, played-in tone of a vintage instrument.
This guitar uses one of Taylor's most beloved body shapes -- the grand auditorium. This shape is designed to have all the bass of a dreadnaught, but the pinched waist gives it a little more treble. Plus, it has a sleek silhouette that many players love.
The real genius of the 614CE, though, comes in the V-class bracing. Most acoustic guitars are made with X-bracing, but V-class bracing allows more flexibility in the soundboard. The result is a top that vibrates more freely, making the guitar incredibly responsive to a player's touch. On top of that, the V-class bracing also offers unparalleled sustain. If you want to learn a little more about V-class bracing and how it works, check out this informative video.
Sound and Electronics
As we mentioned earlier, most high-end Taylors are designed for performers, so they're easy to plug in and play. The 614CE comes equipped with Taylor's Expression System 2 (ES2) electronics. This behind-the-saddle system captures a much more natural sound than most undersaddle piezo systems.
With the ES2 system, you get a very discreet volume knob and two tone controls, located right next to the neck joint. This setup doesn't detract from the looks of the guitar like most onboard preamps do. The system also has a phase switch that can be turned on to suppress any feedback you get while playing live.
In terms of sound, when you listen to this guitar, the first thing that comes to mind is clarity. Every note rings out with impressive sustain, and the complexity of each chord is showcased. There's an excellent balance between bass and treble, and the 614CE is unusually responsive. This is really a guitar you need to hear to believe, though -- check out this thorough demo.
Finish and Appointments
Like many higher-end Taylors, the Taylor 614CE has tasteful appointments. The fingerboard is made of beautiful and comfortable West African ebony, and the bridge is also ebony. Winged ivoroid inlays adorn the fretboard (as they do on all 600 Series guitars), and they contrast beautifully with the darkness of ebony. The nut is black graphite, and the saddle is micarta. Both of these carefully-selected materials are designed to maximize sustain and preserve intonation.
We especially like the finish on this guitar. It's made with brown sugar stain, which is essentially a natural finish with a little more darkness. It shows off the grain of the wood, but it also gives the guitar its own unique character. The brown sugar stain is also hand-rubbed, giving the 614CE a top-quality look. The light finish is offset by ebony binding, which is a subtle yet elegant touch. And lastly, the tuning machines are Taylor-made nickel, with an excellent 17:1 gear ratio.
If you want a closer look at the Taylor 614CE aesthetics, check out this video comparison of this guitar against the Taylor 814CE.
Social Proof of the Guitar
Buying a high-end guitar sight unseen can be difficult for some, but reading reviews from other players can help. We searched for as many reviews of the Taylor 614CE, and we found almost all positive reviews. Here are three especially helpful ones we found:
For this experienced guitarist, it was also challenging to purchase an expensive guitar without playing it first. But as you can see from their Taylor 614CE review, this person was blown away by the sound and quality of this guitar.
This brief review praises the V-class bracing on the 614CE grand auditorium, which we think is a truly revolutionary design. Like just about every buyer we found, this person was very impressed with this guitar.
This last review praises this guitar's responsiveness. Much of this is due to V-class bracing -- there is an older, X-braced version of this guitar, but the X-braced version is not nearly as sensitive to touch as you play.
Alternatives to Taylor 614 CE
When purchasing a high-end guitar like this one, it's a good idea to be absolutely sure about your purchase before you make it. In order to help you decide if the Taylor 614CE is the right guitar for you, we've looked around for some potential alternatives.
Taylor K14CE Builder's Edition
How it Compares to Taylor 614 CE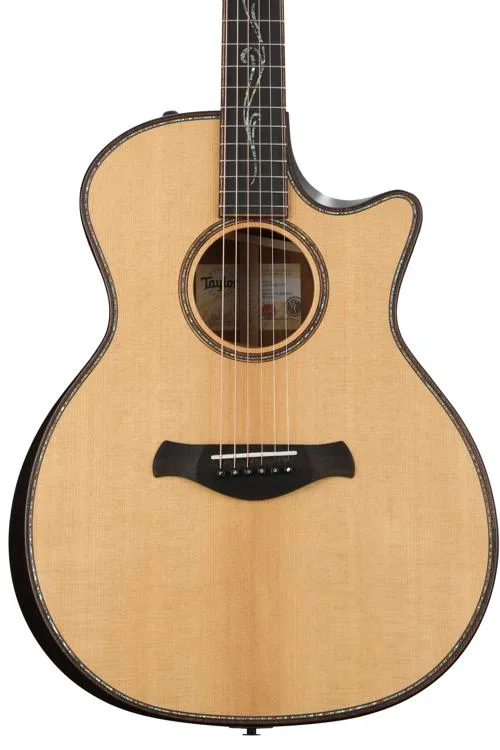 Review
If you like the 614CE but prefer the sound of koa, you'll love this option. This one also has a torrefied Sitka spruce top, but the back and sides are made of beautiful Hawaiian koa. This one also has V-class bracing, giving it incredibly cohesive sound.
If you prefer koa over maple back and sides and want one of the best guitars Taylor makes, make sure you check this one out!
Taylor 814CE-N
How It Compares To Taylor 614 CE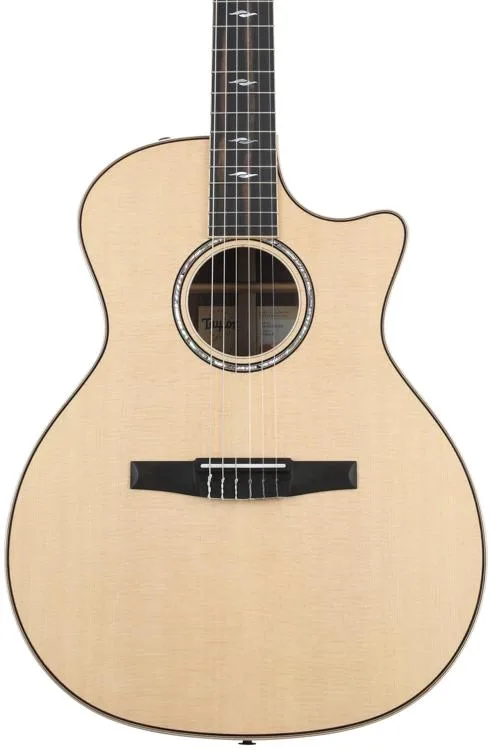 Review
If you like the look and sound of Taylor's grand auditorium body but prefer a nylon string, you'll love this option. Advanced Performance bracing designed by master luthier Andy Powers gives this guitar incredible sustain and responsiveness. And with the classic combination of Sitka spruce and Indian rosewood, you get beautifully nuanced tone.
If you prefer a high-end nylon string over a high-end steel string, make sure you check this one out!
Taylor 717 Builder's Edition
How It Compares To Taylor 614 CE
Review
This Builder's Edition guitar is a departure from Taylor's usual acoustic guitar design -- it's a round-shouldered dreadnaught. The top is torrefied Sitka spruce like the 614CE, but the back and sides are made of solid Indian rosewood. This guitar is completely acoustic and comes with no electronics.
If you prefer classic dreadnought tone, make sure you give this one a look!
In Conclusion
If you want a beautiful guitar that plays like a dream, we think you'll love Taylor's 614CE. From the played-in torrefied Sitka spruce top to the bright, projecting tone of maple, we think this is an excellent acoustic guitar for performers and recreational players alike. And when you plug in, Taylor's revolutionary Expression System electronics give you unbelievably natural sound. Click here to check it out!