Washburn isn't a brand that has enjoyed the same top-selling success as Gibson or Fender, but it's a brand that has been making quality guitars and mandolins for well over 100 years. And with both vintage-inspired designs and new innovations, the Washburn guitars acoustic lineup is one that's worth looking at for any player. We've chosen our seven top picks and offered brief reviews of each to help you decide whether a Washburn guitar is right for you.
Review of our Top Picks
Heritage Series HG12S -- Best Affordable Guitar
Important Features
Pros & Cons
Brief Review & Star Rating
Review
When shopping for any acoustic guitar, many players know that it's important to get an instrument with a solid top. But if you're on a budget, it can be hard to find a quality instrument at an affordable price. This beautiful guitar has a solid mahogany top and laminated mahogany back and sides, giving it a mellow, warm sound that's perfect for folk or singer-songwriter genres.
The grand auditorium HG12S also has much higher quality bracing than most guitars in its price range--it's quartersawn scalloped bracing, which yields a fuller, more natural sound than non-scalloped bracing. The rosewood fingerboard is beautiful and adds some extra warmth to your tone.
Our Star Rating
This is a quality guitar at a surprisingly low price point, making it the best affordable guitar on the list. We give it five out of five stars.
Festival EA15 Mini Jumbo -- Best Budget Guitar
Important Features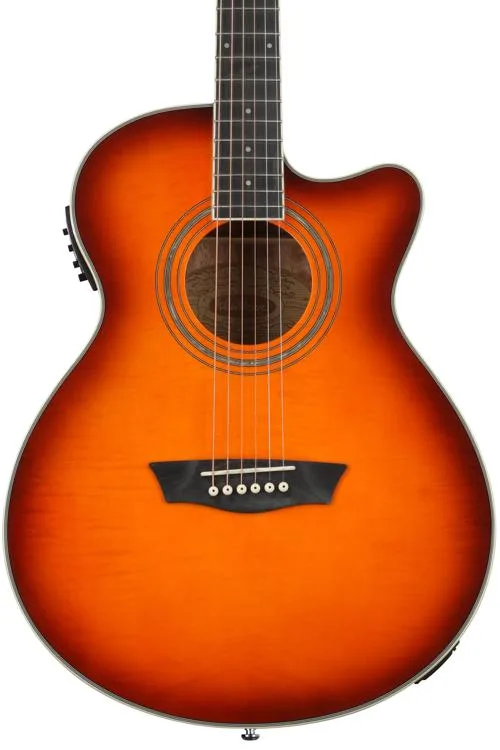 Pros & Cons
Brief Review & Star Rating
Review
While many players make it a priority to get at least one acoustic-electric guitar, it can be difficult to find one that's affordable. However, Washburn's Festival Series acoustic-electrics have been the choice of many performers, and they have been featured on MTV's Unplugged series. This mini jumbo guitar with a cutaway has the same pleasing contours of a jumbo acoustic, but with a smaller, easier to handle size.
This guitar has a stunning flame maple top that offers impressive projection, and the back and sides are made of affordable and lightweight catalpa. It also features quartersawn, scalloped X bracing that promotes balanced tone and reduces your risk of feedback problems. But one of this instrument's most impressive features is the Washburn pickup--you can choose a high-impedance output for running the guitar into an amp or a low-impedance pickup for running it into a PA.
Our Star Rating
Thanks to its affordability and versatile electronics, we think this guitar is the best budget acoustic-electric on the list. We give it three and half out of five stars.
Michael Sweet Signature -- Best Jumbo
Important Features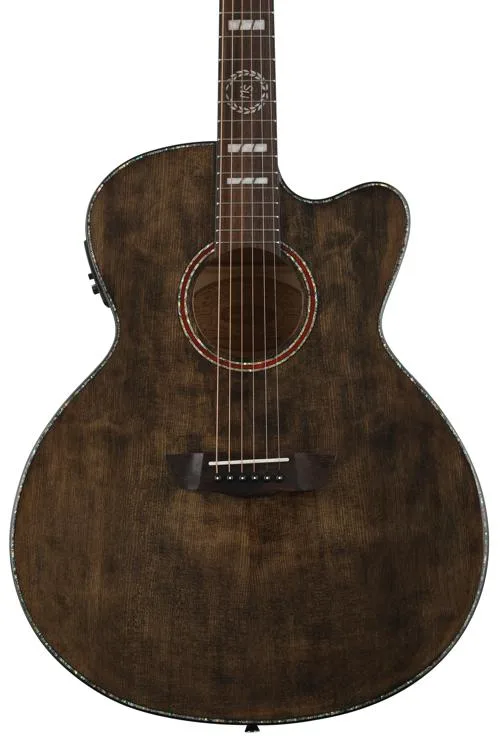 Pros & Cons
Brief Review & Star Rating
Review
Some artist signature guitars are very expensive, but Washburn's Michael Sweet Signature is an affordable option. This guitar is a jumbo with a cutaway, so you get booming sound with easier playability. This guitar stands out in terms of tonewood selection. Sitka spruce is generally regarded as a good choice of top wood, but this guitar is topped with bearclaw Sitka, which has a unique and intricate grain.
The extra-figured quilted maple back and sides increase projection and add visual interest. Like most guitars by Washburn, this one has scalloped, quartersawn X bracing. It has a unique custom finish and intricate inlays, making it a visual standout, too. If you need to plug in and play, it also comes with the Barcus Barry LX4 preamp system.
Our Star Rating
Thanks to its great appointments and high-quality build, this is the best jumbo guitar on the list. We give it four out of five stars.
WD7S -- Best Vintage Look
Important Features
Pros & Cons
Brief Review & Star Rating
Review
For players who want a good vintage-inspired instrument for the right price, the Washburn WD7S is a great option. This understated dreadnought has a solid spruce top and mahogany back and sides, making it an affordable version of a classic tonewood configuration.
It has quartersawn scalloped X bracing for excellent clarity, and the ovangkol fingerboard has a beautifully detailed appearance that is very similar to rosewood. The solid mahogany neck is satin-finished, making it fast and comfortable to play. Best of all, this is one of Washburn's best guitars acoustic offerings in its price range, making it good for players who want a good guitar that's under $300.
Our Star Rating
As part of the Heritage Series, this guitar has the best vintage-inspired look on the list. We give it four out of five stars.
Limited Run Southern Jumbo -- Best Limited Edition
Important Features
Pros & Cons
Brief Review & Star Rating
Review
Limited-run guitars often give manufacturers an opportunity to depart from their typical offerings, and this unique southern jumbo does just that. Most Washburn instruments aren't made with cedar, but this guitar has a solid cedar top with laminated koa back and sides.
This is an unusual configuration for a jumbo--koa, like maple, increases projection and adds some brightness, but the cedar top gives it a mellower, more midrange-focused sound than most jumbos. The satin-finished mahogany neck adds warmth to your sound and offers incredible playability.
This jumbo also has several beautiful aesthetic appointments, including an abalone rosette, a rosewood fretboard with diamond mother-of-pearl inlays, and maple binding. A bone nut and saddle increase sustain and improve sound quality.
Our Star Rating
This guitar's unique look and distinctive tonal qualities make it the best limited edition on the list. We give it four out of five stars.
Comfort G15SCE-12 -- Best 12-String
Important Features
Pros & Cons
Brief Review & Star Rating
Review
A 12-string guitar may not be right for everyone, but the rich, full tone they offer makes them a good option for players seeking some variety. But this guitar has another feature that many may find appealing--it's part of Washburn's comfort series.
his means it has a built-in armrest and a contoured body that eliminates the hard edges that many players find uncomfortable. Cathedral-peaked scalloped X bracing gives you tonal balance with plenty of projection, and the grand auditorium body offers the perfect balance of volume and playability.
Our Star Rating
This guitar's great 12-string sound makes it the best 12-string on the list. We give it four out of five stars.
Heritage Series  -- Best For Solo Performers
Important Features
Pros & Cons
Brief Review & Star Rating
Review
Many Washburn reviews praise the historical accuracy of its Heritage Series, and this folk-style guitar is no exception. The smaller body with a cutaway is articulate and projects well, making it ideal for singer-songwriters. The solid cedar top gives you mellow and warm sound, and the rosewood fingerboard is comfortable to play and warms up your sound even more.
Rosewood also has a distinctive grain that adds to the beauty of the instrument. The mahogany body and neck pair beautifully with cedar, making this the right guitar for those who prefer a guitar with a strong midrange focus. It also comes with Fishman 301T electronics with a built-in tuner.
Our Star Rating
This acoustic has a special build and tone that makes it the best for solo performers on the list. We give it five out of five stars.
Is a Washburn Acoustic Right for You?
Whether you're looking to get your first guitar or just want to add one more to your collection, it's a good idea to take a careful look at the manufacturer. Most players like to ensure that any instrument they consider is a reliable one, and evaluating the manufacturer is a good way to start.
Who Makes Washburn Guitars?
This company was founded in Chicago in the 1800s. They have been crafting quality yet affordable instruments for well over 100 years. Now, Washburn is owned by US Music Corporation, a large umbrella brand that also distributes several other major guitar, amplifier, and effects brands, including the following:
Who Uses Washburn Guitars?
Some musicians may believe that most acclaimed artists play guitars by Gibson, Fender, and other major brands. However, many well known artists prefer the acoustic or electric tone of Washburn instruments. Here are a few who choose their acoustic, acoustic-electric, and electric guitars:
Of course, one of the great things about Washburn is the fact that this brand makes playable guitars for artists at every level and budget. Whether you like a guitar with modern design, prefer a slim, fast-playing neck, or want to get a guitar that looks and sounds like a vintage instrument, you can find that in Washburn's catalog.
Are Washburn Guitars Good?
When selecting an instrument, it's a good idea to make sure that you aren't relying on brand reputation alone. This is especially relevant when buying budget-priced instruments. Some major brands produce relatively low-quality affordable instruments, hoping that buyers will think a cheaper model plays like one of that brand's flagship models.
Whether you end up selecting a Washburn or a guitar from another manufacturer, evaluating independent review sections and watching sound demos is an important step. After buying, many players feel inclined to comment on a guitar's quality and say whether they would recommend it to other players.
Like any brand, Washburn offers a mix of high-quality and lower-quality guitars. However, even lower-quality instruments tend to get good reviews--most have scalloped bracing, rosewood fretboards, and good-quality electronics that make them stand out when compared to other budget instruments.
In Conclusion
We think you can't go wrong with any of the guitars chosen for our Washburn guitar reviews, and we would recommend any of them to players looking for an excellent value. However, our top choice is the HF11SCE. This acoustic combines the warmth of cedar with a playable body and excellent electronics, making it ideal for most playing situations, and many reviewers comment on its excellent value.
That said, if you don't need electronics and want an affordable acoustic, we think the HG12S is a worthy runner-up. Make sure you carefully evaluate specs and listen to demos, and you'll be well on your way to choosing the right Washburn for you.