Compared to some other guitar manufacturers, Seagull is relatively new on the scene. As a branch of the well-known Godin guitar company, this brand offers high-quality, playable guitars for a fraction of the price charged by most manufacturers. Seagull provides quite a range of guitars, and our guitar guide can hopefully help you choose which is right for you.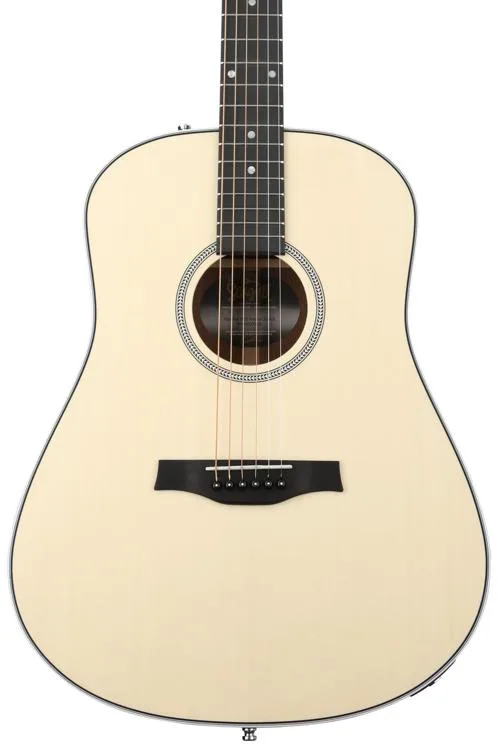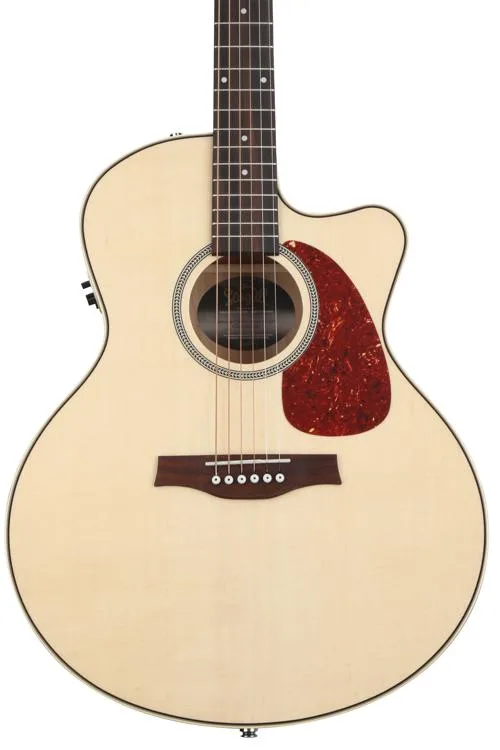 Performer CW Flame Maple QI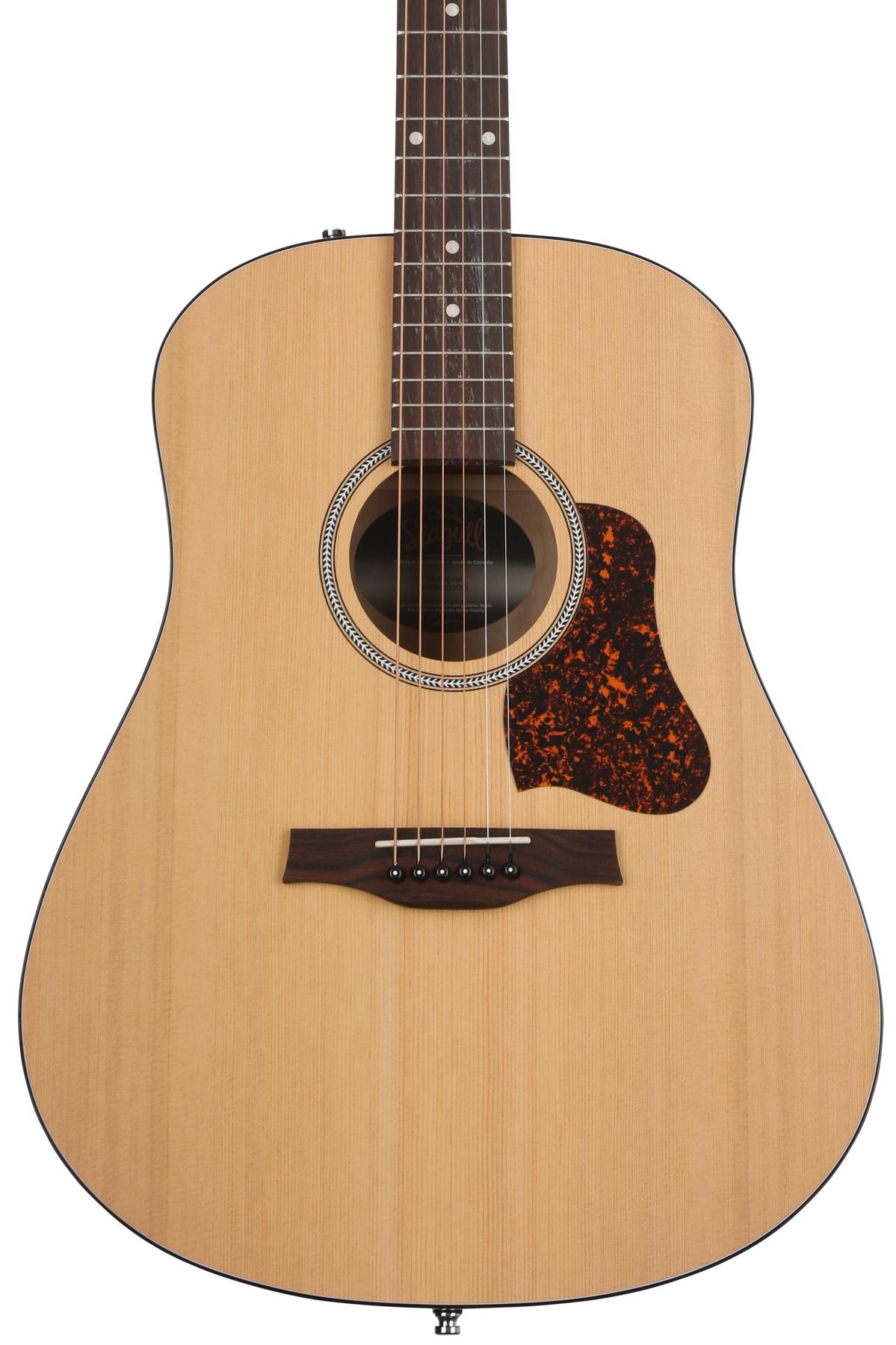 Review of our Top Picks
Performer CW Flame Maple QI -- Best For Live Performance
Important Features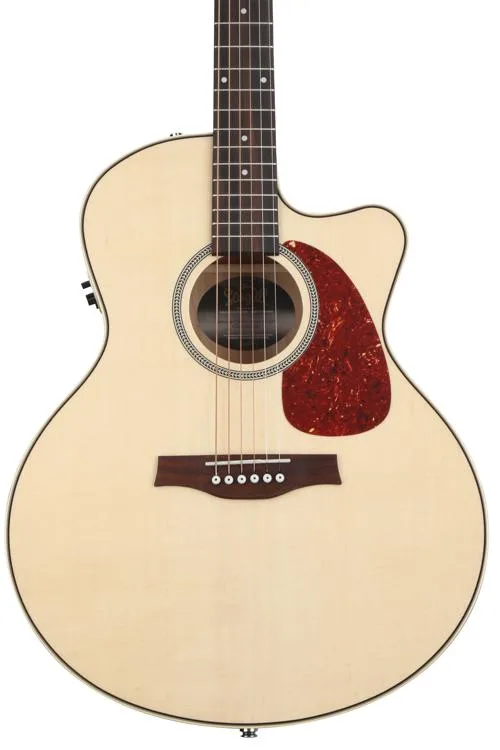 Pros & Cons
Brief Review & Star Rating
Review
Many acoustic guitars are made with cedar tops, but this one has a bright, crisp sound that may be preferable for some players. The performer CW has a pressure-tested solid spruce top and stunning flame maple laminate sides and back. A high-gloss finish brings out the distinctive grain of flame maple.
The Seagull is a guitar that favours brightness and clarity over warmth--maple projects well and promotes faster note decay, so there's almost no risk of excessive overtones or feedback. As one of the many acoustic-electric guitars Seagull makes, it comes equipped with Godin QIT electronics. The onboard preamp is more inconspicuous than most, and the transducer-style pickup comes with a three-band EQ and a built-in tuner.
Our Star Rating
This guitar's excellent electronics and comfortable playability make it the best for live performance. We give it five out of five stars.
S6 Original -- Best For New Players
Important Features
Pros & Cons
Brief Review & Star Rating
Review
The Seagull S6 Original is, in many ways, Seagull's flagship model. This quality guitar has an incredible sound that's surprising for its relatively low price point. Though it isn't equipped with electronics, this acoustic guitar is an excellent addition to any player's stable.
It has a solid cedar top and Seagull's signature laminated wild cherry back and sides. The S6 Original has an updated custom stain on the wild cherry, and the tapered Silverleaf maple neck has a comfortable rosewood fingerboard.
Our Star Rating
Thanks to its affordable price and very high-quality build, we think the S6 Original is the best choice for players just starting. We give it four and a half out of five stars.
Maritime SWS SG -- Best Value
Important Features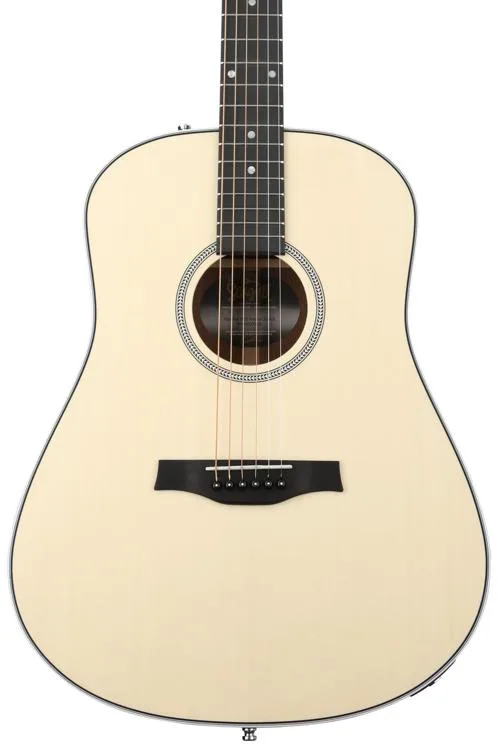 Pros & Cons
Brief Review & Star Rating
Review
While the S6 Original is an excellent choice for players who don't need electronics, the Maritime SWS is a step up for players who want an all-solid guitar for a deceptively low price. The Maritime SWS has the classic tonewood configuration of a spruce top and mahogany body and neck.
It also comes with Godin QIT electronics with both a built-in tuner and a three-band EQ. Just like most Seagull guitar, this one also has a Tusq nut and saddle.
Our Star Rating
Because it has a very low price for an all-solid acoustic guitar with electronics, we think the Maritime SWS is the best value on the list. We give it five out of five stars.
S6 Slim CW QIT -- Best Playability
Important Features
Pros & Cons
Brief Review & Star Rating
Review
If you've read descriptions of the S6 and wish you could find a version with electronics and a cutaway, you're in luck--the S6 Slim CW QIT offers some of the most impressive playability features in the Seagull Guitars lineup. This guitar has a solid pressure-tested spruce top with a compound curve. This curve is a slight arch that resists warping, which can happen when the soundboard dries out even slightly. It also promotes freer vibration, resulting in great natural sound.
Like the original S6, this guitar also has a three-layer wild cherry body. Its silver leaf maple neck is slimmer than most, resulting in impressive playability, even for players with very small hands—a Venetian cutaway and the Godin QIT electronics that come on most Seagull acoustic-electrics round out the package.
Our Star Rating
Thanks to its slender neck, cutaway, and compound curve top, we think this guitar has the best playability on the list. We give it four out of five stars.
Entourage Autumn Burst -- Best Vintage Look
Important Features
Pros & Cons
Brief Review & Star Rating
Review
Many Seagull guitars have a distinctly modern design, but the redesigned Entourage has a vintage-inspired look that many players will love. This no-cutaway dreadnought has a solid spruce top with the Seagull signature wild cherry back and sides. While it doesn't come with electronics, this guitar is designed to project. Its understated rosette and white contrasting binding make it a departure from most Seagull guitar builds.
Our Star Rating
Thanks to its redesigned finish, we think this guitar has the best vintage look. We give it four out of five stars.
Artist Mosaic Anthem EQ -- Best High-End Model
Important Features
Pros & Cons
Brief Review & Star Rating
Review
Seagull is a brand known for affordable yet quality acoustic guitars, but that doesn't mean you don't have higher-end instruments to choose from. The Seagull Artist Mosaic Anthem is a step up in terms of electronics and build quality.
It comes with the L.R. Baggs Anthem pickup system, which combines a pickup and a condenser microphone to give you the sound of a mic'd guitar even when plugged in. The dreadnought body is made of all-solid spruce and mahogany for classic acoustic tone.
Our Star Rating
Thanks to this guitar's quality build and very high-end electronics, we think it's the best high-end guitar on the list. We give it five out of five stars.
S6 Concert Hall QIT -- Best Non-Dreadnought
Important Features
Pros & Cons
Brief Review & Star Rating
Review
Thus far, all of the Seagull guitars we've discussed have been dreadnoughts. The dreadnought is a typical and versatile body style, but it may not be right for everyone. This acoustic guitar is a variant of the original S6. Its smaller concert-style body is often easier to handle, and it offers reliable projection without excessive boominess.
This model features the solid-top spruce/cherry build that is often found on Seagull's entry-level and mid-range acoustic guitars. It has a stunning gloss top with a semi-gloss body, and the traditional-width neck has a much more solid feel than the slimmer Seagull acoustic necks found on most models. This affordable model comes equipped with Fishman Sonitone electronics.
Our Star Rating
We think this affordable acoustic guitar is the best non-dreadnought model on the list. We give it three out of five stars.
Coastline S12 Cedar -- Best 12-String Guitar
Important Features
Pros & Cons
Brief Review & Star Rating
Review
There's something extraordinary about the chorus-like sound of a 12-string guitar, and this affordable model with a cedar top is an affordable way to have one of your own. Like many Seagull models, this one has a solid top with a durable compound curve.
Laminated cherry back and sides keep the price down while offering a tone that's between mahogany's warmth and maple's clarity. The cedar top adds plenty of nuance to your playing, letting all 12 strings be heard. This guitar's rosewood fretboard imparts just enough warmth to its midrange-focused sound.
Our Star Rating
With its brilliantly detailed tone and affordable price, we think this is the best 12-string acoustic guitar on the list. We give it three out of five stars.
Things To Think About When Choosing A Seagull Guitar
When it comes to finding a guitar that is an excellent value, Seagull is one of the best manufacturers to look at. And as you've seen, just about any review of a Seagull guitar is bound to be mostly positive. In this section, we'll talk about some of the essential features in these guitars
Who Owns Seagull Guitars?
If you've just begun to consider purchasing a Seagull guitar, you may be wondering about the history of the brand. Godin makes these guitars. Godin also owns a few other brands you might be familiar with--Norman, Art & Lutherie, Simon & Patrick, and La Patrie are all under the Godin umbrella. Seagull and Godin original guitars are somewhat unique in that they are truly North American--they are made with locally-sourced woods and assembled in North America.
Many inexpensive guitars are assembled in China, but many of these instruments have quality control issues. Asian-made devices tend to be more affordable, but Asian factories often need to cut corners in the building process to keep costs down.
Guitars made by Seagull effectively give you the best of both worlds--you get instruments that are remarkably affordable. Still, each is made with more attention to detail and quality than most guitars made in Asian factories.
Are Seagull Guitars Solid Wood?
Any guitarist knows that a solid top is one of the most important factors when it comes to choosing a guitar with great sound. Seagull instruments are all made of at least partially solid wood, and all have solid tops. More affordable models like the S6 Original have solid tops--Seagull uses cedar or spruce as soundboard materials--and higher-end models are made with all solid woods.
If you would like an all-solid guitar but are on a budget, don't be discouraged--a solid soundboard is the most important when it comes to the right tone. The laminate used in Seagull guitars is a three-ply build, which makes it sound more natural than the typical laminate, which is made part of what is effectively plywood. This video shows the excellent sound of the S6, a guitar with laminate back and sides.
What Features Make Them Stand Out?
The tonewood construction of a guitar is essential, but other appointments and build details also help shape the sound. Seagull's instruments have several excellent features (even on their affordable models) that make them punch far above their weight when it comes to tone.
Tusq, a composite made by GraphTech, is one of the best materials you can get for nuts and saddles. This material increases harmonic content and gives you incredible sustain. Most budget to midrange guitars, even those from reputable manufacturers, come with plastic nuts and saddles that do little to improve the sound. Many higher-end guitars are made with bone nuts and saddles--bone generally improves tone, but its natural grain may dampen sound in places. Similarly, micarta and Corian, two other materials used for nuts and saddles, do not increase sustain and detail to the extent that Tusq does.
The neck design is one of the critical factors when it comes to both longevity and tonal quality. Seagull instruments are made with a unique integrated set neck design. This design is essentially a modified bolt-on design. There is no glue involved--the integrated set neck closely aligns the wood of the neck with the wood of the body, which results in unparalleled tone.
The design is also highly resistant to warping and twisting due to changes in climate. Seagull guitars also come equipped with dual-action truss rods, which let you adjust the neck in either direction if needed.
One of the main features that performing guitarists look for is a guitar made with excellent electronics. Many of these guitars are equipped with electronics at various levels. Here are some of the electronics used:
All of the guitars chosen for our Seagull guitars buying guide are excellent choices, but our top pick is the Maritime SWS. This all-solid guitar comes with electronics and is a good option for the performer. If you have a bit more to spend, we also recommend the Seagull Artist Mosaic Anthem EQ.
This model is also all-solid, and it is made with professional-grade electronics. When choosing the best guitar for you, make sure you carefully evaluate specs and listen to sound demos. Seagull is a unique manufacturer because even entry-level Seagull electronics come with high-end appointments and impressive playability features to keep you inspired long after you make your purchase.