Many of us know Yamaha as a manufacturer of quality entry-level guitars that are also affordable. And while they do make excellent guitars for those just starting, Yamaha also offers several higher-end guitars for more experienced players.
Today, we'll be looking at the AC1M from the Yamaha A Series, a well-built, responsive midrange guitar perfect for those who want to graduate from a starter instrument or add a quality acoustic-electric to their stable.
Things To Consider Before Buying A Midrange Acoustic Guitar
As midrange acoustic guitars go, this is one that's on the lower end of the price range. That said, a $500 guitar is almost always going to sound a lot better than a $150 starter guitar. When shopping for a midrange model, here are some things to keep in mind:
Our Picks for Review
| | | | | |
| --- | --- | --- | --- | --- |
| | | | | Cell |
| | | | | Cell |
| | | FS-TA Trans Acoustic Concert | | Cell |
| | | | | Cell |
Yamaha AC1M Guitar
PRO's & CON's of Yamaha AC1M
But before we delve into our Yamaha AC1M review, let's go over some pros and cons: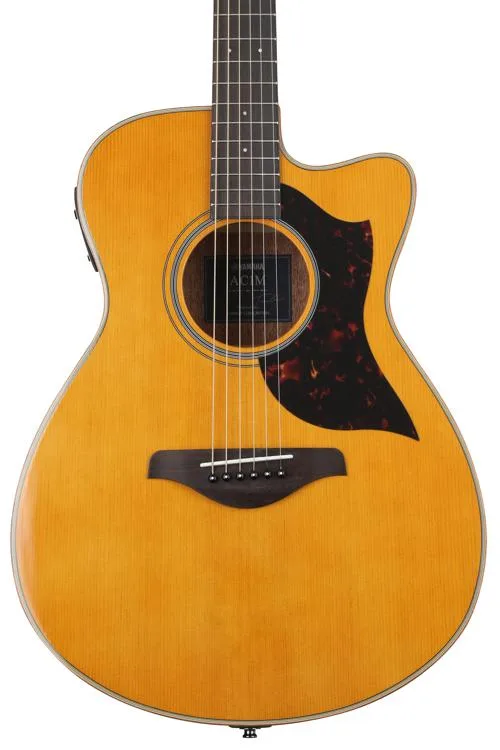 Features and Benefits
Like most of Yamaha's guitars, this one has some unique features that are usually found on more expensive guitars. Let's take a look:
Tonewoods And Sound Quality
As far as acoustic guitars go, this one has a reasonably standard tonewood configuration. The top is solid Sitka spruce, and the sides and back are laminated mahogany. As a soundboard material, Sitka spruce is lightweight and incredibly responsive, meaning that your playing dynamics will be reflected in the guitar's tone. The laminated mahogany and sides and back won't have quite the sonic character of solid mahogany, but they nonetheless impart some warmth and depth.
The AC1M has a neck made of African mahogany, which is quickly becoming the best sustainable alternative to mahogany. It's a dense wood that adds warmth to your tone when used as a neck material.
Although the tonewood configuration may be typical, the AC1M's sound isn't. It has a bright, sparkling tone with balanced mids and low end. This video lets you hear it for yourself.
Body Style And Bracing
This guitar has a concert body style, which is smaller and generally more comfortable to handle than bulkier dreadnoughts. Concert bodies don't quite have the volume of larger bodies, but they project well and are an especially right choice for fingerstyle playing. This one also has a cutaway, making it easier to access frets further down the neck.
The AC1M also has scalloped X bracing. This type of bracing involves shaving down parts of the bracing material, reducing its mass. The result is a soundboard that vibrates more freely, becoming even more responsive to your playing. It also tends to add more low end, which is helpful in a smaller-bodied guitar--they don't have all the natural low end of a dreadnought. It also adds a touch of additional "sparkle" in your high end, which is especially apparent when fingerpicking.
If you want to learn more about how scalloped bracing shapes the tone of a guitar, the video in the above section on Tonewoods and sound quality offers a thorough explanation.
Playability
Yamaha's guitars have a reputation for being highly playable, and this one is no exception. It has a tapered neck that makes it easy to move up and down the neck. A major feature is its hand-rolled fretboard edges. If you've ever played a guitar with rolled fretboard edges, you know just how much this process contributes to a wonderfully slick feel. This video shows one luthier rolling fretboard edges by hand.
Electronics
Piezo pickups sometimes get a bad rap, but they aren't all created equal. This guitar, like most Yamaha acoustic-electric guitars, comes equipped with Yamaha's SRT under saddle piezo. Unlike some piezo systems, which have a signature "quack" when playing live, this system sounds incredibly natural--this video offers a thorough demo.
You also get an onboard preamp with this guitar, which lets you dial in just the tone you want. It comes with a three-band EQ and a midrange control that enables you to sweep your mids for precise frequency control. You also get an onboard tuner, making it easy to tune up even in dark environments.
Social Proof of the Guitar
Before settling on a guitar, it's generally a good idea to check out its reputation via online reviews. We've collected a few reviews--both positive and critical--for the AC1M.
The review is primarily useful, as this player has significant experience and has tried many midrange guitars. Their appraisal of the plugged-in sound is especially helpful. Taylor, in particular, has been hailed as a sonic innovator for developing the Expression System 2 pickup system, so the fact that Yamaha's SRT pickup can stand up to it is excellent.
Although this review is negative, this reviewer's experience seems to be a rare one. They found that the AC1M had consistent fret buzzing. Often, this is an issue that can be resolved with a good setup and possibly a truss rod adjustment.
This nuanced review covers an issue that this player had with the onboard tuner, but otherwise, it praises the tone and playability of the AC1M. Most reviewers seem to echo the sentiment that this guitar sounds just as good (if not better) of instruments that cost twice as much.
Alternatives to Yamaha AC1M
Before committing to anyone guitar model, it's wise to compare it to others at a similar price point. To help you do just that, we've found three other guitars you might want to consider:
Seagull Entourage CH CW A/E
How it Compares to Yamaha AC1M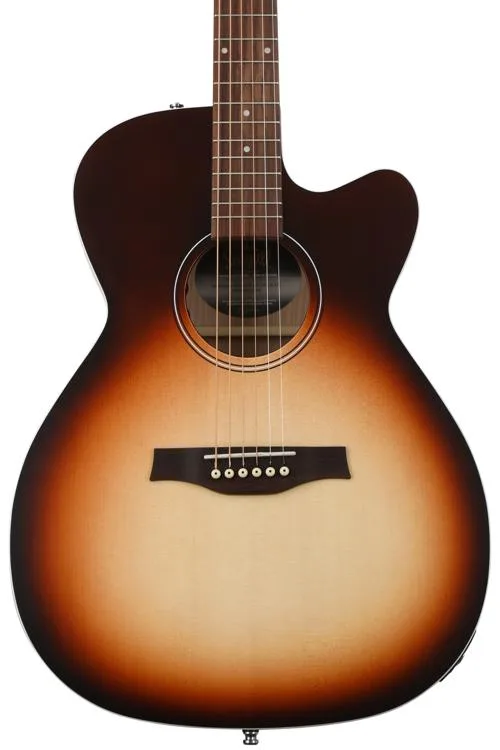 Review
This guitar is just about the same price as the AC1M, but it offers a different tonewood configuration. It has a pressure-tested solid spruce top, which creates a bright, responsive sound.
The back and sides are laminated wild cherry, which offers a detailed sonic response that sits somewhere between maple's brightness and mahogany's warmth. It also comes equipped with Fishman Sonitone electronics. If you like concert-body acoustic-electrics but want a slightly brighter tone, make sure to check this one out.
Yamaha FS-TA TransAcoustic Concert
How it Compares to Yamaha AC1M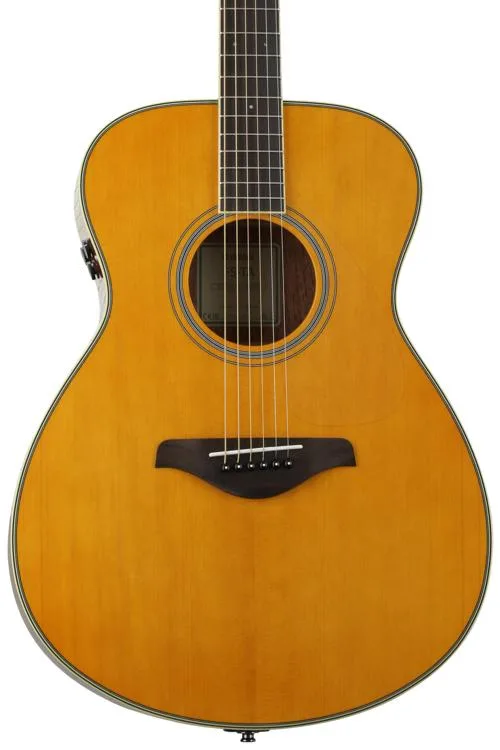 Review
This guitar is also a Yamaha concert-style acoustic with a solid spruce top and mahogany back and sides. However, its most important feature is the onboard TransAcoustic technology. This technology includes button-activated reverb and chorus effects.
But thanks to an actuator within the guitar, you can use them even while playing unplugged. This guitar also has SRT electronics, so you can plugin and play using the effects, too. If you want to try out an incredible new technology and effectively have an acoustic with onboard effects, make sure you give this guitar a look.
Martin OMC-X1E
How it Compares to Yamaha AC1M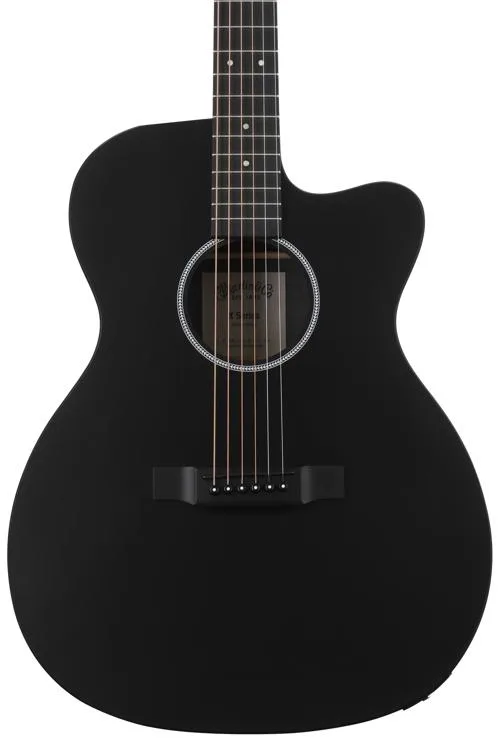 Review
This new offering from Martin is a departure from the company's typical dreadnoughts. It's a 000 body shape, which is very similar to a concert body, and it's made entirely of lightweight, durable high-pressure laminate. It also has an eye-catching, blacked-out aesthetic.
The HPL body and Richlite fretboard aren't affected by humidity changes, making this a great guitar to take on the go. It comes with Fishman electronics for great plugged-in tone, too. If you want a guitar that won't be affected by weather changes and has a unique look, make sure to look into this one.
In Conclusion
In short, we've been very impressed with Yamaha's AC1M. The small concert-style body is easy to handle, and the highly playable neck and cutaway make it an easy guitar for almost anyone to play.
And of course, most buyers seem to agree that its sound is incredible given its price point. The AC1M is one more example of Yamaha's ability to produce a quality guitar that sound like they're much more expensive than they are. Click here to check it out!