Many of us already know Yamaha as a reputable manufacturer of affordable guitars for beginners. However, Yamaha also offers a range of higher-end guitars. And just like their beginner models, these guitars are excellent values--you often get better quality tonewood, features, and appointments than you do with better-known brands.
In particular, the Yamaha LS16 is a standout. This concert-style guitar is made of all solid wood and comes equipped with a pickup, and it's under $900. In this review, we'll look at its features and help you decide whether it's the guitar for you.
At A Glance: Our Top Picks For Yamaha LS16 & Its Alternatives
Things To Consider While Buying A Midrange Acoustic Guitar
Most people who are buying a midrange guitar like this one are moving up from a starter guitar. And if you started on a very inexpensive instrument, a midrange guitar will be a noticeable improvement in terms of sound and playability.
You've probably also developed your style as a player, and you likely have some ideas about where you want to go next on your musical journey. When buying a midrange guitar, here are some things to think about:
Quick Comparison: Top Picks For Yamaha LS16 & Its Alternatives
IMAGE
PRODUCT

Our Top Pick

Made of all solid wood
Spruce and rosewood is a classic tonewood configuration
Top is given a special resonance treatment for better tone

VIEW ON AMAZON →

Alternate Choice 1

Maple back and sides offer faster note decay and crisper tone than rosewood
Sitka spruce top doesn't produce a tone as rich as the LS16's Engelmann spruce top
Dreadnought body may offer more low end

VIEW ON SWEETWATER →

Alternate Choice 2

Electronics on this guitar will likely sound better than those on the LS16
It isn't made of all solid wood, while the LS16 is
It's a dreadnought so that it may have more low end and more overtones

VIEW ON SWEETWATER →VIEW ON AMAZON →

Alternate Choice 3

Also has a solid top, but it isn't made of all solid wood like the LS16
Also has quality electronics for playing live
The unique bracing system gives it incredible resonance

VIEW ON SWEETWATER →VIEW ON AMAZON →
Our Picks for Review
Yamaha LS16 Guitar
PRO's & CON's of Yamaha LS16
But first, here are some pros and cons:
Features and Benefits
The LS16 has truly remarkable features given its price point. Let's take a look:
A.R.E.
Any listing for this guitar emphasizes a.R.E.--but what is this? It stands for Acoustic Resonance Enhancement. If you've ever played a vintage guitar, you know that aged wood has a beautiful tone that often sounds better than brand-new guitars. a.R.E. involves carefully controlled temperature, pressure, and humidity to age the wood effectively. The Enhancement means you get an instrument that sounds vintage right out of the box. If you want to learn more, this video explains the technology.
Tonewoods
As part of the LS Series, this is a guitar made with excellent tonewoods. The top is made of a.R.E.-treated Engelmann spruce. Engelmann spruce top is a little different from the popular Sitka spruce top--it has a lighter, airier tone, and it has more of a "ring" to it than Sitka. It's lightweight and vibrates more freely than Sitka, making it exceptionally responsive as a soundboard material, and it's ideal for players who play with a light touch.
The back and sides of the LS16 are made of solid rosewood. Rosewood is a classic choice for the sides of acoustic guitars. It offers complex overtones and plenty of resonance, with a powerful low end.
Fingerboard material doesn't contribute a whole lot to tone, but this guitar's ebony fingerboard helps create a crisp, well-defined attack. Ebony is also a slick, tight-grained wood that makes it easy to play rapidly.
The neck of the Yamaha is a five-ply, meaning it's made of multiple laminates. The laminate may sound like an unusual or cheap neck choice, but it has some surprising benefits. A multi-laminate neck is strong and warp-resistant. It also allows for different types of wood to be used, creating a beautiful striped appearance in the neck. If you want to learn more about multi-ply necks, this video offers a compelling explanation.
Body Style, Bracing, And Sound Quality
The body style has a significant impact on tone quality. The Yamaha is a concert, meaning it's smaller than most dreadnoughts. This gives it a "punchy" quality and a brighter sound with less low end (but plenty of midrange). It's also easier to handle and play for smaller musicians.
The LS16 also features Yamaha's redesigned bracing. It's non-scalloped X bracing, so it creates a balanced tone that's on the bright side. This bracing style is also designed to bring out more low end. If you want to hear the LS16 for yourself, this demo video lets you hear it played both plugged in and unplugged.
Electronics
The Yamaha comes with Yamaha's SRT Zero pickup. The SRT zero pickup is an under-saddle piezo with a separate element for each string. This helps it reflect playing dynamics better than most piezo, which can have an unnatural sort of "quack" when plugged in. This video briefly explains the SRT pickup system.
It's worth noting that the LS16 doesn't have an onboard preamp like many acoustic-electrics. The lack of a preamp helps preserve its natural look, but it's a good idea to get an external preamp to dial in the right tone while plugged in.
Social Proof of the Guitar
It's a good idea to try playing a given instrument before you buy it. However, that isn't always possible. If you can't try the LS16 before you play it, you might want to read some buyer reviews to see what other players think. We've found a few reviews from around the internet.
The comment is a balanced review that covers some of the positives and negatives of the LS16. This buyer found the guitar very playable. However, they found that the pickup didn't sound natural or authentic without EQing.
This review is especially useful since the reviewer has two other quality instruments to compare it to. They do a good job of describing the sound--the LS16is an instrument that has a clear, bright sound, and it's also very playable. I had a similar experience to this person when searching for LS16 reviews online--it's hard to find a negative one.
This review also praises the Yamaha LS16's sparkling tone, and it mentions playability. Ebony is an exceptionally playable fretboard material, making this guitar an excellent choice for players who need to move quickly over the fretboard.
Alternatives to Yamaha LS16
Before deciding to buy the LS16 or any other instrument, it's a good idea to compare it to some other options. Here are three other midrange guitars you might want to consider.
Epiphone Masterbilt Frontier
How it Compares to Yamaha LS16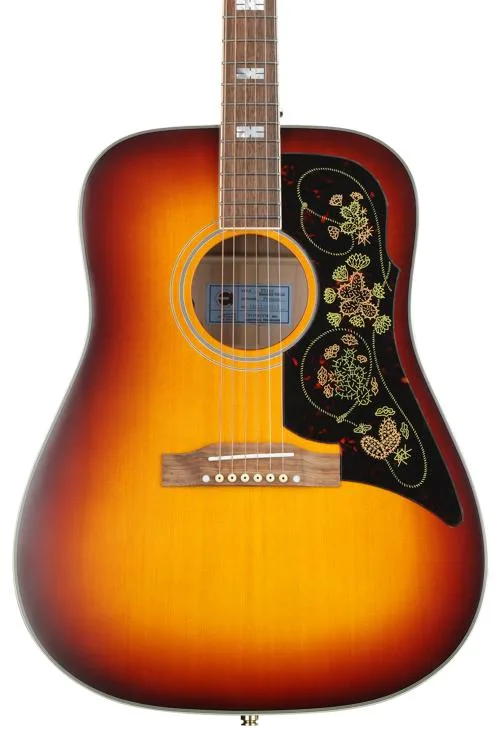 Review
The Epiphone is a newly-released instrument, and it's part of Epiphone's Masterbilt series, which offers professional-quality, affordable guitars. This one is a beautiful, sunburst-finished dreadnought with a uniquely decorated pickguard.
It's all solid, but it has a Sitka spruce top and maple back and sides. Maple has a clearer, crisper quality than rosewood, which some players prefer. If you're looking for a dreadnought with crisper articulation and a head-turning finish, make sure you check this one out.
Taylor 110CE
How it Compares to Yamaha LS16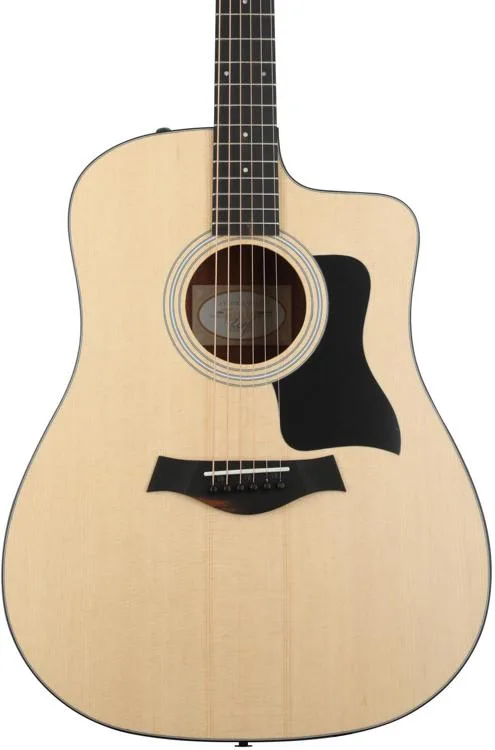 Review
This guitar is a Taylor that's close to the price of the LS16. It's a dreadnought with a solid Sitka spruce top, although the back and sides are laminated walnut. It may not be as impressive as the LS16 in terms of tonewoods, but it comes with Taylor's extremely natural-sounding Expression System 2 electronics. If high-end electronics are one of the most important factors in your decision, this is a guitar to look at.
PRS SE Angelus A40E
How it Compares to Yamaha LS16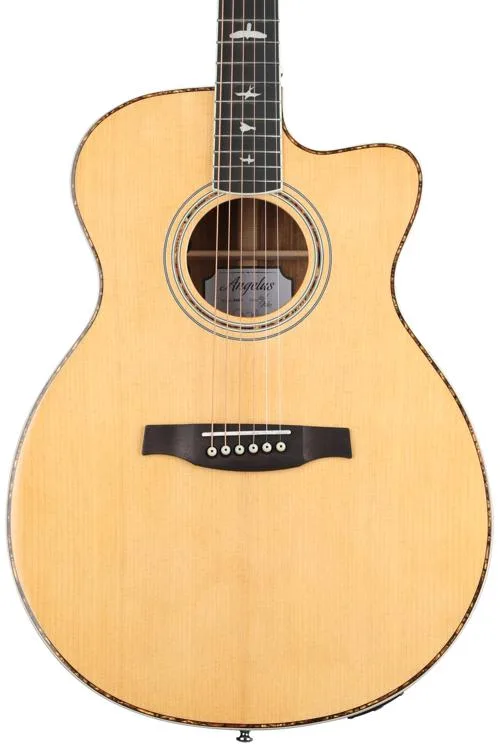 Review
Paul Reed Smith is a respected manufacturer, and it uses a truly unique bracing system that's a hybrid of V bracing and classical guitar bracing.
The Angelus A40E has a solid Sitka spruce top, and the back and sides are made of laminated ovangkol, a sustainable tonewood that sounds a lot like rosewood. Its Angelus body style is similar to a concert body, and it comes with PRS electronics. If you need a great guitar to gig with, make sure you check this one out.
In Conclusion
If you need a quality instrument for a great price, the Yamaha LS16 is a great choice. It has great playability and classic tonewoods, and it's also electronics-equipped for playing live. Perhaps most importantly, it's also a great value for the money--as laminate back and sides become more prevalent, it's hard to find a decently affordable guitar that's made of all solid wood.
If you're moving up from a starter guitar or just want something to add to your stable, this is a guitar worth getting. Click here to check it out!