If you want to learn how to sing well, you may have already looked into taking private lessons. However, there are plenty of online singing programs dedicated to helping you achieve your vocal potential.
One of these is 30 Day Singer, an online singing course that can help you improve your singing voice  (and sing correctly) within 30 days. We've been excited to review this particular course — it seems to be highly recommended by many in the online music lesson industry, particularly for beginning and intermediate singers.
Things to Consider Before Signing Up for an Online Singing Course
Especially when choosing a beginner course for vocals, it's important to choose something that will be good for you in the long run. In particular, it's wise to make sure the course you choose covers topics on vocal warm-up and vocal health.
Before you decide on a singing course, it's a good idea to ask yourself the following:
What genre do you want to sing? Many courses for new singers focus on the basics. But after that, you'll probably want to choose one out of different singing styles to focus on more intensely. Most general-interest courses are good for pop and singer-songwriter genres, but if you're interested in genres that require a very different vocal approach (like metal), you may want to seek out a more specialized course.
Do you want to learn specific skills? Most online singing courses do teach you some specialized skills, including phrasing, mastering vibrato, and runs. If there are specific specialized technique lessons you want to have, make sure that any course you consider teaches these before you sign up.
Do you need one-on-one lessons? Online singing lessons work a lot like many popular online guitar and piano lessons like guitar tricks, playground sessions, etc — most are based primarily around pre-recorded video lessons. However, some of them do offer one-on-one video instruction. Of these, some include a limited number of sessions with your membership fee, and others charge an additional fee. One-on-one lessons may not always be essential to your learning, but they can be very useful to help you figure out anything you've been missing.
What about the social aspect? You probably don't think of learning to sing online as being a social activity, but some online singing program sites do have a community forum and other social networks. In some cases, these forums also have space for instructor feedback, which can be an excellent resource — you can get feedback for yourself, but you also can learn from feedback given to other students.
Pros & Cons Of 30 Day Singer Online Singing Lessons Program
In our 30 Day Singer review, we'll do our best to help you decide whether this program is right for you. But first, let's check out some pros and cons:
Pros
Lessons are designed so that even a complete beginner to singing can benefit.
Multiple experienced vocal coaches to choose from.
30 Day Singer has a section where you can learn to sing in the pro singing styles – the style of famous artists.
Advanced lessons can help you progress as a vocalist once you've completed the initial course.
For an additional fee, you have the option to take one-on-one lessons — this can help you close any gaps in learning and understanding.
Cons
Genre selection in 30 Day Singer is pretty limited — most selections are pop-focused.
Compared to some other online singing lessons, this site is somewhat expensive.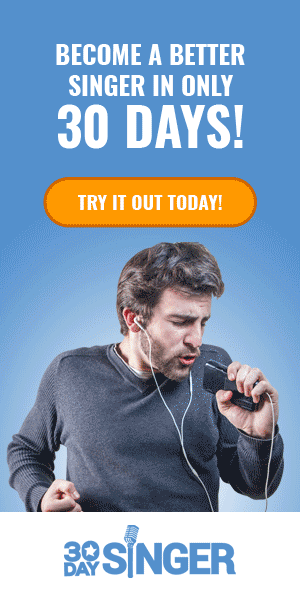 Features & Benefits Of 30 Day Singer
Now, we'll get into some of the key features of this interesting vocal site. There's a lot to take in, but we think this is one of the best online singing courses to become a better singer.
Meet the Instructors
Right away, one of the things that we noticed about this site is the fact that you have a few different instructors. Each one has a slightly different teaching style, focus, and background. We especially like the fact that there are multiple beginner course options to choose from — you can look into each instructor and decide who will best suit your artistic focus and your learning needs.
Here's a brief rundown of the 30 Day Singer vocal coaches:
Camille van Niekerk — Camille is a vocal coach and singer who started performing in musicals when she was seven. She has a BA in Music Education from Azusa Pacific University, and she earned teaching credentials at San Diego State University. After working as a vocal instructor, she started her own private vocal studio where she focuses on ear training, recording, and voice instruction. Check out this video of Camille performing a cover of Bob Dylan's "Make You Feel My Love" on ukulele.
Here is a sampling of courses and lessons Camille teaches with 30 Day Singer:
30 Day Beginner Course with Camille
Key to Perfect Pitch and Intonation
Steps to Better Phrasing
How to Master Vibrato
Singing Like Popstar
Getting Better Tone
Runs Riff and Embellishments
Jonathan Estabrooks — Jonathan is a Juilliard alum who primarily performs in the musical theatre, opera, and crossover genres. He has had debut performances at Carnegie Hall and the Kennedy Center, and he also has performed with several world-renowned orchestras, including the Toronto Symphony Orchestra, Vancouver Symphony, Seattle Symphony, and Israeli Chamber Orchestra. Jonathan has been featured in the New York Times, on Billboard.com, and on several major TV networks.
Here are the courses and lessons Jonathan teaches for 30 Day Singer:
30 Day Beginner Course with Jonathan Estabrooks
Finding Your Breath
All About Intonation
O&O — This is a vocal duo made up of Obadiah Jones, a vocalist and multi-instrumentalist from Colorado, and Orian Peled, an Israeli vocalist. The duo primarily plays Americana music on the London circuit, but they have already played at major festivals and as support acts for established artists like The Germein Sisters.
So far, O&O teaches one lesson with this site — Intro to Harmony.
Jon Statham — Jon is an artist, singer, and producer from Nashville. He worked as an arranger and backup vocalist on the soundtrack for The Utopian Society, and he enjoys performing all styles of music.
Here are the courses and lessons you can take with Jon:
30 Day Singer Course for Beginners with Jon Statham
Singing in the Style of Your Favorite Male Singers
Reagan James — You may recognize Reagan's name from NBC's The Voice. She was a member of the Top 10 vocalists on the show, and she also won the Kidd Kraddick / Scooter Braun National Talent Scout competition. Reagan is an R&B singer-songwriter who continues to build a discography of original music.
Reagan teaches one course with the site — Singing in the Style of Your Favorite Female Artists.
Mark Mekailian — Mark performs under the name Mark Pico, and he is also a songwriter, multi-instrumentalist, and producer. He's a graduate of the USC Popular Music program and has studied under Grammy winners Patrice Rushen and Michael Boddicker. He's also performed with celebrities including Josh Groban.
Mark teaches two classes with 30 Day Singer — Daily Practice Routine for Beginners and How to Belt Like a Pro.
Abram Poliakoff — Abram is a singer, composer, conductor, singer, guitarist, pianist, and teacher. He received a BA in Vocal Arts from USC's Thornton School of Music, and he is currently the Associate Artistic Director in the L.A. Choral Lab. As a vocal instructor, he aims to help students find creativity and expression across genres.
Here are some the classes you can take with Abram:
Introduction to Vocal Register
Range Extension Intro
How to Sing Pop
Performance Warmups With Abram
All About Tone
Perform Like a Pro
Foundations of Vibrato
Foundations of Vibrato Part 2
We're very impressed with the instructor selection here, and we especially like that beginners can choose their instructor for an intro course. While this site doesn't offer a whole lot of genre specialization, we do like that many instructors have experience across genres, making them helpful for a range of students.
Beginner Courses and Course Content
As you saw above, you can choose to take a beginner course with Camille, Jonathan, or Jon. Camille and Jonathan teach similar courses that primarily focus on your singing voice alone. Jon's course focuses on singing while playing an instrument. In fact, he is seen playing guitar throughout his course, but many of the lessons in his course can be helpful even if you play piano or some other instrument.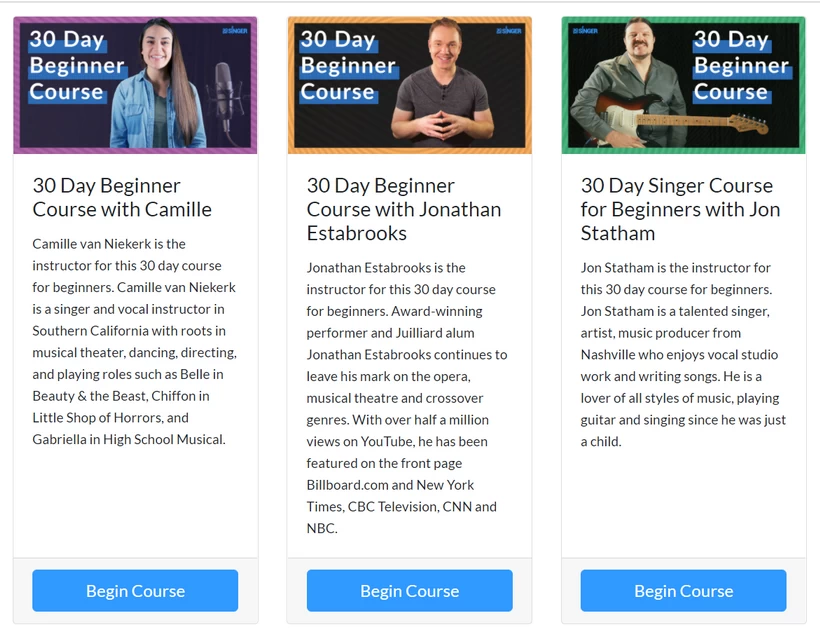 Here are the topics you'll cover in the 30 Day Singer beginner courses with Camille and Jonathan:
Vocal warm-ups — These basic vocal exercises will help you build a foundation for warm-ups, which are essential for protecting you against vocal strain and avoiding injury.
Technique, posture, and breathing — These lessons maintain a focus on vocal health, so they can make you a better singer while helping you preserve your voice.
Vocal anatomy — These lessons will help you understand how the voice works on an anatomical level.
Applying warm-ups to song work — This lesson will help you put your warm-up practices to (creative) work.
Cord compression — This section will help you learn to compress your vocal cords in a healthy way.
Chest voice, head voice, and mixed voice — This lesson will introduce you to these three vocal modes and help you learn when to use each one.
Stretching your vocal range — Lots of singers want to learn how to extend their range and reach maximum vocal power, and this section will help you do that.
Tone, growth, and dynamics — This section takes a multifaceted approach to help you develop your voice. The differences between the quietest and the loudest singing volumes are explored by dynamics.
Belting, falsetto, vibrato, and vocal fry — These advanced techniques can help you add life to any song. Many of the pop stars use belting and vocal fry.
Runs, turns, falls — This section provides an introduction to some advanced vocal techniques.
Song analysis — Analyzing a song is a great first step to knowing how to sing it, and this section will help you with the essentials of the song analysis.
Phrasing and style performance — This section will help you build up to performing with confidence.
Performance, confidence, and nerves — Plenty of singers are anxious about performance, but this section will prepare you to perform confidently.
If you take a 30 Day Singer beginner course with Jon, you'll get a different set of lessons. Some focus just on vocals, some focus on your instrument, and some inspire you to sing and play guitar together:
Finding your vocal range — This is an important first step before you start singing.
Major/minor scales, triads, and relative minors — If you're a guitarist, this lesson will help you add life to your songs.
Singing and strumming rhythms — Playing and singing at the same time is a very tough skill to learn at first, but this lesson will help you incorporate some strumming rhythms.
Song training — This section will help you start to develop your voice.
Smoothing out your voice — If you experience vocal "breaks," this section will help you eliminate them.
Complexity in scales — If you write songs and are looking to make them more intricate, this lesson is a good place to start.
Adding vibrato — This lesson on Vibrato can really help you add some life to your song performance.
Arpeggios and swing rhythms — This lesson focuses primarily on music, but it can make a major difference in your songwriting.
Steps/leaps, accuracy, and fluidity — This section will help you improve both as a musician and as a performer.
Tritones and major seventh — This is another musicality lesson that will serve you well as a songwriter.
Pentatonic and blues scales — If your songs incorporate leads and breaks, this lesson will be especially useful.
If you want a sample of what a beginner course is like, check out this sample lesson from the 30 Day Singer YouTube channel.
Advanced Courses and Course Content
Once you get to the advanced level of the site, the format is a little different. Rather than taking a comprehensive course, you just have a collection of advanced lessons and small courses to choose from. Many of these smaller courses are about 5-6 video lessons, and most focus on developing a singular advanced skill.
This makes sense — as most intermediate and advanced singers, have an idea of what singing techniques to focus on.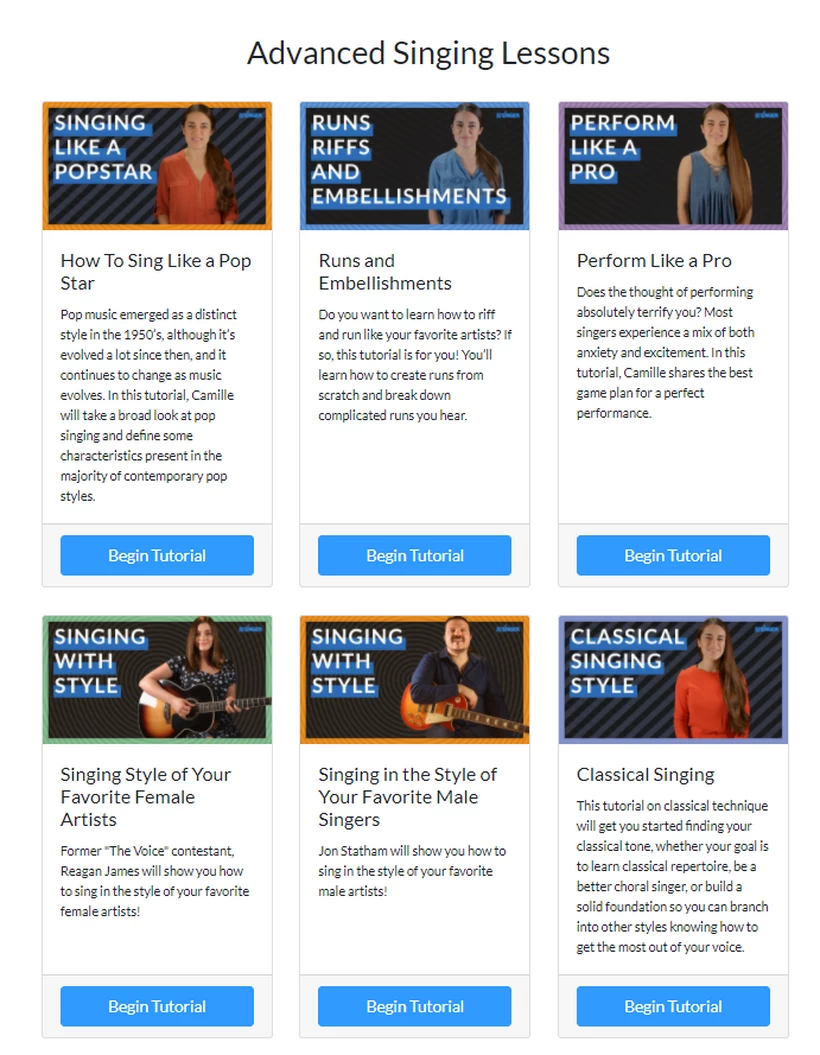 Many of these lessons on advanced techniques build on skills that you start learning in beginner lessons. For instance, there is a course on mastering vibrato and using it in your singing. There's also a course on improving your phrasing, which also can make a dramatic positive difference in your performances.
One class, which we mentioned earlier, introduces you to singing in harmony. Harmonizing is a valuable skill for all aspiring singers and it sounds beautiful, but it can be a challenging thing to learn. The lesson on harmony is taught by a vocal duo who use harmony heavily in their work, so you'll know that you're being taught by singers who are experts in their craft.
If you want an introduction to some of the advanced lessons, check out this lesson on improving agility for riffs and runs.
Social Aspects of the Site
30 Day Singer site has a community forum, which might not seem like a big draw at first. However, getting to connect with other students — and even with your instructors — can be a benefit. Since you can visit the forum and even post with a free membership, we checked it out.
The forum itself is surprisingly active. In a lot of cases, sites that have forums seem to have little to no activity. Some review sites have mentioned that instructors comment on the forum and offer feedback, but this doesn't look like it's a common occurrence. Here's what the forum looks like when you log on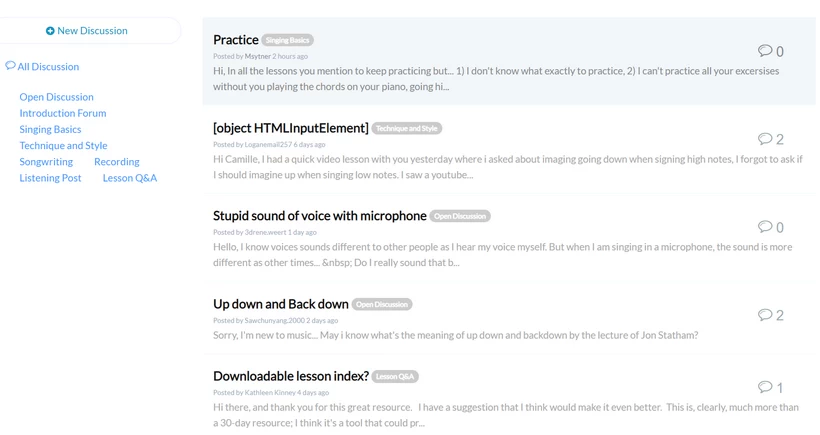 The forum seems well organized and has a few different subcategories for discussion:
All Discussion
Open Discussion
Introduction Forum
Singing Basics
Technique and Style
Songwriting
Recording
Listening Post
Lesson Q&A
We like that there is a discussion forum for singers of every level. Plus, if you're venturing into writing songs and recording, you can find support for those endeavors here as well.
Memberships and Pricing Options
Like most sites designed to make you a better singer, 30 Day Singer has a few options when it comes to membership. The first option is a basic membership, which is free. The basic membership gives you access to preview lessons. You do get preview lessons in a few categories:
Beginner Courses
Advanced Courses
Singing Tricks & Techniques
Warm Ups & Vocal Health
From your dashboard as a Basic member, you also get the option to read about the instructors, book a live lesson, or visit the forum. It's essentially a good sampler pack if you want to check out the site before purchasing a membership. Here's what the Basic dashboard looks like: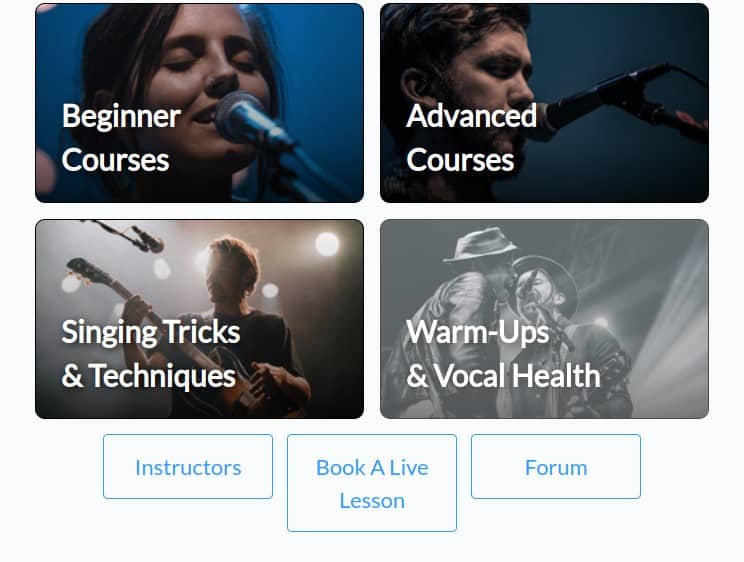 If you want full access to the site, you can choose a monthly membership or an annual membership. The monthly membership is $29.95 per month. This is a little more expensive than some courses, but it's a good option if you only see yourself taking classes for a few months. Plus, you can cancel at any time.
If you want significant cost savings over time, the annual membership is a good option. It costs $129, which means you're only paying $10.75 per month. With this option, you also get four free bonus gifts. You get four packs of daily vocal warmups — an advanced and a beginner pack for both male and female vocalists.
Both membership options come with a 30-day money-back guarantee — if you are unhappy with your membership for any reason at all, you can contact the site and you will get a full refund.
Social Proof of the Course
Thus far, we think that 30 Day Singer is one of the best singing lessons options out there. However, before you sign up, you probably want to know what others have said about it. We've scoured the internet for reviews of this site's beginner courses and advanced courses. Here are some of the helpful ones we found: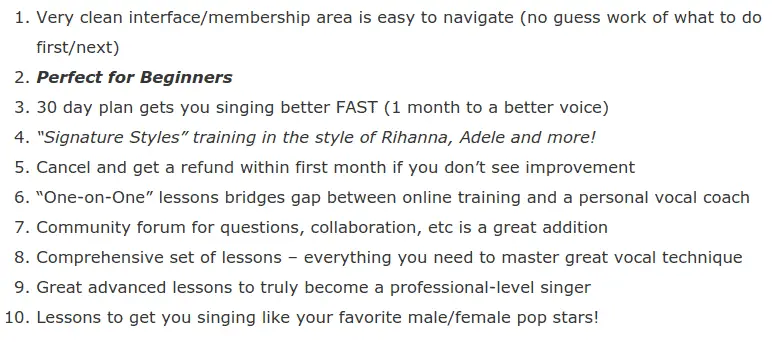 This 30 Day Singer review snapshot comes from Deviant Noise, a professional review site that we like. This site listed out some of the benefits of the 30 Day Singer course — we especially like the fact that the site has a section that can help you learn to sing like some of your favorite artists.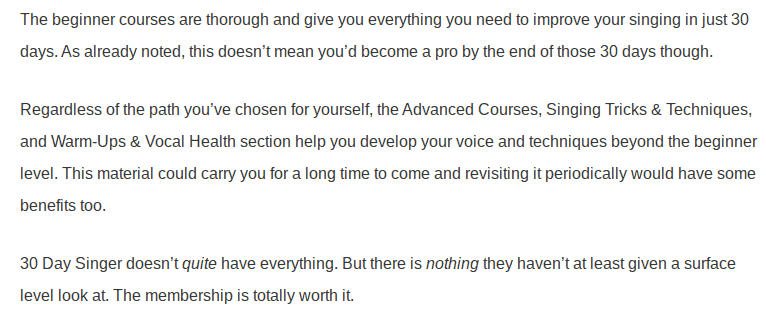 This 30 Day Singer course review comes from Music Industry How-To. It's a snapshot from a very thorough walk-through of the site. Like most reviewers that we came across, this reviewer wholeheartedly recommends 30 Day Singer.
This course may not have every single thing you need to know in order to sing well, but we think it has enough to get you started.

This last review snapshot comes from the review site Musicaroo. This reviewer points out a couple of features of this course that we like — one is the singing tricks techniques section, which gives even new vocalists an introduction to advanced topics they will explore in advanced courses later on. They also point out that you can choose your instructor, which we think is an excellent benefit.
After carefully looking at 30 Day Singer, we can confidently say that we recommend this singing lessons course for beginner and intermediate vocalists. We like that you have a few beginner course options to choose from, and we also like that all lessons are laid out in a methodical way.
Plus, this course really does emphasize warm-ups and vocal health, which is essential if you want to keep your voice sounding great while avoiding vocal injuries. If you're ready to start singing, check it out today!