If you're a fan of Steve Vai, Ibanez, or both, chances are good that you've at least heard of Vai's signature guitar, the Ibanez JEM. The first JEM was the 777, which was released in the 1980s. Since then, Vai's signature design has grown enormously in popularity.
While lots of people love the unique sonic features and bright colors of many guitars in the JEM line, not everyone can afford a genuine JEM. That's why Ibanez introduced the JEM JR, a more accessible version that still has many of the Ibanez JEM features that players love.
Things to Consider Before Buying an Affordable Guitar
When it comes to guitars priced around $500, there's a huge range of quality. While it's possible to find some value-packed guitars in this price range, there are also plenty that are overpriced for what you get. Many guitars in this price range are made in factories overseas, and quality control varies--some factories may catch more quality control problems than others. Here are a few things to consider before buying a guitar in the same price range as the Ibanez JEM JR:
Our Picks for Review
Ibanez JEM JR
PRO's & CON's of Ibanez JEM JR
Before we get on with our Ibanez JEM JR review, let's take a look at some of this guitar's pros and cons: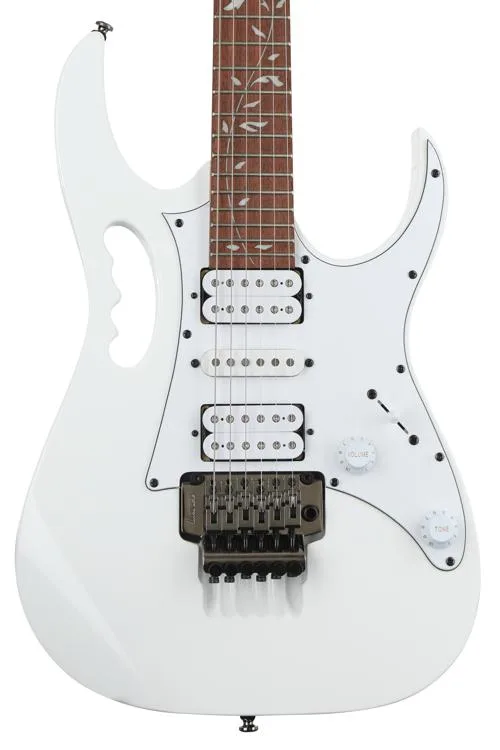 Features and Benefits
The Ibanez JEM JR is a unique signature model with features that guitarists of all abilities will appreciate. In this section, we'll take you through some of the highlights.
Tonewoods
If you're anything like us, you might have thought that the JEMJR, like many budget versions of higher-end guitars, would be made of basswood or similar cheap wood. However, its tonewood configuration is surprisingly respectable--the body is made of solid mahogany, and the guitar has a bolt-on maple neck. Both of these wood choices improve sustain, which is a must for any metal player.
Some of the higher-end Steve Vai JEM models have alder bodies, although tonewood choices vary. If you want to see if you can spot the tonal differences between alder and mahogany, check out this interesting tone test.
Pickups and Sound Quality
Before buying any guitar, it's a good idea to listen to some sound demos before committing. After all, if you dislike the sound of a specific guitar, you likely won't get much enjoyment out of playing it. We think that the JEMJR's sound is impressive given its price range. It comes with Quantum pickups, and Ibanez design that seems to be an echelon above the Infinity R pickups found in many inexpensive Ibanez models.
Notably, the JEMJR holds tune well even with plenty of whammy bar usage. Part of this may be due to the use of a double locking tremolo, which helps keep tuning stable even with aggressive playing. If you want to hear this guitar for yourself, check out this video demo.
Special Steve Vai Features
Steve Vai chose to collaborate with Ibanez in order to design his signature guitar because Ibanez was willing to incorporate features he found essential. One of these features is the lion's claw tremolo cavity, a space behind the bridge that allows the tremolo bar to bend pitch up as well as down. As a younger guitarist, Steve Vai created his own lion's claw with a hammer and a screwdriver, and this feature has become a hallmark of JEM guitars.
Another Steve-specific feature is the monkey grip, a built-in handle that can be found on just about every Ibanez JEM. And like the more expensive Steve Vai signature guitars, the JEMJR has a beautiful Tree of Life inlay on the fretboard. If you want to learn more about the development and history of the Ibanez JEM, the video just above shows Steve himself discussing his signature guitars.
Social Proof of the Guitar
Many players recommend trying out an electric guitar in person before you buy. However, if that isn't possible, the next best thing is seeing what other players have had to say about a given model. Here are a few Ibanez JEM JR reviews we found:
When reading reviews for less expensive guitars, it's helpful to hear from players who have played more expensive instruments. This person has owned the higher-end Ibanez Steve Vai signature JEM and didn't find a huge amount of difference between the two.
Sometimes, players who purchase the budget version of an artist signature model, they expect the cheaper version to be just as high quality as the official signature model. This person's review calls out other reviewers who seemed to expect the JEM JR to be on the same level as a genuine Steve Vai signature model. While the JEM JR does offer excellent value for the price, it's important to remember that it isn't meant to be exactly the same as the Ibanez Steve Vai signature JEM.
This last Ibanez JEM JR review points out an example of a quality control issue. Pooled paint isn't something that necessarily impacts tone, but it can be disappointing for some players.
Alternatives to Ibanez JEM JR
As a more accessible version of the Steve Vai Signature JEM, the Ibanez JEM JR is a great guitar for players who shred (or who aspire to). However, if you want to consider alternatives, we've found a few other guitars you might want to check out:
Ibanez RGA42FM
How it Compares to Ibanez JEM JR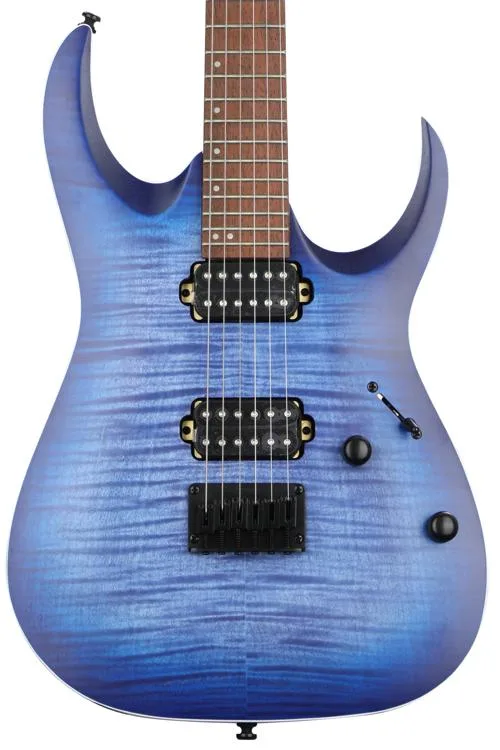 Review
This guitar is somewhat similar to the JEMJR in several respects--it also has a mahogany body and a Wizard III neck profile. It also has Quantum pickups, although it's a dual-humbucker design. This guitar is a bit less expensive than the JEMJR, likely because it only has two pickups and does not have a tremolo system. However, it does have a comfortably playable contoured top with a stunning flame maple veneer. If you're looking to spend a little less but still want great Ibanez tone, make sure you check this one out!
Ibanez GRX70QA
How it Compares to Ibanez JEM JR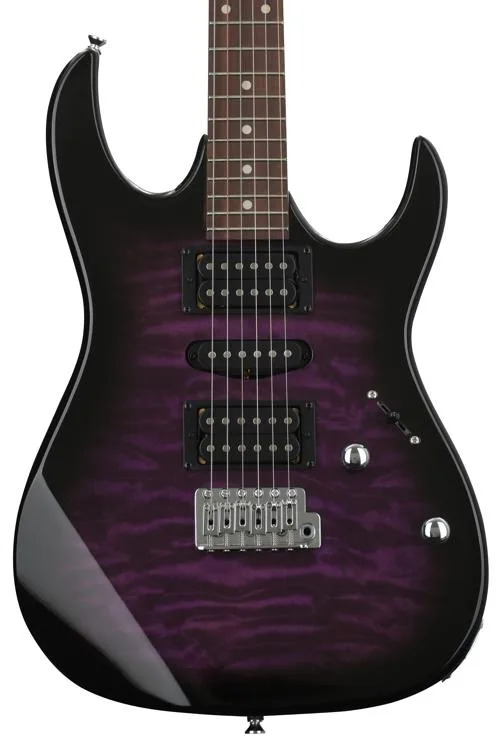 Review
If you like the superstrat configuration of Ibanez Steve Vai Signature guitars but need something a little less expensive than the JEMJR, the GRX70QA might be right for you. This guitar comes in an HSH configuration, although the Ibanez Infinity R pickups don't have the same powerful tone as the Quantum pickups in the JEM JR.
That said, for a guitar around $200, this one offers plenty of opportunities for sonic exploration--you get five-way pickup switching and a tremolo bar. The poplar body with a quilted maple top gives it a distinctly beautiful look. If you're on a tight budget but want something that's similar to the Ibanez JEM JR, make sure you give this guitar a look.
ESP LTD MH-203QM
How it Compares to Ibanez JEM JR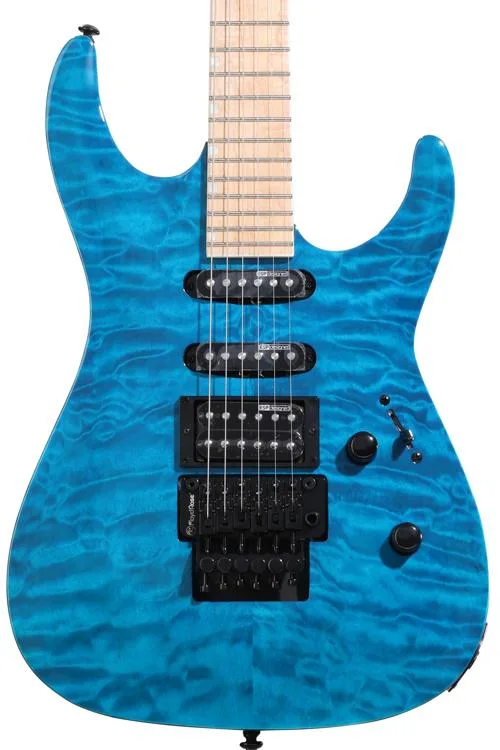 Review
Like Ibanez, ESP also manufactures versatile, affordable guitar options for players of all abilities. This guitar is the same price as the Ibanez JEMJR, and it's also made of mahogany (although it has a maple veneer). 
The MH-203QM has an ESP-designed humbucker and two single coil pickups, a combination that is capable of handling multiple genres. It comes with an LTD by Floyd Rose tremolo. If you think you'd prefer the versatility of an HSS superstrat, make sure you check out this one.
In Conclusion
If you've wished for an affordable version of one of the Steve Vai signature guitars, the Ibanez JEM JR just might be right for you. With respectable pickups, quality tonewood construction, and many of the features that set the Ibanez Steve Vai signature models apart, this guitar is an excellent choice for beginners and performers alike. Click here to check it out!