The eight-string electric guitar may seem like a bit of a musical oddity, but its expanded tonal range makes it a worthy choice for guitarists, especially those who play metal music. The Ibanez RG8 was built to allow even those on a budget to play an eight-string instrument.
The RG series from Ibanez is surprisingly affordable. Since eight-string guitars are already a rarity, a relatively affordable one is especially hard to come by.
Things To Consider Before Buying An Eight-String Guitar
A guitar with extra strings expands your playing range, and in the right hands, an eight-string can sound genuinely amazing. However, before you buy, it's essential to take a few things into account:
Our Picks for Review
ibanez RG8 Guitar
PRO's & CON's of Ibanez RG8
Before we delve into the specifics of this Ibanez RG8 review, here are some pros and cons to consider: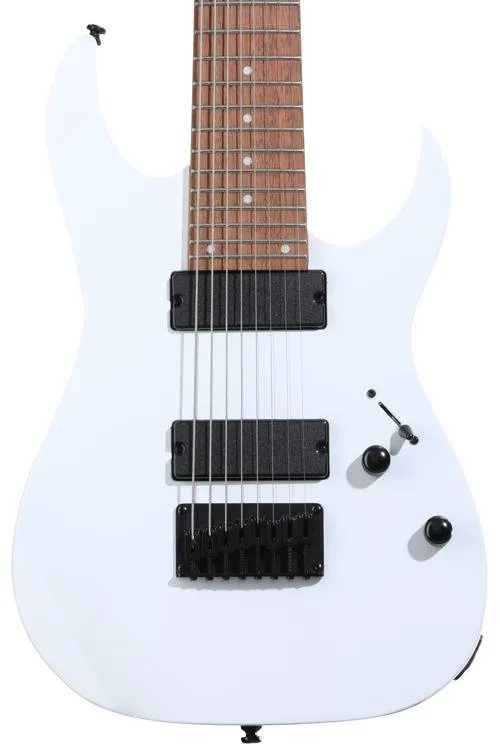 Features and Benefits
When evaluating any eight-string guitar, you'll likely be looking for many of the same things you look for in a six-string. However, some features, like the neck, are especially impacted by the extra strings. Here are some of the critical features of the RG8 you'll need to pay attention to before you buy:
Sound Quality And Pickups
The RG8 is an instrument that offers an excellent tone for the price. Thanks to its body of very midrange-favouring mahogany, this is a guitar that tends to emphasize the midrange. Some of the users and reviewers have noted that it took some EQ tweaking to get some of the highs to stand out enough.
Its specially-made IBZ-8 pickups are a decided step up from Ibanez's beginner-level guitars, but they aren't at the level of what you'll get in an Ibanez Jem or other high-end guitar. Most reviewers have been fairly impressed with them given the guitar's price point. They tend to sound pretty clear when played clean, although many people who have played the RG8 have commented that the pickups lose some clarity if played with a lot of distortion or overdrive.
Of course, down the line, you do always have the options of upgrading your pickups. Controls are kept fairly basic--you get a master volume and master tone pot, and there's a three-way pickup selector switch, too.
Primarily, while this is a guitar meant for those new to the eight-string, it's designed for people who do have some playing experience and need something with decent build quality. If you want to hear it for yourself, this video does a thorough job of showing off the RG8's tone.
Tonewoods And Body Style
While the RG8 has been described as an entry-level eight-string, it's made with mahogany, which is a definite step up from the basswood used to make many cheaper eight-string instruments. Mahogany offers some warmth when it comes to sound, and it can underscore the deep, growling bass that makes eight-string guitars so popular with metal players.
The RG8 also has a string-through-body design and a fixed bridge. The fixed bridge means you can't add a tremolo, but it keeps costs low. The string-through-body design may help add some extra resonance, and it also makes restringing very easy.
The body style is the signature double-cutaway seen on most Ibanez RG series instruments. It gives you excellent fret access, and its angular look is one that's very well-suited to metal. 
Neck Shape And Features
The neck of this guitar is worthy of some special attention. It even has its name--the Wizard neck. This guitar has a Wizard II-8 neck, which is designed for stability and fast playing when you need it.
Somewhat paradoxically, Ibanez Wizard necks are made of multiple pieces of wood (usually five). You might think that a neck made of a single piece of wood would be stronger, but that isn't always the case. Single pieces of wood are usually more prone to warping, and in an eight-string neck, this becomes more likely. The neck's radius needs to be kept relatively small for playability, but it also needs to be wide enough to accommodate all eight strings. By making the neck out of many pieces, Ibanez RG series helps reduce the risk of warping over time.
The Wizard neck is designed with playability in mind. Due to careful engineering, it keeps string action low at all points, making it easy to play effortlessly anywhere along the neck. It also is designed to stay strong while staying incredibly thin. It can be hard for your hands to adjust to the wider neck of an eight-string guitar, but a slimmer neck makes that adjustment easier.
If you want to see what a Wizard neck looks like up close, the video review below shows it off nicely. The guitar in the video is not an RG8, but both guitars have a Wizard maple/walnut mix neck.
The maple/walnut mix neck only has a plastic nut, but it's relatively easy to replace it with Tusq, graphite, or a similar upgrade. The fingerboard is made of jatoba, which is something most of us may not have heard of before. This wood is also called Brazilian Cherry and is used by some manufacturers as a sustainable alternative to rosewood.
Social Proof of the Guitar
The eight-string guitar market is a somewhat sparse one, and it's especially hard to find a relatively affordable one. Ideally, you want to be able to play an instrument before buying, but that isn't always possible. If you're considering purchasing the Ibanez RG8, these buyer reviews may help you know what to expect:
The above, entertainingly-written review covers some of the challenges that may come with adjusting action and tuning. However, this reviewer concludes that the RG8 is a guitar worth playing.
This Ibanez RG8 review praises the guitar's build quality--usually, a guitar in the $400 range will have the decent build quality, but nothing exceptional. This review also helps you understand the subtle differences in the pickup selections.
This review is a highly-detailed one that covers the RG8's impressive playability. It also addresses some of its pros and cons, many of which have been echoed by other reviewers.
Alternatives to Ibanez RG8
As we've mentioned, the market for eight-string guitars (as well as those with seven strings) is fairly small. Still, it's a good idea to consider your alternatives. Here are three other guitars you may want to consider alongside this one:
Schecter Omen-8
How it Compares to Ibanez RG8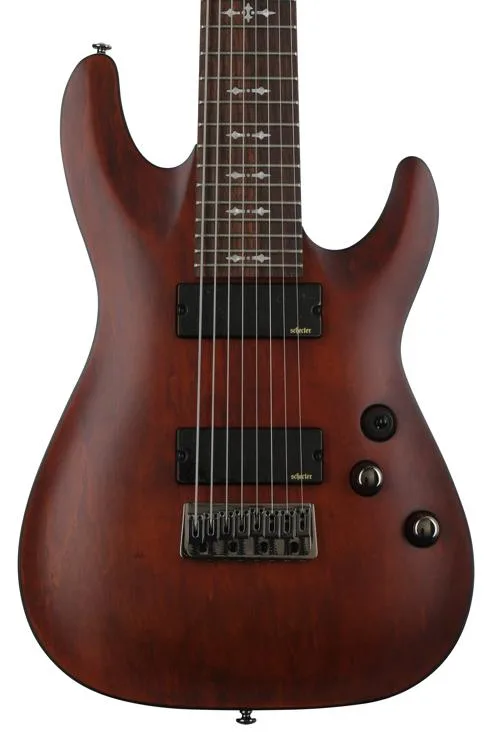 Review
This eight-string guitar is essentially Schecter's counterpart to the RG8. It has a basswood body for lightness and general affordability, and it's equipped with Diamond Plus ceramic humbuckers for tone that comes with a bite.
This guitar has a beautiful satin walnut finish, and its rosewood fretboard is adorned with subtle yet distinctive inlays. If you want to compare the RG8 to another well-made eight-string that costs about the same, be sure to give this beautiful guitar a look.
Ibanez RG80E
How it Compares to Ibanez RG8
Review
If you like Ibanez eight-string guitars but want one with active pickups, this is a great instrument to check out. Active pickups may improve guitar intonation, and their lower impedance means that they won't be as affected by long cables.
This guitar is made of meranti, which isn't known for great tonal properties. However, this low-cost wood means you can still get a guitar with active pickups for a fairly low price. If you want an Ibanez eight-string that makes a statement when it comes to both colour and tone, make sure you check out this distinctive guitar.
Jackson DKAF8 MS
How it Compares to Ibanez RG8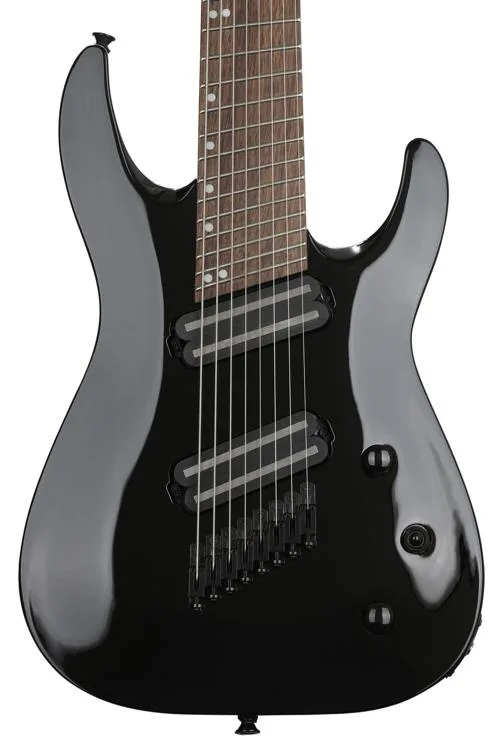 Review
Jackson is a company known for fast necks that facilitate technical, high-speed playing. This guitar, part of Jackson's Dinky lineup, has an impressive-looking arched top and offers plenty of features for the player who wants to dial in a custom tone.
With its solid mahogany body, it's similar to the RG8 and only a bit more expensive. If you're a shredder who wants a lightning-fast eight-string workhorse, make sure you check out this guitar today.
In Conclusion
The eight-string guitar can expand your range, especially in metal, jazz, and even classical genres. We think that the RG8 is a fantastic deal for the money--whether you want it to be your main guitar or something to mix up your playing a bit, it can open up a new world of sonic possibilities.
The RG8 was made by a company that has pioneered the development of eight-string instruments, and it also has the necessary combination of quality tonewoods, a highly playable neck, and well-made pickups to give you the sound you're looking for. Click here to check it out!