Just about every guitarist knows Martin for its top-quality instruments. After all, Martin has been creating history-making dreadnoughts since the 1800s. Their pre-war acoustics are among the most sought-after vintage guitars in the world.
Today, we'll be looking at the Martin D-18 guitar. This is the quintessential bluegrass player's guitar — it sits perfectly in a mix, and its balanced tonal response makes it ideal for both performance and recording.
PRO's & CON's Of Martin D18
Before we dive into our Martin D18 review, let's take a look at some pros and cons:
Pros
Its bass frequency response is very tight so that it won't overpower other instruments.
The classic combination of Sitka spruce and mahogany offers a sound that's just warm enough.
The ebony fingerboard is comfortable to play with and looks nice, too.
This guitar has been chosen by Elvis Presley, Andy Griffith, and Clarence White — it's one of Martin's most iconic guitars.
Cons
Its relatively high cost may put it out of reach for some players.
The relatively thin neck can be difficult to play for guitarists with larger hands.
Martin D18
A Dreadnought Acousitc Guitar
An all-solid tonewood guitar with a Sitka Spruce top and mahogany back & sides.
One of the most iconic guitars.
It has scalloped bracing in an X – pattern.
Now, let's take a closer look at what the Martin D-18 guitar has to offer.
Body Style And Bracing
The Martin D-18 is a dreadnought, and the term "dreadnought" was first used by Martin to describe these big-bodied guitars. Dreadnoughts are known for their well-balanced tone, although certain models tend to have a powerful low-end response that may be too much for some styles of music.
Notably, the D-18, along with most of Martin's guitars, is a square-shouldered dreadnought, which tends to produce more low-end than its slope-shouldered relative.
Dreadnoughts, while they're generally known for their great tone, can be a little cumbersome to play. Their relatively deep bodies create a tonal richness, but they can cause arm fatigue, especially when played by smaller people. However, plenty of people who play dreadnoughts believe that the sound is well worth any effort they have to exert to play.
This acoustic guitar is made with scalloped bracing in an X pattern, a bracing style that allows the soundboard to vibrate more freely. This also increases bass response. Plus, the scalloped bracing is also forward-shifted, which also enhances both loudness and bass response.
The combination of forward-shifted and scalloped bracing has been used on a variety of Martin guitar models with great results. (Some people believe that scalloped bracing was invented by Martin, but that claim seems to be unproven.) If you want to learn more about the scalloped bracing used in Martin guitars, check out this interesting video.
Tonewoods And Sound Quality
As a member of Martin's Standard Series, the new D-18 is designed with playability and tone in mind. And like many others in the series (and like most Martin acoustic guitars in general), it relies much more on sound and playability than it does on looks.
The Martin D-18 guitar is made with some of the most classic tonewoods a player could ask for — solid Sitka spruce top over solid mahogany back and sides. Most modern acoustic guitars have a spruce top since spruce tends to be highly responsive and just bright enough.
Some historic guitars are made with Adirondack spruce, which some players find to be even louder and capable of even more projection than Sitka. However, plenty of players mistake the D-18 for a guitar with an Adirondack spruce top, thanks to its loudness.
The solid mahogany body makes this Standard Series model ideal for players who want a cleaner, more focused sound that's just warm enough. Mahogany guitars have a much more present midrange than guitars made of rosewood, and they also tend to have more subtle overtones.
Mahogany is also often described as being "punchy" in terms of its sound. This characteristic makes it especially suitable for blues playing, but its assertive sound does well in a variety of genres.
In just about every review of the Martin D-18, players rave about this guitar's tone. To many, it's exactly what an acoustic guitar should sound like. We've found that this guitar's highs and lows sound piano-like — they have enough sustain, but not so much that they're overpowering.
The Martin Guitar company is known for producing instruments with a deep low-end response, and this one is no exception. If you'd like to hear the Martin D-18 for yourself, check out this helpful video demo.
While a lot of Martin acoustic guitars have come to be associated with bluegrass music, it would be unfair to this guitar to confine it to one genre. Its warm yet focused sound and its tight low end make it ideal for just about any genre. This is a guitar that does well with strumming, flat-picking, or fingerpicking. Its sustain is impressive but never overwhelming.
It's worth mentioning that, as is the case with many Martin acoustic guitars, this one does not come with electronics. If you do find you need electronics on this guitar, you can always install them later.
However, for smaller venues, you may not even need to plug in — this is a guitar with a lot of projecting power, and the well-balanced sound likely won't need any EQing. For recording, it does beautifully with a condenser mic at the 12th fret.
Neck And Playability
Like most Martin models, the Martin D-18 guitar has a neck that's made with "select hardwood." Some players may find this concerning, as a guitar this expensive will usually have all specs listed. However, the "select hardwood" is just because Martin doesn't always know which woods it will have in stock. Martin's necks tend to be made out of mahogany or Spanish cedar, both of which are high-quality tonewoods.
The neck is also designed to be incredibly playable — it's made with the Martin High-Performance Taper profile. This is one of the slimmest tapers the brand offers, and it makes the neck incredibly fast. The High-Performance Taper is easier for most people to play — traditional pre-war Martin guitars tended to have much beefier necks that could sometimes be hard to navigate. 
The shape of the neck is Martin's modified low-oval, which is significantly slimmer than most guitar necks. The combination of this taper and profile makes it one of the brand's most playable instruments, and it's an especially good choice for performers.
The way the neck is connected to the guitar body makes a lot of difference when it comes to tone. The one-piece neck of the Martin D-18 is connected via a dovetail joint, which means that the neck is effectively slotted into the body of the guitar. This type of joint does very well at transferring string vibration to the soundboard, which results in full and highly responsive sound.
The neck is capped with an ebony fingerboard. Ebony is an ideal fretboard material in many ways — it stays somewhat slick, making playing easier. It also is extremely durable and isn't prone to pitting and other common fretboard issues.
And while almost all buyers have noted that this is a great guitar, some have noted that the slimmer neck (the nut width is 1.75″) is a little harder to play if you have larger fingers.
They've also noted that there's no room for mistakes while playing the Martin D-18 — if your fingering is slightly off or if you're too far away from a fret, it will reflect in the guitar's tone. If you'd like to hear the D-18 for yourself, check out this impressive sound overview.
Components And Finish
Although Martin has an excellent reputation, most of their guitars don't have a lot of bells and whistles. While some brands like Gibson offer models with flashy inlays and unusual pickguard shapes, Martin tends to stick to the classic acoustic guitar aesthetic. The high quality of their instruments stands out largely based on their tone.
The Martin D-18 is a very well-appointed guitar. The bone nut and bone saddle give you great sound and sustain with a bit of a vintage vibe. And like most higher-end Martins, this one has a black ebony bridge and fingerboard. The inlays are listed as old-style 18 inlays, and they're very small abalone dots.
Martin tends to equip each guitar with great tuners, and this one is no exception. It comes with nickel tuners with butterbean knobs. They hold tune very well, and they also add to the instrument's vintage good looks. The binding and pickguard are tortoiseshell-patterned, and a simple rosette adorns the soundhole.
The finish on the Martin D-18 is especially unique — while it has a gloss natural finish, that finish also includes aging toner. This toner starts out slightly yellowish, but over time, it turns to an amber color that makes the guitar look like a pre-war instrument.
This type of finish may not appeal to all players, but we think it's a great way to help the guitar's vintage looks match its vintage tone. If you want to get a closer look at the impressive details of this guitar, check out this detailed overview.
Social Proof of the Guitar
Sometimes, players like to try out an acoustic guitar in person before buying it. However, with the Martin D-18, plenty of players have purchased it online and have been very happy with it. We found almost no negative reviews when researching it. Here are a few especially helpful ones that might make your decision easier: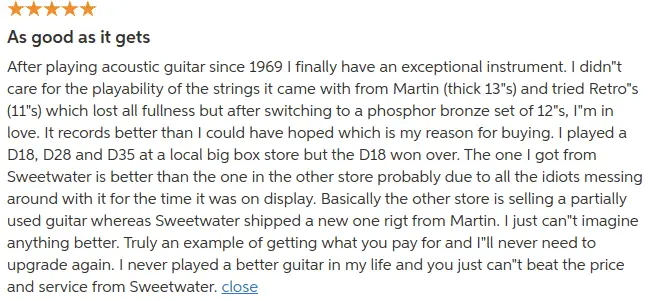 This Martin D18 review is useful, especially because this player noticed that the sound blossomed with a different set of strings. Like many players, this person also found that this guitar records extremely well.
This Martin D-18 review is largely useful because the writer has owned several Martins and still likes this one the best. He also mentions the comfort of the High-Performance Taper neck profile.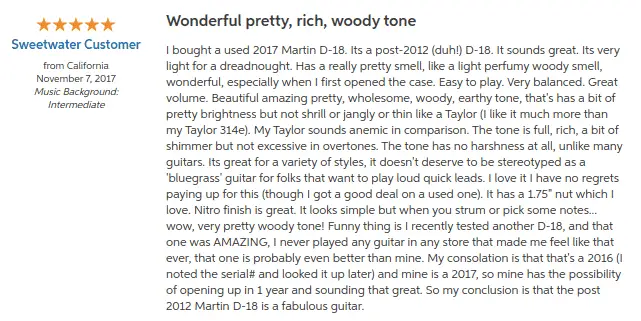 This last Martin D-18 review is written by a player who has tried out multiple D-18s and loved their sound. And like many reviewers, they also favorably compared the sound of Martin guitars to Taylor instruments.
Alternatives To Martin D18
Before buying an acoustic guitar (and especially before buying one of this caliber), it's a good idea to take a look around and make sure it's the right one for you. We've found three potential alternatives you might want to consider
Martin HD-28 With Aging Toner
How It Compares To Martin D18
Rosewood back and sides offer a balanced tone that's not quite as warm as mahogany.
Scalloped, forward-shifted X bracing gives it a great tone with full bass response.
Beautiful yet understated herringbone inlays make it a great-looking instrument.
The modified low oval and performance taper neck offer superior playing comfort.
Review
This guitar is a lot like Martin's legendary D-28. Like the D-18, it's made with a classic combination of acoustic guitar tonewoods. The back and sides are made of rosewood, which has a little more high-end presence than the D-18.
If you have a little more to spend and prefer the sound of rosewood, make sure you check this one out!
How It Compares To Martin D18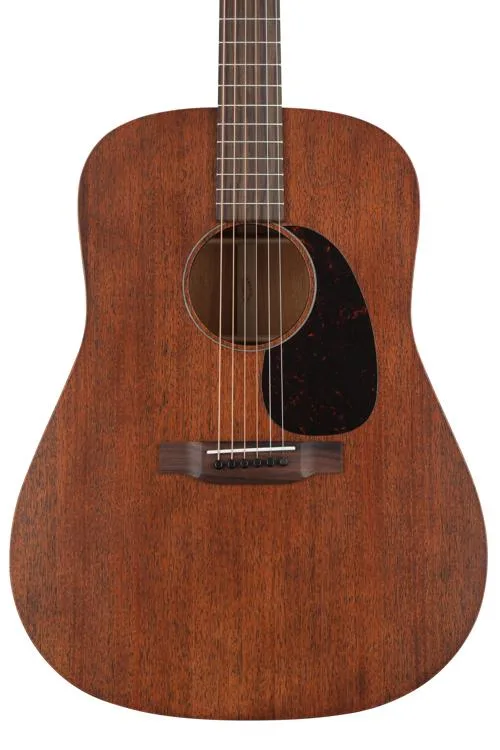 The modified low-oval neck profile is fast and comfortable to play with.
The satin finish looks nice and makes the neck especially fast.
It's designed in the style of 1940s dreadnoughts, so you get a quality vintage tone.
In terms of price, it's about $1200 cheaper than the Martin D-18.
Review
If you like the mahogany back and sides of the Martin D-18 but want something a little warmer in terms of tone, the D-15M is a great choice. This all-mahogany dreadnought does well playing with brighter, spruce-topped guitars, and it's an excellent accompaniment if you have higher vocals, too.
If you want a warm sound for a great price, make sure you check this one out!
How It Compares To Martin D18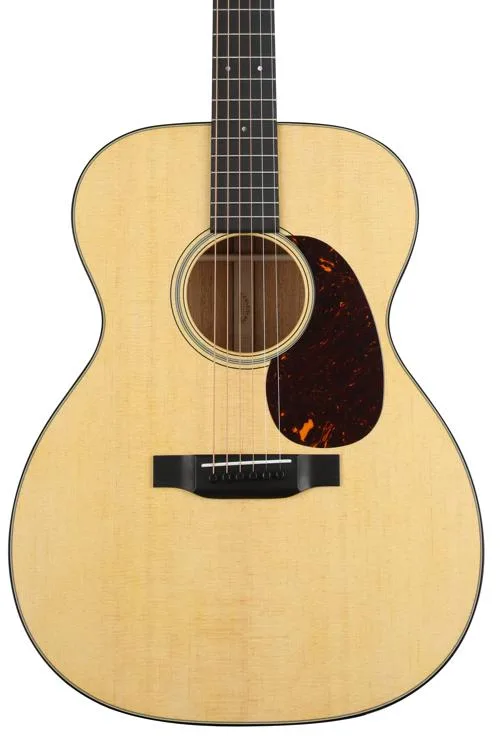 A shorter scale makes string bends easier, and the fretboard is more navigable for people with small hands.
Like the Martin D-18, it has a Sitka spruce top, mahogany back and sides, and an ebony fretboard and bridge.
000 body is comfortable to handle and easy to play with for many players.
It's almost exactly the same price as the Martin D-18.
Review
If you'd prefer the sound of a 000, this smaller acoustic guitar is a great option. This 000 has a Sitka spruce top and mahogany back and sides as well, but its smaller size means it has a focused sound that projects well. It's also made with the Performing Artist taper for incredible playability.
If you'd prefer the tight sound and easy playability of a 000, make sure you check this one out!
If you're looking for an acoustic guitar that's also an important part of music history, the Martin D-18 is a fantastic choice. With its powerful yet balanced tone, it does well as a solo instrument or performing with other musicians. If you need an acoustic that's one of the best, this one is worth a look. Click here to check it out!