Martin is the acoustic guitar brand that pioneered the well-loved dreadnought body shape, and many of its high-end acoustics are considered legendary. Quality is considered synonymous with the Martin name. However, many of the company's higher-priced models are out of reach of most players. 
If you've dreamed of owning a Martin guitar but are short on cash, the DX1AE might be the choice for you. In our Martin DX1AE review, we'll take you through some of the specifics of this model in order to help you decide whether you want to add it to your collection or choose it as your first guitar. First, though, let's look at some pros and cons of the Martin DX1AE acoustic electric guitar.
Things To Consider Before Buying An Acoustic Electric Guitar
Buying an acoustic guitar that comes equipped with electronics is a great choice if you plan to play live, and it also gives you the opportunity to experiment with effects if you choose. Before you buy, it's a good idea to take a few things into account:
What body shape is right for you? Many players purchase dreadnoughts for their versatility. However, grand auditorium or concert-body guitars might be good for those who want a smaller, easier-to-handle guitar.
Do you have a preference when it comes to electronics? All acoustic guitars that come with pickups are not the same. If you're on a budget, lower-priced pickups (like the Fishman Sonitone system that comes with the DX1AE) might be a fine option. For more natural amplified sound, look for instruments that come with higher-end pickups.
What playability features matter? Many major manufacturers are moving toward slimmer necks that many guitarists find easy to play. However, for those with larger hands, a guitar with a thicker neck may be preferable.
PRO's & CON's Of Martin DX1AE
First, though, let's look at some pros and cons of the Martin DX1AE acoustic electric guitar.
Pros
Solid Sitka spruce top is extremely responsive and offers a bright, balanced sound.
Non-scalloped bracing ensures a balanced sound with plenty of midranges.
The classic dreadnought body style is versatile enough to use for many different genres.
Fishman Electronics (Sonitone) make it easy to plug in and play.
The slim, tapered neck makes it a highly playable instrument.
Cons
The back and sides are made of high-pressure laminate (HPL), which won't have the same rich sound as a guitar made with solid wood.
Some players prefer an instrument with higher-end, more natural-sounding electronics.
Note: As per the website of Martin Guitars, Martin DX1AE has been discontinued. You can consider Martin DX1E in its place (also recommended by Martin Guitars as the replacement), which is quite similar, except that the top, bracing, and electronics have been changed to Spruce pattern high-pressure laminate (HPL) top, scalloped bracing, and Fishman MX, respectively.
Martin DX1AE
An Acoustic Electric Guitar
Sitka Spruce Solid Top.
Mahogany Pattern HPL Back and Sides.
Non-Scalloped X Bracing.
Fishman Sonitone Electronics
In this section, we'll take you through some of the main features of the Martin DX1AE, part of the X Series guitars from Martin.
X Series
Martin Guitars cites its X series as a lineup designed with consideration for durability and affordability without sacrificing the tone. The handmade X series guitars are manufactured in Navojoa, Sonora, Mexico.
Body Shape and Bracing
The DX1AE is a dreadnought, which is the most popular acoustic body shape by far. While these guitars are somewhat larger than other body sizes, their design enables them to produce plenty of low-end that's balanced out with a rich midrange and bright highs.
The sound of dreadnought is complex enough to let you perform with it as a solo instrument, but it also does well when playing in a group or when playing alongside a voice. The video (below left) explains the differences between dreadnoughts and other body shapes. In addition, this article highlights the differences between dreadnought and concert/grand concert guitars.
This guitar's bracing is standard X bracing. Unlike some Martin guitars, it isn't scalloped. Some players prefer the sound of scalloped racing because it essentially "scoops" out the midrange somewhat, leading to more emphasis on highs and lows.
Others prefer non-scalloped bracing for its even tonal response. If you don't have an existing bracing preference and want to see whether this is the guitar for you, you can watch the video below. The video (above right) demonstrates the Martin sound of the D-28 in comparison with the sound of the Martin HD-28. Martin D-28 uses straight or non-scalloped bracing, while HD-28 has scalloped bracing.
The DX1E guitar has scalloped bracing.
Tonewoods and Other Features
Like many acoustic instruments, this one is made with a solid Sitka spruce top. Most Martins are made with this soundboard material–it's bright without being overly so, and it's incredibly responsive. As you likely know, a solid soundboard is one of the most important factors to consider when purchasing an acoustic guitar, as it makes a major difference when it comes to tone.
However, the back and sides of the Martin DX1AE are made of mahogany-grained HPL (mahogany pattern high-pressure laminate, also known as the Mahogany pattern HPL). This feature is used on many less-expensive Martin acoustic guitars. It keeps costs down and keeps the guitar light (as well as somewhat resistant to humidity changes), and it can be patterned to look like woodgrain.
This one is patterned to look like mahogany. Depending on your individual preferences, you might not prefer a guitar made with laminate sides and back. If you're curious to see how this build choice impacts tone, this video demonstrates a solid-wood Martin alongside a Martin DX1 made with HPL.
Note: DXIE's entire guitar has a laminate construction, including the top.
The tonewood used in the neck isn't as important when it comes to tone, but it still makes a difference. Most guitars have solid necks, but this one is made of birch laminate. The laminate material has been subjected to heavy pressure and is unlikely to come apart. Still, some players prefer a solid-wood neck.
The neck is capped with a Richlite fretboard. Richlite is an engineered material that is known for its ability to create highly playable fretboards, and it's even used on some high-end instruments as an ebony alternative.
The guitar has twenty frets, Mother-of-pearl inlay dots, White Corian Nut/Saddle, chrome tuners that eliminate the need for constant re-tuning, and Martin's Authentic Acoustic Lifespan 2.0 strings.
Electronics & Sound Quality
The Martin DX1AE comes with Fishman Sonitone electronics. While Fishman is a respected manufacturer of pickup systems for guitars and other acoustic instruments, the Sonitone isn't a particularly high-end pickup. The system has a soundhole-mounted preamp with volume and tone controls.
You don't get an onboard tuner or expanded EQ as you do with some systems. Despite the fact that the Sonitone system is a simple undersaddle piezo, it sounds remarkably good, considering that it's made for value-priced instruments. If you want to hear what the Sonitone system sounds like, check out this video demo.
Social Proof of the Guitar
Before you buy, it's usually a good idea to see what others are saying about a given instrument. We've found a few reviews by players who have chosen the Martin DX1AE.
This Martin DX1AE review covers one of the potential benefits of the HPL back and sides–the guitar is very resistant to temperature and other weather changes. This buyer acknowledges that the electronics could be better, but at this price range, having lower-end electronics is understandable.
This longer review covers some of this guitar's strong points. It also addresses a misconception that some buyers may have–while some have errantly said the guitar is all laminate, it has a solid spruce top. DX1E, though, has an all-laminate construction.

This balanced review covers many of the strong points of this DX1 Martin, and it also addresses an issue with the finish–the guitar can easily suffer dents and dings. That said, like most buyers, this person recommends this beautiful guitar.
Alternatives To Martin DX1AE
It's rarely a good idea to simply choose a guitar that looks good to you and decide to buy it. Generally speaking, considering alternatives is a good idea. In this section, we've found three other guitars you may want to consider alongside this one.
How It Compares To Martin DX1AE
It also has a solid spruce top.
The back and sides are made of laminated wild cherry as opposed to the HPL on the DX1AE.
Godin QIT electronics are comparable to the Fishman Sonitone.
Cutaway gives you easier fret access, and this feature may be preferable for some players.
Review
A Seagull guitar may not come with the same name recognition that a Martin guitar does, but this relatively new manufacturer has quickly made a name for itself. Its solid-top guitars have remarkably great sound for the price, and they often come in exciting finishes.
The Entourage is also a dreadnought but comes with a cutaway for easier fret access. It also comes with Godin QIT electronics for easy live playability.
If you're looking for a guitar that's about the same price as the DX1AE but comes with a cutaway and a unique Autumn Burst finish, make sure you give this one a look!
How It Compares To Martin DX1AE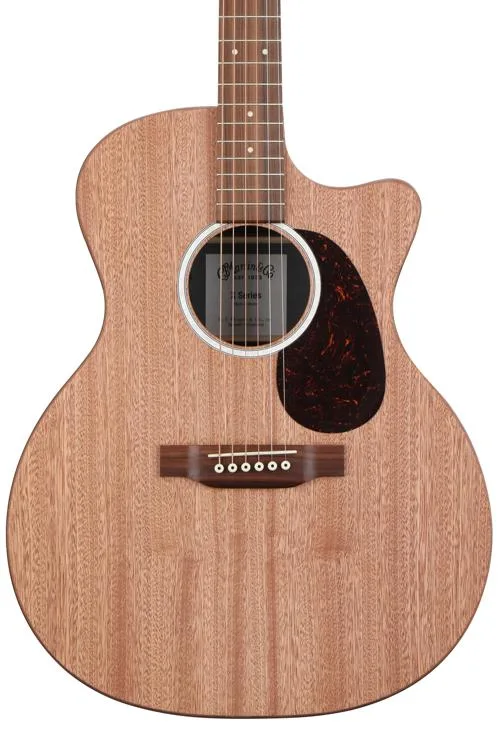 Though individual players have their own opinions, sapele isn't generally regarded as being as good of a tonewood as Sitka Spruce.
High-pressure laminate back and sides resist damage but don't offer the full sound of solid wood.
A grand performance body with a cutaway may be preferable to some players.
This guitar is slightly more expensive than the DX1AE.
Review
If you're hoping to buy a Martin but don't think the DX1AE is the best option for you, you might like this interesting edition from the Martin X Series. This one is a departure from traditional Martin builds ins several ways. First, it's a grand performance body shape (similar to Taylor's grand auditorium shape) as opposed to a dreadnought.
It has a top of solid sapele, and the back and sides are made of HPL with a Macassar pattern. It also has a laminated birch neck and comes with Fishman Sonitone electronics, making it similar to the DX1AE.
If you prefer the feel of a grand auditorium and the tone of a solid sapele soundboard, make sure you check this one out.
How It Compares To Martin DX1AE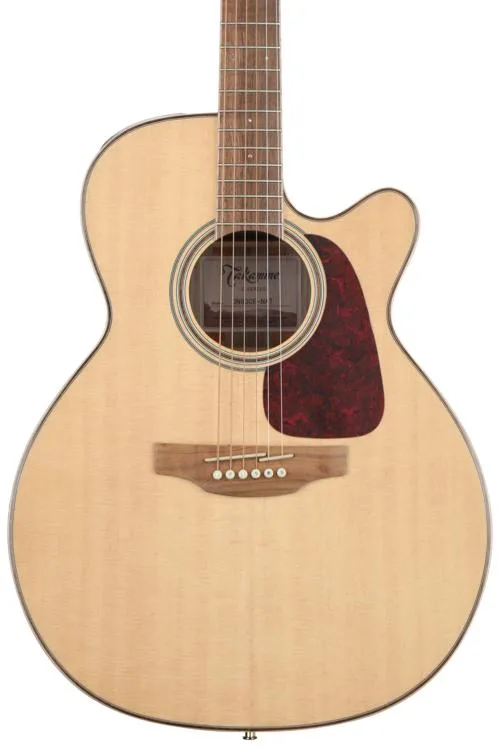 The unique body shape with cutaway is slimmer and easier to handle compared to a dreadnought.
A solid spruce top with laminated rosewood back and sides is a classic tonal configuration.
Onboard electronics make it a great live-performance guitar.
It's fairly affordably priced and is only slightly more expensive than the DX1AE.
Review
Takamine has long been a respected manufacturer of acoustic guitars that are both high-quality and affordable. This guitar is made with Takamine's NEX body shape, which is very close to that of a grand auditorium with a cutaway.
It has a solid spruce top and laminated rosewood body, making it ideal for players who prefer a balanced tone with a focused low end. It also comes with Takamine TK-40D electronics, complete with an onboard tuner, making it a great option for live performance.
If you prefer the look and feel of a Takamine, this guitar may be a great choice for you. Make sure you give this one a look!
We think that the Martin DX1AE is a great guitar that provides value for the money. You get unparalleled Martin craftsmanship, a solid top, and quality electronics. While the HPL back and sides are not ideal, they are lightweight and durable, making this a good guitar to take on the road. Ultimately, its quality and playability make it a worthwhile consideration for many players. Click here to check it out!