You might know PRS for theirJohn Mayer signature guitars, their bird fretboard inlays, or both. And while some PRS guitars are fairly pricey, the PRS S2 Standard 24 is an excellent value and sounds equally great played clean or with some dirt.
Things to Consider Before Buying a Solid body Electric Guitar
The guitar you play has the potential to shape your playing style, and it's wise to think carefully before making a purchase. Here are a few of the things you'll want to keep in mind before buying:
At A Glance: PRS S2 Standard 24 & Its Alternatives
Quick Comparison:PRS S2 Standard 24 & Its Alternatives
IMAGE
PRODUCT

Our Top Pick

Solid mahogany body produces rich tone with plenty of midrange, and it's also suitable for a variety of genres
Dual humbuckers equipped with coil tap let you access both humbucker and single-coil tone
Vintage-inspired design is likely to appeal to many guitarists

VIEW ON SWEETWATER →VIEW ON AMAZON →

Alternate Choice 1

Wide neck offers a different feel from the regular neck profile of the S2 Standard
Mahogany body with maple top adds a little more zing to your tone
Single-cutaway design offers a different aesthetic from that of the S2 Standard

VIEW ON SWEETWATER →VIEW ON AMAZON →

Alternate Choice 2

HSH configuration with coil tap offers plenty of tonal versatility
Slim neck is similar in profile to the PRS pattern regular neck of the S2
Alder body offers a distinctly different sound from mahogany

VIEW ON SWEETWATER →VIEW ON AMAZON →

Alternate Choice 3

Like the S2, this guitar also has a PRS patented tremolo system
Flame maple top with a single f-hole gives this instrument a very distinctive look
This guitar also has dual humbucker configuration with push pull coil tap enabled

VIEW ON SWEETWATER →VIEW ON AMAZON →
Our Picks for Review
PRS S2 Standard 24 Electric Guitar
PRO's & CON's of PRS S2 Standard 24
Before we launch into our review of the PRS S2 Standard 24, let's look at some pros and cons of this guitar: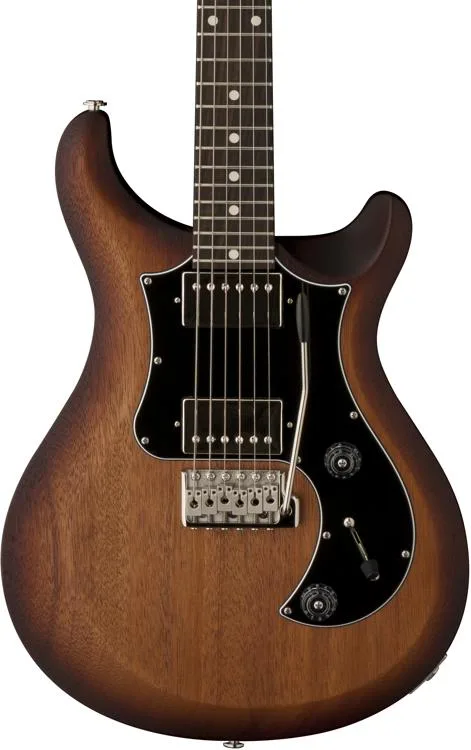 Features and Benefits
The S2 Standard 24 is a remarkably feature-packed guitar, especially for the price. In this section, we'll take you through some of the highlights.
Body And Neck
Mahogany has long been the tonewood of choice for many players who like a balanced sound with great sustain. The S2 Series was designed by PRS to offer incredible value, so it's somewhat surprising that the S2 Standard 24 is made out of a high-quality tonewood--many less expensive guitars are made using cheaper mahogany alternatives. Mahogany also has a beautiful grain, which is highlighted in some of the transparent finishes you'll see on the Standard 24.
While the double-cutaway design is a mainstay in the electric guitar world, the body design of the Standard 24 is worth mentioning. Bevel cuts on each cutaway make fret access comfortable and easy, and the body is contoured in a way that hugs your body. As you can see in the video (below-left), it's even comfortable to play on the couch.
The neck of the S2 Standard 24, like the body, is also solid mahogany. Mahogany is a strong wood that is unlikely to warp, and it also tends to absorb some string vibration, which compresses your sound slightly.
The neck profile is what PRS calls a Pattern Regular neck. This shape has some substance, but it's not so bulky that it becomes a challenge to play. Many older PRS guitars are made with Pattern Regular profiles, too. The video (above-right) goes over the Pattern Regular neck and other neck shapes used by PRS.
Notably, the neck on the Standard 24 is a bit longer than that of your average guitar. The "24" indicates 24 frets, and this slightly longer scale length opens up new possibilities for playing leads.
Pickups And Sound Quality
While you can always upgrade pickups later on, it's a good idea to choose a guitar whose pickups you like. The PRS Standard 24 comes with 85/ 15 S pickups. PRS 85/ 15 S pickups were initially designed for the company's 30th anniversary, and they are made to be incredibly versatile. They can produce beautiful clean tones, but the 85/ 15 S pickups also work well with heavy overdrive and distortion.
These pickups also have a push pull function that allows you to play with single-coil tones, too. Their sound is frequently described as vintage-inspired, which is likely to appeal to players across genres. You can hear them in this demo video (below) of a Vintage Cherry guitar.
Appointments
Overall, we think this guitar offers plenty of value for the price. And unlike many guitars touted as "value instruments," this one comes with several high-end appointments:
Finish Options
Most listings for the S2 Standard 24 feature the beautiful, vintage-inspired McCarty Tobacco Sunburst finish, but you can find this guitar in several different colors:
It's also important to note that the S2 Standard 24 can be purchased in either gloss or satin finishes. The finish likely isn't the most important factor you consider when buying, but it's always good to have options. The video (above-right) shows off one of the satin S2 Standard 24 models.
Social Proof of the Guitar
In many cases, it's a good idea to play a guitar before purchasing. But if you can't try out the PRS S2 in person before buying, reading online reviews of this guitar might help. Here are a few online S2 reviews that might help you make a decision:
Like many who have purchased the S2 Standard 24, this buyer seems especially impressed. Notably, they also describe how comfortable the highly contoured body of the PRS S2 is to play.
This helpful review details why this buyer sees the S2 Standard 24 as the best value option in the PRS lineup. Some PRS models can run high into the thousands, but this relatively affordable model offers great tone and playability for the price.
This review was written by someone who didn't initially intend to buy the S2 Standard 24. However, like many who have purchased this guitar, this buyer can't put it down.
Alternatives to PRS S2 Standard 24
The S2 Standard 24 is a guitar that can comfortably handle multiple genres. That said, you may want to also look at a few other options. Here are a few guitars you may want to consider alongside this one:
PRS SE 245
How it Compares to PRS S2 Standard 24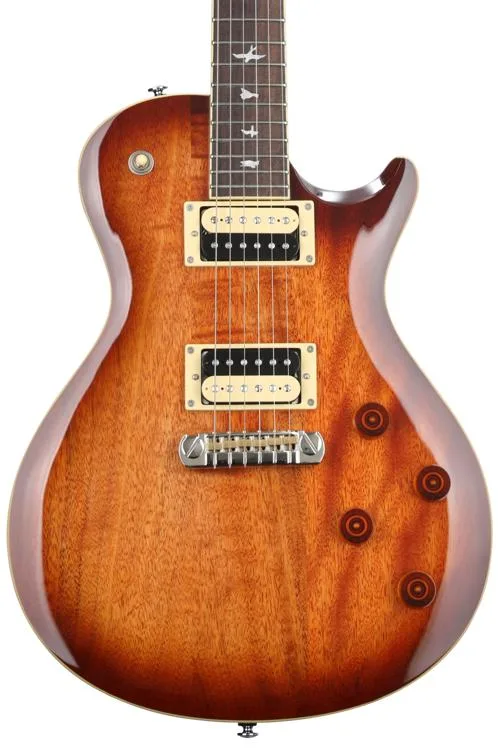 Review
If you like the PRS S2 Standard 24 but would prefer a short-scale version, this guitar might be right for you. It also has a mahogany body, although the addition of a beveled maple top gives it some extra bite. This guitar also comes with dual humbuckers, but there's no push pull coil tap capability. The single-cutaway design is sure to appeal to Les Paul fans and other players who want something different from a double cutaway. If you want a single-cutaway, more affordable PRS guitar, make sure you check this one out!
Fender Player Stratocaster HSH
How It Compares To PRS S2 Standard 24
Review
Plenty of people know the Stratocaster as a guitar with three single-coils, but this version is ideal for those who like a mix of humbucker and single-coil sound. This guitar has an alder body with Alnico V pickups, and a Floyd Rose tremolo system rounds out the package. If you want something more affordable and like the idea of a tonally versatile Strat, make sure you check this one out!
PRS SE Custom 22 Semi-hollow
How It Compares To PRS S2 Standard 24
Review
PRS is a manufacturer known for its innovative designs, and this unique semi-hollow design combines dual, coil-tap equipped humbuckers with the resonance you can only find in a semi-hollow guitar. Like the S2 Standard 24, this guitar has a mahogany body, but the top is made of beveled flame maple. If you like PRS guitars but would prefer a semi-hollow model, make sure you check this one out!
In Conclusion
PRS makes guitars that are suitable for a variety of price ranges, and the PRS Standard 24 S2 offers stunning good looks, access to a wide sonic palette, and great value. If you want a versatile electric guitar with a vintage-inspired look, the PRS S2 can be yours for a relatively low price. Click here to check it out!