Plenty of guitarists are in search of an excellent all-around guitar — something that sounds equally good unplugged, played live or recorded. Taylor's 314CE is an excellent candidate for an all-around instrument, and it's also extraordinarily comfortable to play. And given its sound and build quality, it's also an excellent value for the money
Things To Consider Before Buying An Acoustic-Electric Guitar
How good are the electronics? If you purchase an acoustic-electric guitar with poor electronics, your plugged-in sound won't do the guitar justice. If you perform, cheap electronics can be very disappointing.
What tonewoods do you need? While the soundboard is arguably more important to tone than back and sides, be sure that the whole guitar is made with tonewoods that support your playing style.
What's your price range? You don't need the most expensive acoustic-electric guitar out there to sound great. If you do your research and shop carefully, you can find fairly affordable options that sound incredible.
PRO's & CON's Of Taylor 314CE
But before we dive into our review, let's check out some pros and cons:
Pros
Revolutionary V class bracing offers superior resonance and sustain compared to X bracing.
Solid Sitka spruce top and solid Sapele back and sides give it a balanced sound with a bright, distinct high end.
Expression System 2 electronics offer full, natural plugged-in sound.
Grand Auditorium's body shape with a Venetian cutaway is very comfortable to play with and avoids the boominess of dreadnaughts.
Cons
Some players have found that the electronics have a very short battery life.
You might prefer more traditional tonewood like rosewood or mahogany for the back and sides.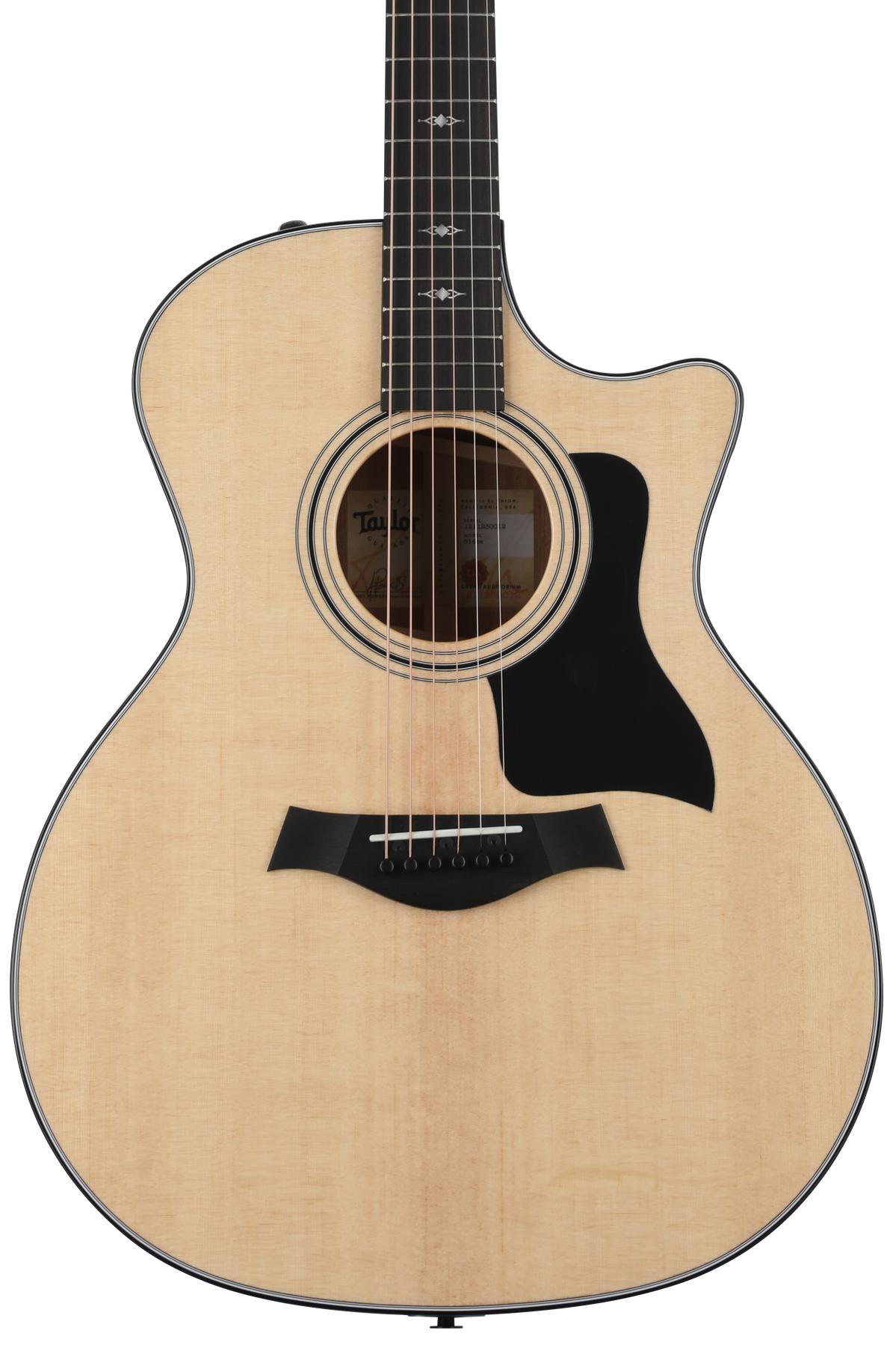 Taylor 314CE
An Acoustic-Electric Guitar
Grand Auditorium Body Shape with Venetian cutaway with V-Class Bracing.
Solid Sitka spruce top and solid Sapele back and sides.
Expression System 2 electronics.
Now, we'll really dig into what makes up the 314CE.
Body Style And Bracing
The 314CE is made in Taylor's most popular and versatile body shape, the Grand Auditorium. The Grand Auditorium is essentially a mix of a dreadnought and a concert guitar, and it's designed to have an excellent response to both flatpicking and fingerpicking.
Plus, the graceful Venetian cutaway gives you great fretboard access. Since this body shape has a slimmer waist and is more compact than most dreadnoughts, it's easy to play either sitting or standing. The bracing on this guitar is worth mentioning, too. It's made with Taylor's V-class bracing. V-class bracing is essentially a V shape under the soundboard.
It delivers a balance of resonance and sustain — the portion of the soundboard right under the strings is very rigid, which offers you incredible sustain. However, the sides are more flexible. This leads to more resonance, which is the result of more air movement. If you want to learn more about V-class bracing and how it works, check out this interesting video from Taylor.
Tonewoods
The tonewoods used on a guitar are incredibly important to its sound. The 314CE Grand Auditorium has all-solid construction, which is a definite plus. However, the back and sides are made of Sapele, a tonewood that is often considered to be sub-par compared to mahogany or rosewood. That doesn't mean it's poor-quality wood, though — Sapele is like a cross between mahogany and maple.
It has some of the mahogany's warmth, but it has a clear high end that's reminiscent of maple. While some guitarists may be hesitant to choose a guitar with Sapele back and sides, it's important to note that Sapele is one of the woods marketed as a mahogany alternative. Here's an interesting video outlining the similarities and differences between Sapele and mahogany.
The soundboard of the 314CE is more traditional — it's made of solid Sitka spruce. Thanks to the V-class construction, the top is especially responsive whether you're strumming, fingerpicking, or flatpicking. The tropical mahogany neck imparts some warmth to the sound, making it extraordinarily well-balanced. Tropical mahogany sounds very similar to traditional mahogany, but it's slightly less expensive.
Appointments And Finish
One of the first things you'll likely notice about this Grand Auditorium guitar is its beautiful West African ebony fingerboard and matching ebony bridge. Ebony is a naturally slick, highly playable fingerboard material. (If you want to learn more about ebony fingerboards, check out this interesting video. The fingerboard is adorned with tasteful inlays made out of Italian acrylic gemstone, and the Taylor nickel tuners have an impressive 17:1 ratio.
The nut is made of black graphite, which is a material that has the advantage of being naturally lubricated — you won't have to worry about strings getting stuck in the nut. The saddle is micarta, a quality composite that is dense enough to avoid string notches over time. The binding is black plastic.
Finish-wise, the 314CE acoustic-electric guitar is designed for both looks and playability. The satin finish is designed to feel great in your hands. In particular, the satin neck is ideal if you plan to play quickly or need to be able to move up and down the neck with ease. Plus, the satin finish looks great under stage lights.
Electronics
Electronics are a vital part of any acoustic-electric guitar. Luckily, this Grand Auditorium comes equipped with Taylor's renowned electronics system, the Expression System 2. This system has a pickup that's behind the saddle instead of under it. Since it isn't overly compressed, it can capture sound much more fully and naturally than most under-saddle piezos can.
The ES-2 also has a distinctive preamp. You get a master volume control and two tone controls, but they aren't located in a bulky onboard preamp — there are three discreet knobs on the outside of the guitar. There's also a phase switch for instant feedback suppression, which is a crucial tool if you intend to play live. If you want to learn more about the ES-2, check out this interesting video.
Social Proof of the Guitar
If you're considering buying an acoustic guitar without playing it first, the next best thing is to check out some reviews. Here are a few helpful ones we found in our search: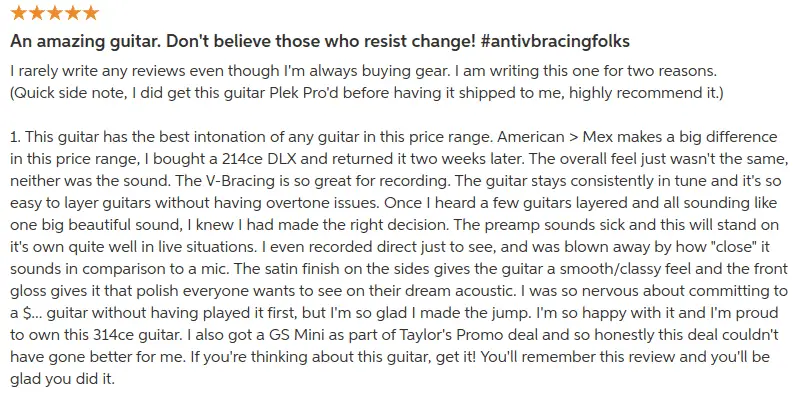 This is a great review for players who may be uncertain about V-class bracing. This person also found this acoustic-electric guitar to be especially suited to both recording and playing live.

This is a useful review — the reviewer is able to compare the 314CE to a Martin acoustic. In their opinion, the 314CE is a better guitar, and it's especially good for playing live.
This reviewer is a professional sound engineer, and they've found the 314CE to be a near-perfect instrument. They did note a couple of very minor quality control issues, though.
Alternatives To Taylor 314CE
If you're considering a high-end guitar like the Taylor 314CE, you'll probably want to make sure it's the right instrument for you. Before you commit, here are three alternatives you may want to consider.
How It Compares To Taylor 314CE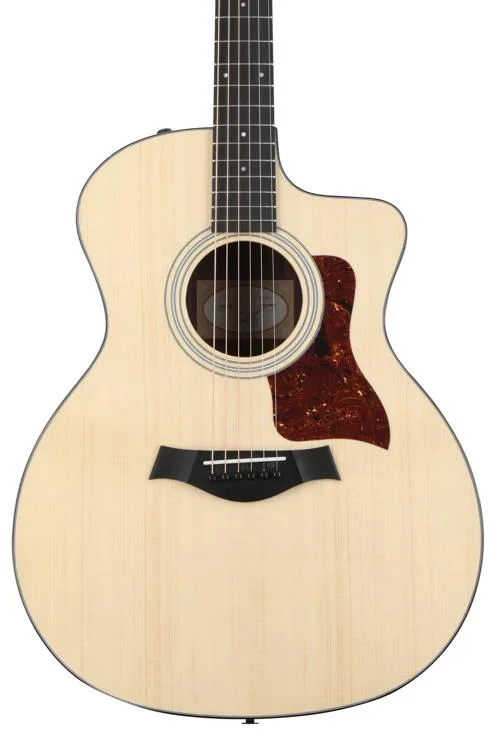 Forward-shifted bracing has a different sound than V-class bracing.
The ebony fingerboard, solid top, and Nubone nut/micarta saddle make it a great-sounding, playable instrument.
Layered back and sides may not have the same tone as an all-solid guitar.
In terms of price, it's about $800 cheaper than the 314CE.
Review
If you like the 314CE but need something a little more affordable, this acoustic-electric guitar is a great option. Like the 314CE, it has a solid Sitka spruce top, but the back and sides are made of layered rosewood. It's a Grand Auditorium like the 314CE. It also comes with forward-shifted X-bracing, which can increase resonance. Like the 314CE, Taylor's 214CE Plus also comes with Taylor's renowned ES2 electronics.
If you want a high-quality guitar that still sounds great, make sure you check this one out!
How It Compares To Taylor 314CE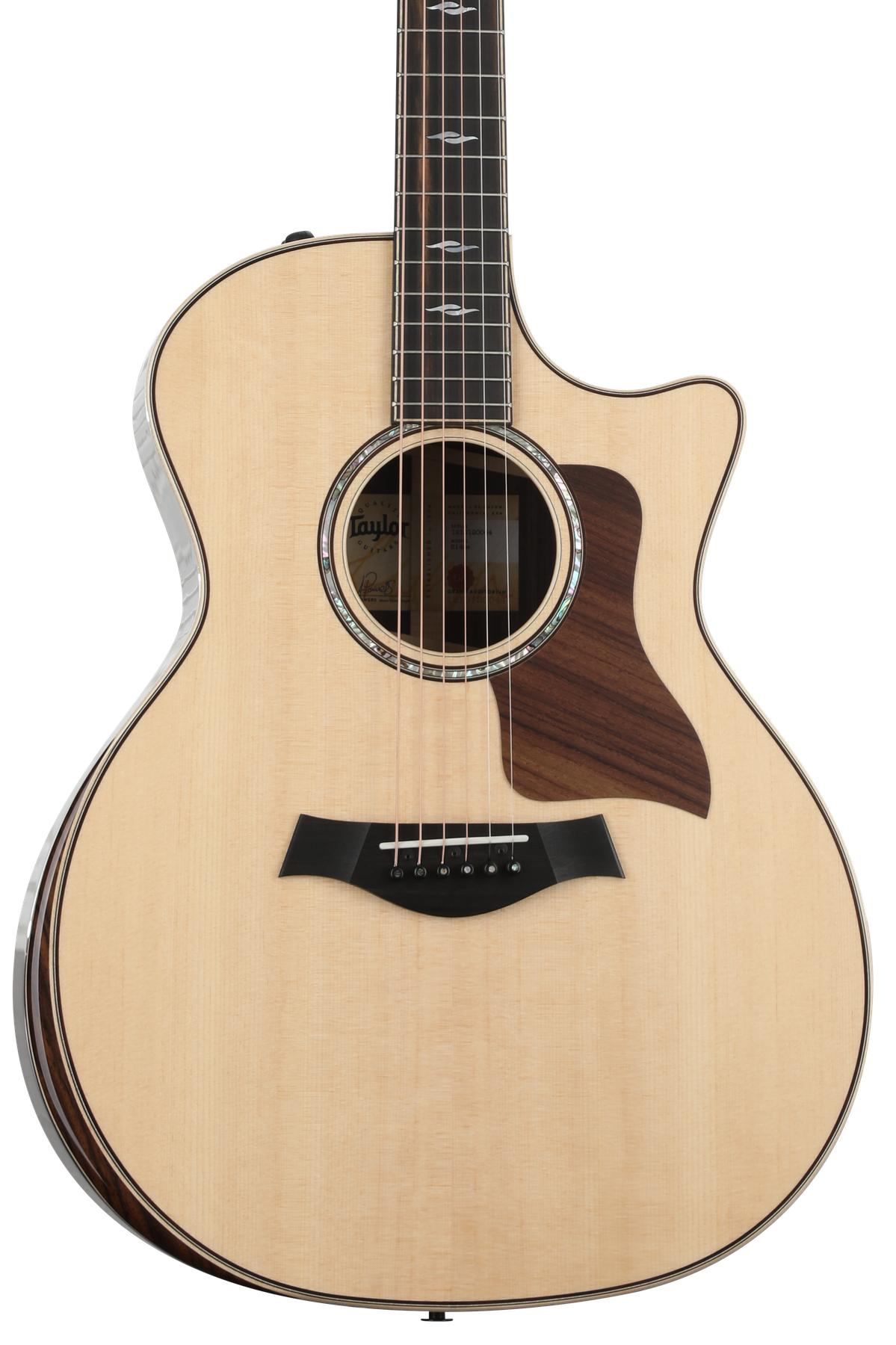 Indian rosewood back and sides create a detailed tone with a defined low end.
Mother-of-pearl inlays on the ebony fingerboard give it a distinctive look.
Black graphite nut and micarta saddle prevent issues with strings sticking.
Price-wise, it's about $1600 more expensive than the 314CE.
Review
If you have a little more to spend and want a highly playable guitar with a classic tonewood combination, then the 814CE acoustic-electric guitar may be right for you. This Grand Auditorium guitar is essentially an upgraded version of the 314CE. It also has a solid Sitka spruce top, but the back and sides are stunning Indian rosewood. Like the 314CE, it has Taylor's unique V-class bracing and comes equipped with ES2 electronics.
If you want a stunning, great-sounding guitar with a classic combination of tonewoods, make sure you give this one a look!
Taylor 317E Grand Pacific
How It Compares To Taylor 314CE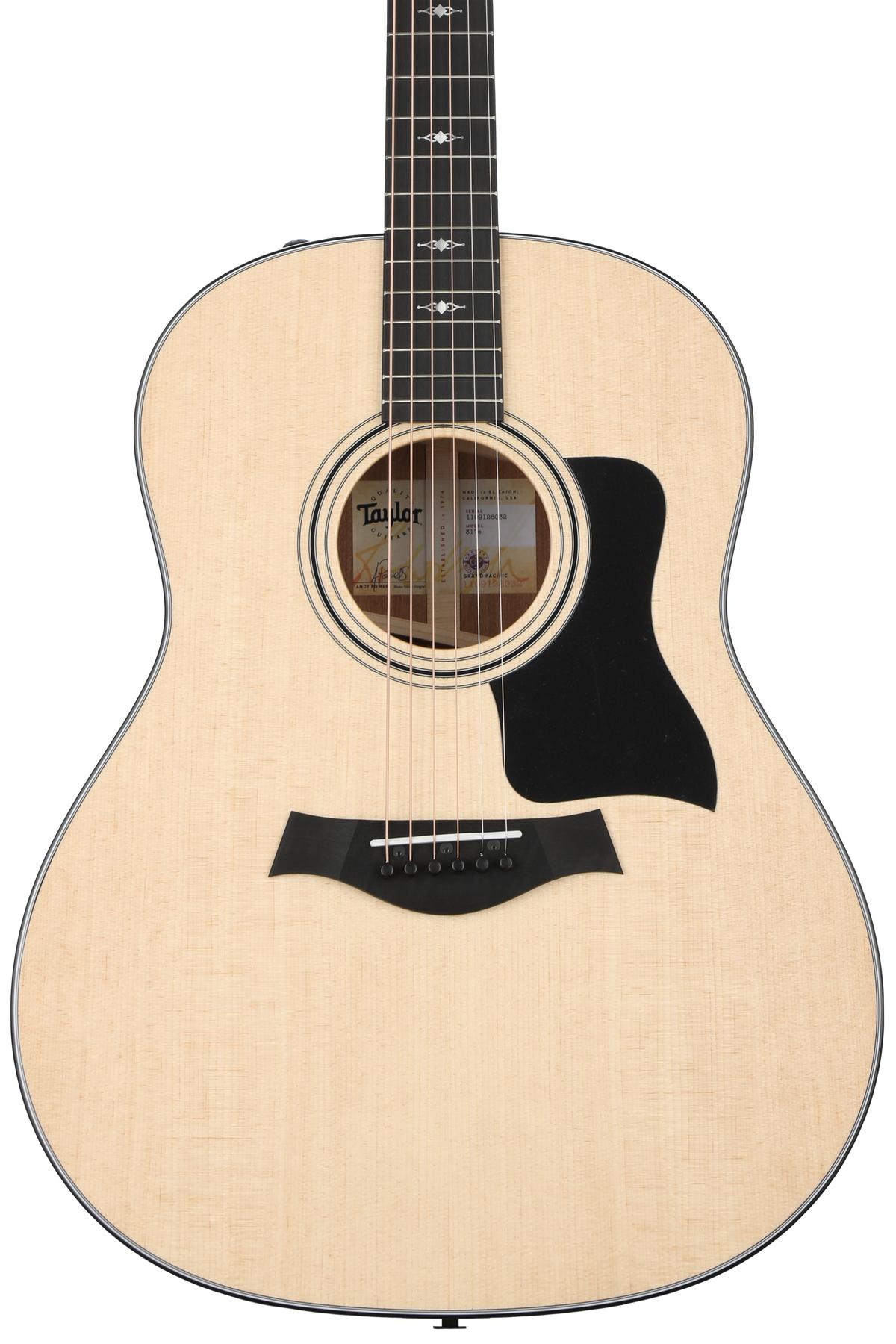 Round-shoulder dreadnought build is a departure from the 314CE's Grand Auditorium body shape.
It also comes with ES-2 electronics for easy live playability.
The ebony fingerboard with Italian acrylic gemstone inlays gives it an elegant touch.
It's about the same price as the 314CE.
Review
If you prefer the smooth, rich sound of a round-shoulder dreadnought to the more focused sound of a Grand Auditorium, then the 317E acoustic-electric guitar is an ideal choice. The combination of the round-shouldered build and the V-class construction eliminates the excessive low-end you sometimes get with dreadnoughts. The all-solid Sitka spruce and Sapele build deliver impressive tonal balance.
If you like the 314CE but prefer a dreadnought, make sure to look at this one!
On the whole, we think the Taylor 314CE is an outstanding guitar. The V-class bracing gives you the best of both worlds regarding resonance and stability, and the Expression System 2 electronics are ideal for playing live — it also sounds surprisingly good when recorded as a line-in. And lastly, we like the fact that it's an all-solid guitar that manages to be very affordable. Click here to check it out!